Everything You Need To Know About Miss Vanjie's New Dating Show
Including the 18 suitors who are competing for her heart.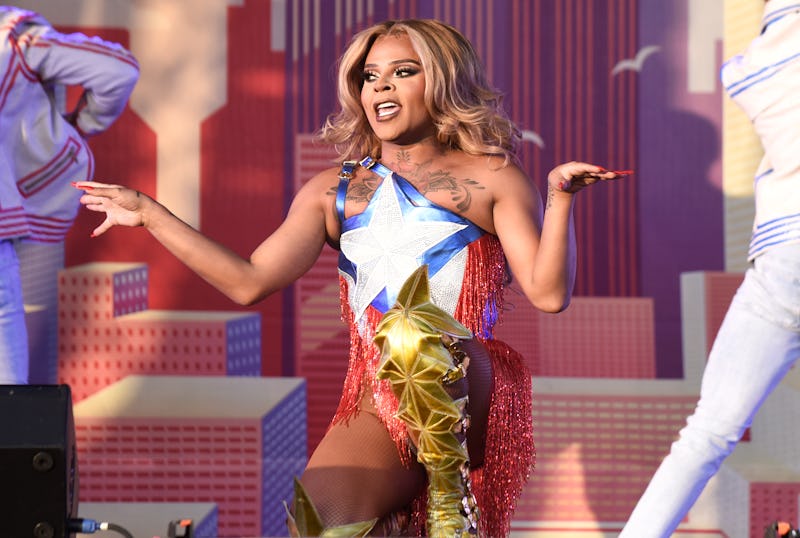 Tim Mosenfelder/Getty Images Entertainment/Getty Images
Practically RuPaul's Drag Race royalty, Miss Vanjie is now launching in her own dating show.
Called Vanjie: 24 Hours In Love, the show will see Vanessa Vanjie Mateo "get down and dirty" with 18 male suitors over the course of 24 hours. Each suitor will be competing to come out on top and win the ultimate prize: to be Vanjie's chosen beau.
The series – which is being produced by World Of Wonder and presented by cocktail brand House Of Live – is putting the LGBTQ dating experience centre stage. Its described as "non-heteronormative" show and it aims to flip the script.
Miss Vanjie first graced our screens during the tenth season of RuPaul's Drag Race but was tragically sent home in week one. However, thanks to her now legendary (and highly meme-able) "Miss Vannjjiiee" tagline, RuPaul asked her to return for season 11, where she claimed fifth place.
The drag queen star went on to feature in more than one Drag Race spin-off, too. Fans may have caught her in RuPaul's Secret Celebrity Drag Race, RuPaul's Drag Race: Vegas Revue, Fashion Photo RuView or RuPaul's Drag Race All Stars.
Miss Vanjie is undeniably one of the most popular Drag Race stars to date, having amassed 1.5m Instagram followers. In Vanjie: 24 Hours In Love, the extravagant queen meets potential love interests who are just as vibrant. Read on for what we know about Vanjie: 24 Hours In Love so far.
How To Watch Vanjie: 24 Hours In Love In The UK
Viewers based in the UK can stream Vanjie: 24 Hours In Love from the WOW Presents Plus platform – the "streamer of all things drag". The catch? You will need to subscribe for £4.49 a month.
The Vanjie: 24 Hours In Love Release Date
Starting from June 9, 2022, Vanjie: 24 Hours In Love will air weekly at 8 p.m. (UK time) on Thursdays.
Is There A Vanjie: 24 Hours In Love Trailer?
WOW have released a teaser of the show, which you can find below.
Who Are The Vanjie: 24 Hours In Love Contestants?
With the slogan "so many men, so little time," the show will put its suitors to the test, pushing them to play their cards right to pique the drag star's fancy. With so many of them, even the slightest mishap could see a suitor lose their chance altogether.
Meet each of the 18 contestants below.
Anthony Kairouz
Mysteriously, 23-year-old Anthony's Instagram doesn't have any posts, and just over 60 followers. Ok Anthony, give us nothing, then. However, his bio (provided by WOW) provides a little more insight: "Anthony goes for dominant daddies, often dating men a couple decades his senior, and he loves a big personality. He's a graduate from the CAP21 Musical Theater program in NYC and a regular at Sunday Funday in West Hollywood."
Blake Van Amsersfoorth
A long-haired surfer type, Blake can be found @blake__shields on Instagram. He's an artist – and you can peek via @the_coolcalmcollective. This guys looks like he fell out of an indie magazine shoot – or an Abercrombie & Fitch store (but with added sexy trucker vibes and a '70s moustache.) From horseback riding and surfing, to motorbiking, jet skiing and wild swimming, the 30-year-old's Instagram posts suggest he's outdoorsy.
His show bio claims he "moved to Venice Beach from Hawaii" to launch a clothing brand. It describes him as a "free spirit" and someone who "isn't afraid to voice his opinion." In a partner, Blake's looking for "someone who makes him laugh" and "a companion to dress up and go to parties with," per Out Magazine.
Brandon Karson Jordan
A lingerie model and founder of Karson and Co. Intimates, Brandon hails from Atlanta, Georgia. He's into fashion, astrology and "lives for drag". We're ready for a southern charmer to entertain us while trying his best to win Vanjie's hand. You can find the 27-year-old via @brandonkarson on Instagram. Part of his Vanjie: 24 Hours In Love show bio reads: "Brandon wants to be loved for all parts of him: clothed, unclothed and spicy as hell!"
Craig Handy
Accountant and dog dad Craig is described as "a Taylor Swift enthusiast" and "self-professed thrill seeker". The 31-year-old is a camping, hiking, biking and kayaking enthusiast, too. His Instagram profile @craigh118 places him as Los Angeles based. Full of holiday snaps, the page suggests he's quite the traveller, too. Part of his bio for Vanjie: 24 Hours In Love reads: "Craig wants the full package – a husband and a house in the hills!"
Dakota Payne
Dakota Payne is multifaceted contestants, as his CV includes recording artist, porn actor and drag performer (he goes by the stage name Gemini Dai). According to his Vanjie: 24 Hours In Love bio, Dakota feels his day job and drag life can sometimes hinder romance. But he adds that he's "he's still hopeful his prince is out there." You can follow him on @dakotapayneofficial.
Derek Viveiros
Also working in adult entertainment, Derek is an independent writer, producer and director. His Instagram bio reads, "bringing softcore back" and links to his upcoming podcast @motherscremediaries. You can find him via @derekviveiros_sho, where he posts jokes and arty film pics. Per Out Magazine, he's 39, came out late in life and detests dating apps – claiming they're "for losers".
Ernesto Flores
Family-orientated Ernesto has dreams of "diversifying the tech world". He's obsessed with Hot Cheetos, and keen for a serious relationship. He's described as a "proud Latino," who recently made the move from Los Angeles to San Francisco. A quick sweep of his Instagram suggests he's a theatre and Dua Lipa fan. You can follow the 36-year-old on @ernesto__af.
Jack Janowicz
A 25-year-old Wisconsin native, Jack's among the younger of the Vanjie: 24 Hours In Love contestants. The former Disney actor now works as a court stenographer – which is quite the career change. A "hopeless romantic," Jack is deeply into astrology and posts on Instagram via @jackjanowicz.
Jarrett Lantz
Another former Disney employee, Jarret used to be an Imagineer at the company. Disney describes these staff as the designers and builders of Disney's theme parks, resorts, attractions, and cruise ships. Now the 25-year-old is an experiential designer for multiple theme parks. I mean, can it get much cooler than that?! Based in West Hollywood, Derek is described as a foodie who "loves to travel". His Instagram @jettlance is currently set to private. Boo.
Javonte "Blu" Rosello
First spotted for his piercing blue eyes, Javonte modelled as a teen. He's now an entrepreneur, author and influencer. Plus he does work as an activist and ambassador for clothing brand Rockstar Originals. The 28-year-old also founded anti-bullying non-profit IMHERE. His Instagram @iamjavonterose is all about having fun in the sun. Topless and clad in flattering shorts, his tattooed torso, neck and legs are often on display.
Jozea Flores
This isn't music artist Jozea's first time at the reality TV rodeo. The 30-year-old is semi famous already as he previously appeared on Big Brother, The Challenge and Ex On The Beach. Spring-boarding off the success of his OnlyFans profile, Joeza has also designed his own fan app. It's described as "for those that want to live their lives publicly by subscription". Find this knock-out at @jozeaofficial.
Kishan Patel
Raised in Nashville, Kishan (pronounced "Key-Shin") was brought up by conservative Indian parents. According to his official bio, he spent most of his life in the closet. However, when his parents began arranging a marriage for him, he decided it was time to come out. As a self-proclaimed 'gayby,' Kishan says is excited to have his first real gay relationship. Right now he works as an accountant and lives in Hollywood and his Instagram (@kishan_in_la) suggests he's into travel, music, dancing and exploring.
Nick Lorenzini
Having always dreamt of marriage and having kids, but equally "happy to just give his dog and cat a second dad," Nick craves "the white picket fence" life. Apparently jaded by years of unsuccessful dating, he still hopes to "find true love". The 34-year-old is a senior branding and social media producer for tech wellness brand Therabody. He loves horror, halloween, tattoos and whiskey. And he's vegan. Find him @nicholaspaolo.
Noel Anaya
Previously a Cirque du Soleil acrobat, Noel has since founded his own acrobatics school in Washington D.C. The 34-year-old identifies as as "gray-sexual". This is defined as someone who seeks relationships that aren't physically sexual. Find him @noelsark_. Based in Los Angeles, he hopes to click with a "non-traditional partner like himself that his alternative fashion sense."
Tommy Pardee
You can find Tommy's Instagram via @thomaspardee. His bio reads, "A pleasure to have in class" – we just hope the same can be said for a dating show. He's an advertising creative director and former Trevor Project employee (an organisation that provides crisis support for LGBTQIA+ youth). The 33-year-old "admits that his own insecurities have torn apart his past relationships where he was the villain". But, "he's done a lot of personal work and is 'dateable' again".
Zuri Green
The oldest of the Vanjie: 24 Hours In Love suitors, 45-year-old Zuri is a "self-proclaimed DILF". Literally, because he's also a father of three. He and his former long-term partner welcomed their children via surrogacy. Find him via @zeee_for_real. By day, he's a corporate supplier.
Ulisses Rivera
Somewhat new to the dating game, Ulisses has "never had a boyfriend". His Vanjie: 24 Hours In Love bio says he has yet to meet someone that can "rise to that level in his eyes". He's after someone who's sex positive and ambitious. The 31-year-old is a senior communications director at an L.A talent agency. Find him at @ulioruls.
Tyler Renner
Gender fluid and non-monogamous, 30-year-old Tyler is looking for a partner on the same wavelength. He's also a passionate advocate for LGBTQIA+ movements and causes. By day, he's a media director for a housing and homelessness service based in California. You can follow him at @tylerrnnr, where his bio reads: "Giving Carmen San Diego a run for her money."