Victoria Beckham's Latest Photo Of Her Daughter Will Make Spice Girls Fans So Happy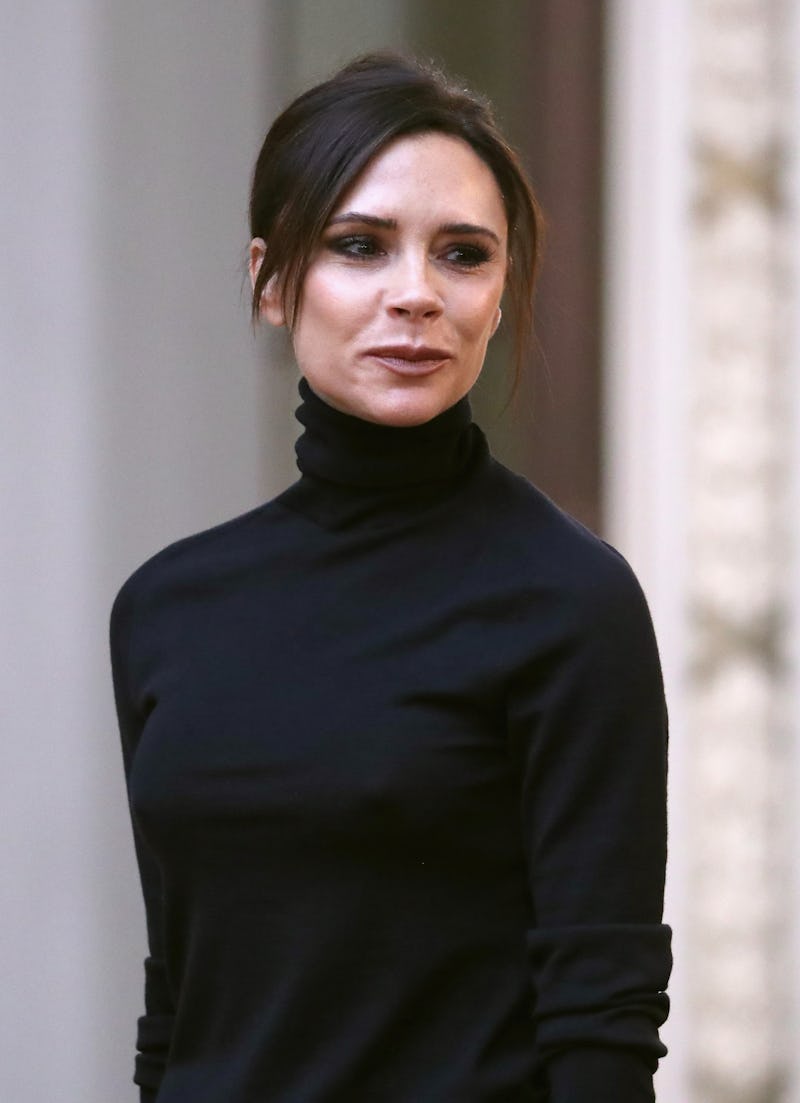 JP Yim/Getty Images Entertainment/Getty Images
Spice Girls fans, you're going to love this. Posh Spice has given her daughter the greatest nickname ever. On her Instagram Story on Wednesday, Victoria Beckham called Harper "Baby Spice," as pointed out by E! News. In a photo of Harper with her back to the camera, giving the peace sign, and wearing pigtails, Beckham wrote, "My very own Baby Spice." As you can see in the screenshot below, the designer also placed a Spice Girls GIF in the bottom right corner.
Not only is this a cute photo, but the fact that there are so many Spice Girls references is truly amazing. First of all, Harper is giving the peace sign. The Spice Girls used to give the peace sign all the time. Then, there are Harper's pigtails. Yeah, Baby Spice, aka Emma Bunton, always wore pigtails. It's unclear if this was all an accident or if the photo was staged, but it doesn't matter. The image will still put a smile on the faces of Spice Girls fans.
Some might think Beckham would refer to her own daughter as, "My very own Posh Spice," but she definitely didn't. If you think about it, Harper is a 7-year-old little girl, so Baby Spice is much more appropriate. One day, maybe Harper will follow in her mom's footsteps by getting into fashion designing. If or when that day comes, Beckham just might then refer to Harper as "Posh Spice."
This isn't the first time Harper's embraced the girl group her mom once sang with. On Aug. 13, Harper and Beckham watched Spice World together. The Beckham family is currently vacationing in Indonesia, so what better way to enjoy a luxurious trip than by watching the 1997 movie? It's truly a classic some fans probably still can't get enough of to this day.
The Victoria Beckham clothing line creator captured the moment with her daughter on her Instagram Story and even revealed they watched it more than once. "Spice World has been on heavy rotation this holiday!!" Beckham wrote on her story.
Harper also had a hilarious reaction to the film. Beckham confessed to her followers that her youngest child is "obsessed" with elements from the movie. "Not only is Harper obsessed with the Spice Buss...... She now wants a 'little Gucci dress' [crying laughing emoji]," the former singer shared.
Harper also had questions for her mom about the movie and Beckham's attire. "Question... Mummy why are you wearing a dress?" Harper was referring to the scene where all of the girl group members are dressed in uniforms, but Posh wore a camouflage dress. Harper, that is a very good question. My fellow Spice Girls fans, let's give her a round of applause for noticing how ridiculous this moment really is.
Here's hoping one day there will actually be a Spice Girls reunion. This way, Harper might just be able to see her mom in action and get to experience the girl group for herself. The more girl power, the better, right? Harper would probably agree.