Victoria Beckham Posted A Perfect Spice Girls Throwback To Cheer On England In The World Cup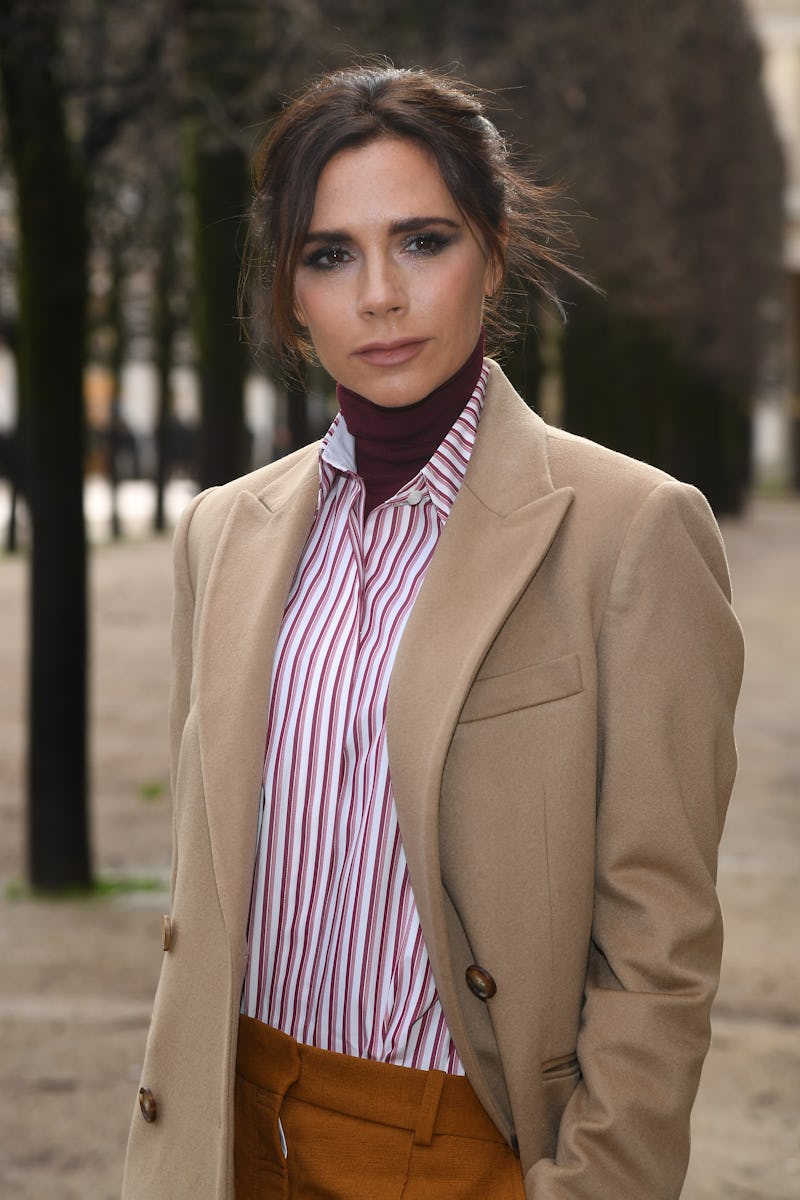 Pascal Le Segretain/Getty Images Entertainment/Getty Images
The 2018 World Cup is almost over. France will be in the final, and now Croatia and England are battling it out in a semi-final match. Understandably, the English are excited about the prospect of going to the final, but a Spice Girl has the best reaction. Victoria Beckham posted about the World Cup, Spice Girls, and David Beckham — all in one post. It's not even Thursday yet, but Victoria blessed her followers with the most perfect throwback on Instagram.
She shared two photos. The first picture is of the Spice Girls from back in the day and the second is of a young David wearing his a soccer jersey. Victoria wrote,
"'Looking like it's gonna happen, knowing that the time is right… We've got the glory in our sights'. Come on @england."
Almost everyone is caught up watching the World Cup, so it makes sense that Victoria would be excited about her home country playing in the semi-finals. And she has always been very open about her affection for her husband, so it's not at all shocking that she posted a photo of him. If you were married to him, you'd probably do the same.
The really surprising part of the post is that Victoria opened with the Spice Girls photo. Victoria hasn't exactly been the most enthusiastic Spice Girls alum throughout the years.
In April 2018, Victoria was a guest on The Late Late Show With James Corden, James Corden asked her about a photo that fellow Spice Girls alum Emma Bunton posted on Instagram in February 2018. Emma shared a then-current photo of all five Spice Girls with the caption, "Great catch up with my girls! #bffs always. The future is looking spicy!"
It is tough not to look into that post with some hope for a Spice Girls reunion — especially because of that last sentence about the future "looking spicy." However, Victoria denied the possibility of a reunion tour and new music during the interview.
She clarified, "It's not about us going on tour, it's not about us recording new material, but how do we pass the 'Girl Power' message on to future generations?" She emphasized, "Never has there been as important a time to spread that message as there is now, so what does it look like, what is it?"
Victoria has brushed off Spice Girls reunion rumors for years. In February 2018, Victoria told British Vogue, "It's not about touring, it's not about recording any more material, it's about protecting the legacy and thinking about what girl power looks like in the future." She emphasized, "It's really not about us five doing things."
In March 2018, Spice Girl Melanie told The Sun, "Victoria has been quite vocal, it's really not something she wants to do at this time" when she was asked about the possibility of a reunion. Of course, all of the women are busy, but it does seem like the other members are a lot more open to a reunion than Victoria would ever be.
Not only is Victoria seemingly not on board for Spice Girls reunion, but she really isn't that into posting the Spice Girls throwback photos on Instagram. Normally, she just shares photos of her husband, their kids, or her fashion empire. Needless to say, the Spice Girls fans had a lot to say in response to the Instagram post.
One Instagram user wrote, "@victoriabeckham don't get me excited. Guuuuurls pleaseeeeeee tell me another tour is on the cards." A fan admitted, "thought this was about the reunion."
Another person commented, "I ALMOST fainted thinking that the caption was about a return." An Instagram user asked, "WHAT DOES THIS MEAN WHAT DOES THIS MEAN!!!!??? PLEASE PLEASE PLEASE TOUR!!!!" The fan even added the hashtags #spiceupyourlife, #girlpower, and #zig-a-zig-ah. Of course, those are all references that longtime fans understand and love.
One Instagram user commented, "This brings back so many memories!" This could have been about either or both pictures that she posted. The point is that there's just something so nostalgic about a Spice Girls reference that would make anyone smile — including Victoria Beckham herself.