Everything To Know About Vikings: Valhalla Season 3
Showrunner Jeb Stuart teased details about upcoming story lines.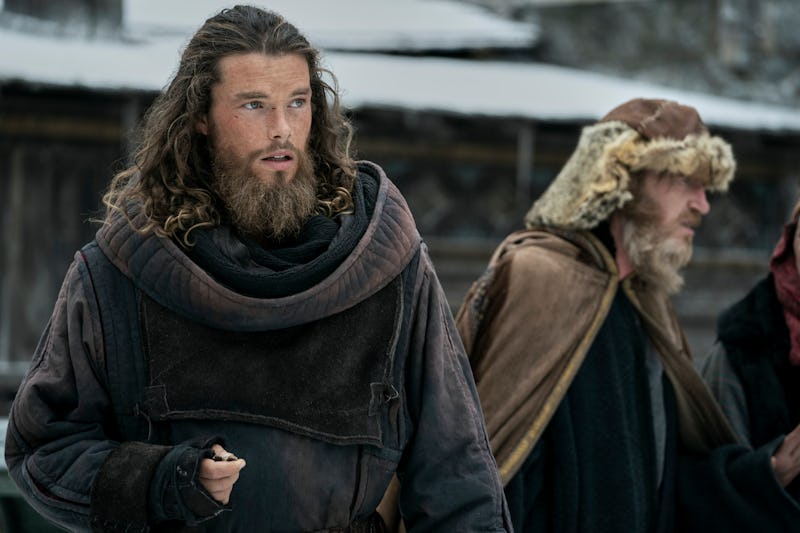 Bernard Walsh/Netflix
The adventures of Leif Eriksson, Freydís Eiríksdóttir, and Harald Sigurdsson aren't done just yet. In March 2022, Netflix announced that its television drama Vikings: Valhalla was renewed for Seasons 2 and 3, just two weeks after the first season aired. (The show is a spin-off of History Channel's Vikings.)
Season 2, which premieres on Jan. 12, opens with Leif, Freydís, and Harald after the fall of Kattegat. They find themselves as fugitives in Scandinavia and are forced to survive in a world beyond the fjords they know. While Season 2 is about "fill[ing] up Leif's toolbox" for living outside of Kattegat, showrunner Jeb Stuart explained to Collider that later seasons will "eventually get to the New World."
According to Stuart, the series was initially written as a multi-season story, as opposed to brainstorming ideas with each renewal. Actor Leo Suter (Harald), said it's been helpful to have that "huge bird's-eye-view" of the show. "[S]ometimes we'll have questions for Jeb, and he's been very open to having conversations with us, talking about our character. I say, 'How does this work in this episode?' And then he'll go, 'Well, in Season 3 this or that's going to happen,'" Suter told Collider. "It's been really useful for us."
Stuart wants to see Vikings: Valhalla run for six seasons. He imagines the first three seasons "almost like a novel," and said a fourth season would feel like a different "block" of storytelling.
Here's everything else we know so far about Season 3.
Vikings: Valhalla Season 3 Premiere Date
Netflix has not announced when Season 3 will premiere. In a March 2022 statement, Stuart said "production will start soon on Season 3," according to Entertainment Weekly. In April, the Irish Examiner reported that the production was looking for extras for Season 3 and that filming would take place over the summer. Netflix dramas typically take about a year to film and produce, so a third season could premiere as early as Summer 2023.
Vikings: Valhalla Season 3 Cast
Season 3 will likely see the return of the core cast members: Sam Corlett as Leif Eriksson, Frida Gustavsson as Freydís Eiríksdóttir, and Suter as Harald.
Season 2 introduced a number of new characters: Bradley James plays Harekr, the ruler of the legendary Viking settlement Jómsborg; Hayat Kamille plays the astronomer Mariam; Marcin Dorociński plays the ruler Yaroslav the Wise; Sofya Lebedeva plays Eleana, the daughter of a noble; and Goran Visnjic plays Freydis and Leif's Viking father, Erik the Red. At the time of publication, it's unclear who will survive into Season 3.
A newcomer for Season 3 will be a historical figure, General George Maniakes of the Byzantine Empire, who later leads a revolt against the emperor. He will be played by Florian Munteanu, who played Razor Fist in Shang-Chi and the Legend of the Ten Rings.
This post will be updated as more Vikings: Valhalla Season 3 details become available.