Viola Davis Opened Up About How Hard It Is To Portray Michelle Obama
One aspect, in particular, was "a nightmare."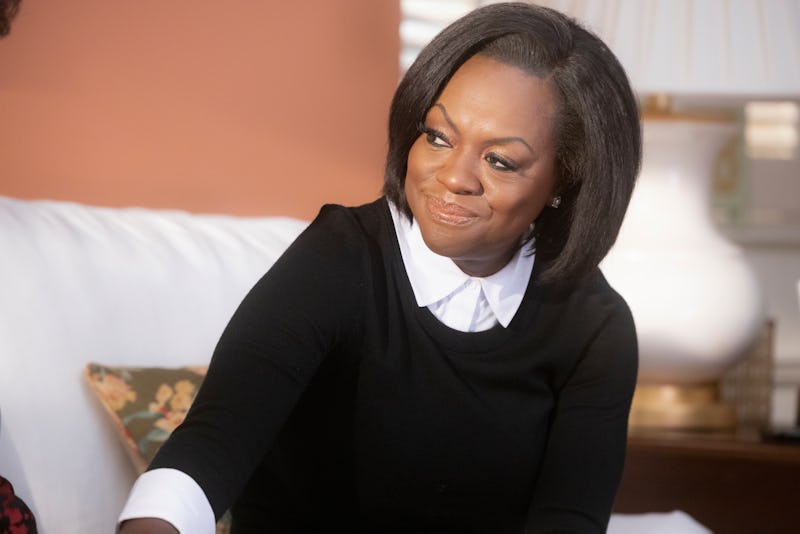 Jackson Lee Davis/SHOWTIME
Before taking on the role of Michelle Obama on The First Lady, Viola Davis spoke to the Becoming author herself, she told Deadline — but no conversation could have fully prepared her for the challenge of playing one of the world's most well-known women. Davis opened up about portraying the former first lady during a Variety's Actors on Actors interview with Samuel L. Jackson, published on the eve of The First Lady's June 12 finale on Showtime.
Davis joked that "a good shot of vodka" comes in handy when dealing with the nerves of playing a real, living person — but playing Obama, specifically, presented a whole different challenge. "It is very difficult playing a real-life person, especially someone who's occupied the White House," she said. "There is a shroud of protection of liability, and as an actor, that is a nightmare."
While prepping for The First Lady — an anthology series that also focuses on former first ladies Betty Ford and Eleanor Roosevelt — Davis discovered a balancing act between portraying Obama's public and private persona. "You have to fill it in for an audience who don't want to see anything mar the image. And that's exactly antithetical towards what we do," she said. "We need the mess. That's what makes us human."
The Oscar winner added that she used her own lived experience to fully flesh out the role. "When you play a character and you don't see all the gaps being filled in, you have to fill it in with what you've seen in the past from other people — what I know being a Black woman — with Michelle Obama, and you have to be bold enough to go for it."
Obama herself gave Davis her vote of confidence prior to the show's premiere. "Anything Viola does, she does it with passion and vigor, and I know she will do no less for this role," she told Entertainment Tonight in March 2021. Unfortunately for Davis, though, some viewers had complaints after The First Lady premiered. Her version of the public figure involved too much-lip pursing for some people's liking, and they made that clear on Twitter.
Davis, who also served as executive producer on the show, responded to negative comments about her portrayal of the former first lady — including the ones about her facial expressions while in character. "[It's] incredibly hurtful when people say negative things about your work," she told the BBC in April, adding that she simply had to "move on" from the criticism. "Not everything is going to be an awards-worthy performance."