Watch Viola Davis Explain Why She Really Doesn't Care About Awards Anymore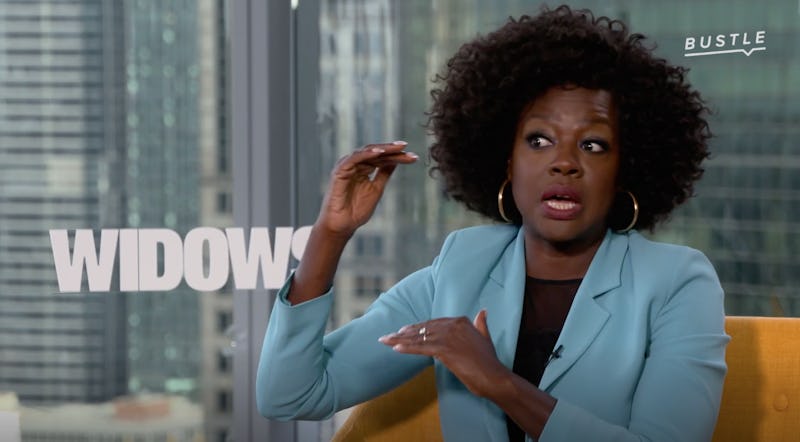 When it comes to awards recognition, Viola Davis is one of Hollywood's reigning champions. For her work in movies and on TV, the actor has won everything from an Oscar (for Fences) to an Emmy (for How To Get Away With Murder) to a Critic's Choice Award (for just being herself — seriously). She's just one Grammy away from an EGOT, and with a starring role in the new thriller Widows, she's bound to see some more trophies coming her way soon. But according to Davis, she really doesn't care about awards anymore, because she's focused on something way more important.
"This part of my life is more about significance. It's not just about getting the role and getting the praise and puffing myself up and saying, 'Oh, do I get another award for this? When's my next great review coming out?' That's really hollow for me," Davis explains, when we speak at the Chicago junket for Widows (in theaters Nov. 16).
"Right now," she continues, "it's about legacy, it's about leaving something behind, leaving the zeitgeist a little shifted by my presence, even. That may sound a little egotistical — I really particularly don't care."
Leave it to Davis to always tell it like is. The actor has never been one to shy away from speaking her truth, whether that's in regards to representation on-screen, roles she regrets taking on, or equality and the #MeToo movement. And as she explains in the video below, she doesn't care whatsoever if that honesty makes other people uncomfortable. "You want to wake people up to the obvious, and whenever you do that, you run the risk of pissing people off, kind of x-ing yourself out, but so be it," she tells me.
That's an attitude we could all emulate when weighing the pros and cons of speaking out about something that matters — especially if, like Davis, we're trying to use our voices to stand up not just for ourselves, but for our peers.
"I see it as a great experiment to have a vast imagination when it comes to writing for women of color, so I fight for that," Davis explains. "I stand in solidarity with all women, I really do, because we're vastly underpaid, we're vastly underrepresented... and women of color, absolutely, exponentially more."
It's true; according to the 2017 report by Women and Hollywood, 68 percent of all female characters seen in the year's 100 highest-grossing films were white. And as Davis points out in the video, there are no women of color featured on Forbes' list of the 10 highest-paid female actors of 2017. With that kind of inequality prevalent in Hollywood — and in so many other industries — it's hugely important to have people as known and influential as Davis do their parts to speak out.
As the actor puts it in our interview, If "you say you're committed to inclusivity, then walk the walk," and she couldn't be more right. Watch the video above for more hard truths from Davis and get galvanized to take action yourself.