Everything To Know About The Walking Dead Spinoffs
Here are the fan-favorite characters you can expect to return.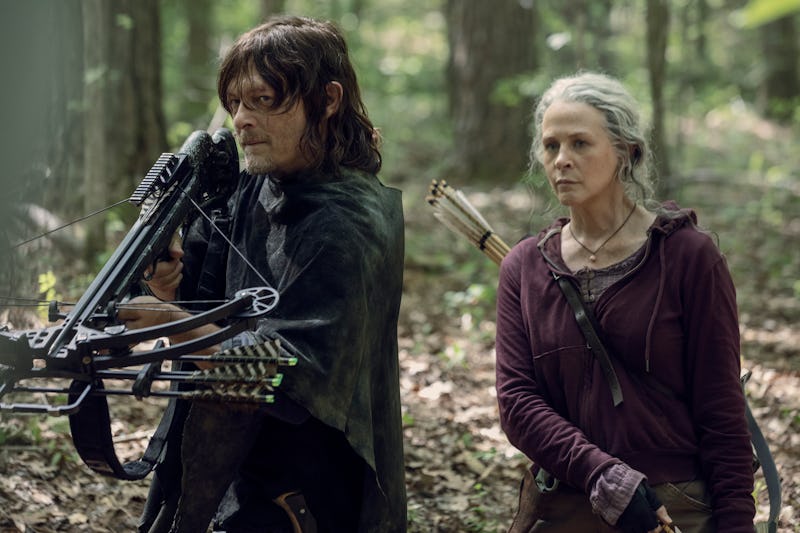 JACKSON LEE DAVIS/AMC
The Walking Dead may be ending with its Season 11 finale — but there's a slew of spinoffs on the way, so you don't have to say goodbye to all of your favorite characters just yet. Daryl, Carol, Maggie, Negan, Rick, and Michonne are some of the familiar faces you can expect to see in new Walking Dead series, the first of which was announced more than two years ago.
"The Walking Dead made television history, and is one of those rare creative works that has given life to an entire content universe that is still in the early stages of growing and entertaining both new and established fans," Ed Carroll, Chief Operating Officer of AMC Networks, said at the time.
However, there have been some developments since AMC's first announcement. Ahead, everything you need to know about all the Walking Dead spinoffs currently in the works.
The Walking Dead Spinoff Plots
So, just what are these Walking Dead spinoffs about, exactly? There are currently three in the works. First announced was the Daryl and Carol spinoff, which showrunner Angela Kang described to Entertainment Weekly as "tonally fresh" from The Walking Dead proper. "They're just in a different stage of their lives and it's more of a road show, which I think will be really fun," she explained in 2020. However, earlier this year, TVLine reported that Melissa McBride, who's played Carol since Season 1, would no longer be involved because "relocating to Europe [for filming] became logistically untenable" for her. Still, McBride told Entertainment Weekly that "Carol has more story to tell," while Norman Reedus said "you can pretty much bet all your money" the besties will meet again. Until then, AMC President told Entertainment Weekly that the show will see Daryl in a truly bizarre setting. Specifically, it will "follow Daryl as he wakes up and finds himself somewhere on the European continent and tries to piece together what happened."
There's also a Maggie and Negan spinoff on the way — originally titled Isle of the Dead but renamed to Dead City.
Get The Bustle Daily Newsletter
With exclusive celebrity interviews, the best new beauty trends, and earth-shattering relationship advice, our award-winning daily newsletter has everything you need to sound like a person who's on TikTok, even if you aren't.
According to AMC, the show "envisions the popular Maggie and Negan characters traveling into a post-apocalyptic Manhattan long ago cut off from the mainland. The crumbling city is filled with the dead and denizens who have made New York City their own world full of anarchy, danger, beauty, and terror." The first season will consist of six episodes.
And finally, Rick and Michonne will star in their own series. "This series presents an epic love story of two characters changed by a changed world," AMC writes. "Kept apart by distance. By an unstoppable power. By the ghosts of who they were. Rick and Michonne are thrown into another world, built on a war against the dead... And ultimately, a war against the living."
The Walking Dead Spinoff Premiere Dates
Fortunately, there won't be too unbearable of a break between the ending of The Walking Dead and its successor. Currently, all three spinoffs are announced for 2023.
The Walking Dead Spinoff Casts
McBride's involvement in the Walking Dead spinoffs sounds promising but is still TBA. Until then, expect to see Reedus helming his own show; Andrew Lincoln and Danai Gurira reprising their roles as Rick and Michonne; and Lauren Cohan and Jeffrey Dean Morgan returning as Maggie and Negan, too.
This article was originally published on