Chloe Veitch Will Be Great At The Social Media Aspect Of The Circle
She's basically a full-time influencer already.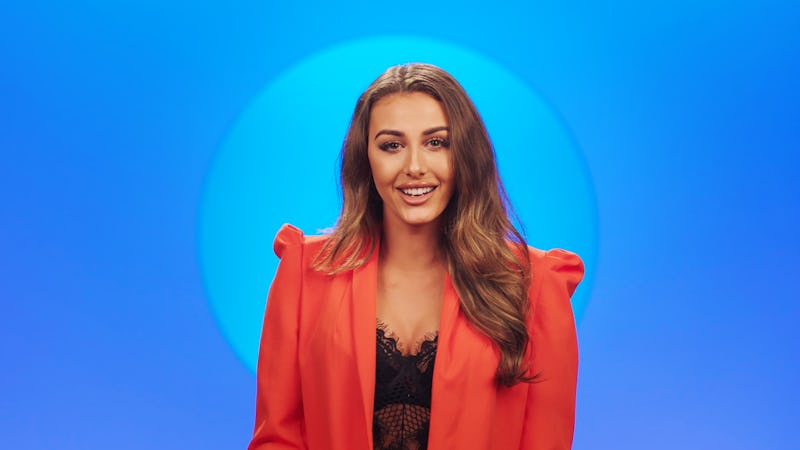 Netflix
Last year, Chloe Veitch told The Sun that she left Netflix's dating show Too Hot To Handle feeling "empowered" by her single status and that she got to know herself better on the show. Now we'll see that new confident side of Chloe on Season 2 of The Circle, because her reality TV days are not done yet.
On her first foray into reality TV, 22-year-old Chloe became known for her larger than life personality and flawless makeup application, though she later told Refinery29 that she regretted how much makeup she was putting on each day for the cameras. "I think it was more of an insecurity of mine; I wanted to look perfect, but I prefer myself with no makeup," she said.
Perhaps she'll scale back now that she has a second chance at reality TV on The Circle, but if she doesn't, that's not too surprising. She told Refinery29 that she could never give up makeup for good. "I have got a reputation to uphold now," she joked. Since leaving Too Hot To Handle feeling confident in herself and in her skin (makeup or not), here's what Chloe's been up to.
Influencing on Instagram
Chloe watched her follower count skyrocket on Instagram after appearing on Too Hot To Handle, and she's used that to her benefit. Catch her doing multiple sponsored ads — including a bunch for Fashion Nova.
In September, she joined the MiLK Management modeling agency in London, so perhaps we'll see her face in some non-Insta ad campaigns, too.
Moving Into A New Place
Prior to getting famous, Chloe still lived at home. But after her reality TV success, she moved out and got a place of her own last summer. You can follow her home decorating journey at the special Instagram account she set up, @chloesblushhome (because she has pink accents all over).
Vlogging On YouTube
Chloe is also trying to jump start a vlogging career on YouTube, where she has nearly 20,000 subscribers so far and eight videos. Among the things she's uploaded are a much-requested makeup tutorial, a nighttime routine, and a visit to a "love coach."
She's Still Trying To Figure Out The Dating Game
The reason Chloe had to meet with a love coach is that going on a reality dating show didn't magically solve all her relationship woes. Though she told The Sun last year that while she was happy being single and going on a few dates here and there, she is looking to find that love connection at some point. And despite several Love Island stars allegedly sliding into her DMs, Chloe seems to still be on the lookout for that special someone. To be fair, it's hard to date during a lockdown.
Hanging With Her Co-Star
Chloe may not have found romantic love on Too Hot To Handle, but she did find a best friend. Her co-star Nicole O'Brien is featured prominently on her Instagram; they even traveled to Dubai together.
Chloe was a big, bubbly personality on Too Hot To Handle, and in a game all about influencing and clout, that's sure to be an asset on The Circle.