Tahzjuan From The Bachelor Took A Cruise With These Bachelor Nation Alums
Here's a recap of her time with her franchise, and why she was "done with love."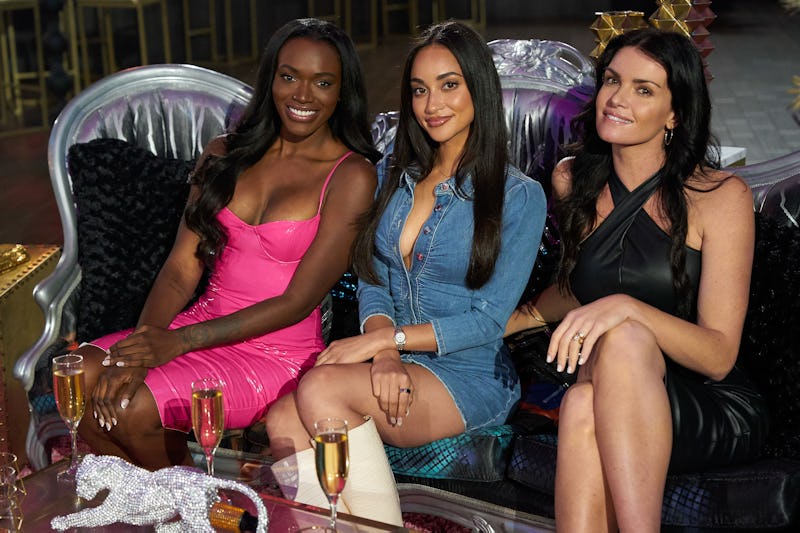 ABC/Craig Sjodin
Though she hasn't found love through The Bachelor, Tahzjuan Hawkins is clearly not jaded by the franchise. In fact, her Jan. 30 appearance on Zach Shallcross' Bachelor season is her fourth Bachelor Nation outing, following The Bachelor and two seasons of Bachelor in Paradise. Granted, on Zach's Bachelor season, Tahzjuan is not an actual contestant this time around. Rather, she joins the show for a group activity alongside fellow Bachelor Nation alums Victoria Fuller and Courtney Robertson.
Of course, fans knew from the first trailer for the season that Tahzjuan might make a play for Zach during her guest appearance. But hey, that simply means she's not afraid to keep trying for love — even when it's been rocky so far. If you need a refresher of Tahzjuan's journey to this point, it all started on Colton Underwood's season of The Bachelor back in 2019. She was sent home at Colton's first rose ceremony, so viewers didn't get to see too much of her personality just yet.
That changed, though, with the two seasons of Bachelor in Paradise that followed. She was uncomfortable with the extreme heat and even needed medical attention for dehydration at one point, and her romantic prospects weren't much better. In Season 6, she was interested in John Paul Jones but ultimately didn't get a rose and was sent home. In Season 7, she forged a connection with Tre Cooper after dating his uncle back at home. Ultimately, though, it didn't work out: Tre sent himself home, and Tahzjuan followed separately.
"I'm just, like, done with love," she said at the time. "I give up. I didn't want my time here to be cut short, but there's no options left ... that's just how my Paradise cookie crumbled," she said at the time. "Which is really unfortunate. I came to Paradise to be able to find love again, and it didn't work out again. This is like, my worst nightmare. You know? We're meant to find love."
After that outing, Tahzjuan took to Instagram to thank her fans for their support. "If there is anything you take away from my time on the show it's that you should always be yourself because you make the world great," she said. "And never let anyone dull your shine. You're perfect just the way you are."
Since her last Bachelor Nation appearance, it doesn't seem that Tahzjuan has been dating anyone — at least, not according to her Instagram. She is, however, working as a real estate broker in Denver, per her LinkedIn, and recently had a mini Bachelor Nation reunion aboard a Virgin Voyages cruise with Johnny DePhillipo, Tyler Norris, Mario Vassall, and Bibiana Julian.
This article was originally published on