'Queer Eye' Did A Lot More For Noah Than Throw Out His Beloved Cargo Shorts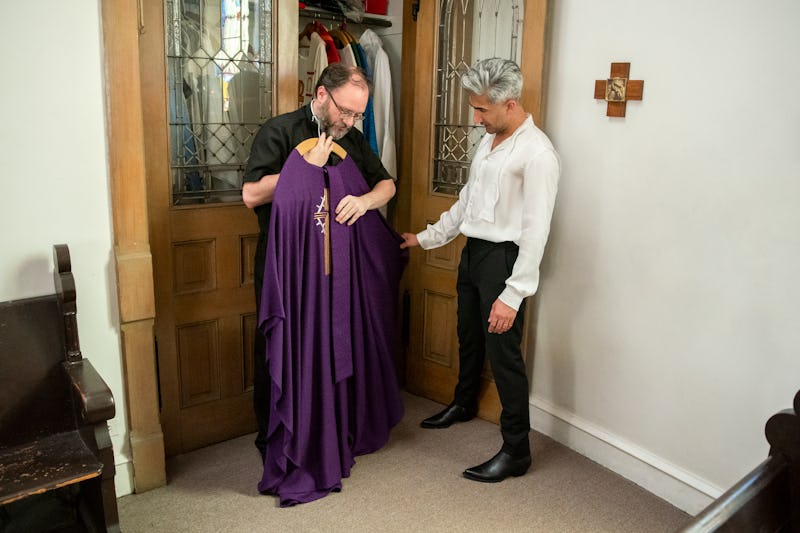 Ryan Collerd/Netflix
After the Fab Five helped Queer Eye Season 5 hero Noah Hepler "take the past out of pastor and find faith in himself," the gay Philadelphia pastor proclaimed he'd become the kind of religious leader he always wanted to be. Since then, he's continued to lead his congregation as the pastor of the Evangelical Lutheran Church of the Atonement in Philadelphia's Fishtown neighborhood. Only now, he's doing it all without the guilt and shame he says he carried regarding his sexuality before appearing on the Netflix show.
"Anytime I feel that strong sense of guilt and shame trying to reassert itself, I remember that conversation I had with Karamo, Pastor Meg, and Bishop Guy, and that has been a source of strength to try keep that at bay," Noah tells Bustle. "It's still there and the process continues for me, but I'm in a really great place right now emotionally and spiritually."
Nominated for Queer Eye by members of the church council, Noah sought assistance from the Fab Five — Antoni Porowski, Tan France, Karamo Brown, Bobby Berk, and Jonathan Van Ness — to build more confidence as a leader. After being brought up in an ultra conservative, homophobic environment in North Carolina where he couldn't play cards, dance, or listen to secular music, the once-timid pastor didn't come out until he was in his 30s, after he'd married a woman. Following their divorce, he began a new chapter in Philadelphia, where he's fostered an environment of acceptance at what he calls "the quirkiest church in Fishtown," which also got a Queer Eye makeover.
Since Queer Eye Season 5 premiered, Noah says that people have been coming by to take photos of the church, which remains closed due to the coronavirus pandemic. He expects the show to bring an influx of new visitors in the future. In the meantime, he's been hosting monthly online discussions, which he was previously hosting IRL at local Philly restaurants and started in order to "connect with people on neutral ground and have more honest and open conversations that are less defensive about the mistakes that have been made in the name of Christianity by Christians."
Noah has also moved back into the parsonage with his cats Thor and Sateen, is looking forward to dating more once social distancing measures ease up, and jokes that he never wears his one remaining pair of cargo shorts "except to take out the trash, maybe." But despite all the changes, Noah's mission remains the same. "Whatever liberation I might be experiencing, it doesn't mean a whole lot if other people are still suffering," he says. "I might stumble and fall, and I may not do it right every time, but I think taking that risk of getting to work and speaking up for my friends who are suffering is better than remaining silent. I hope we can see that there's some real strength in being appropriately vulnerable with one another."