Queer Eye Star Jenni Seckel Shared An Update After Season 7
For the New Orleans educator, the show's impact lasted way beyond filming.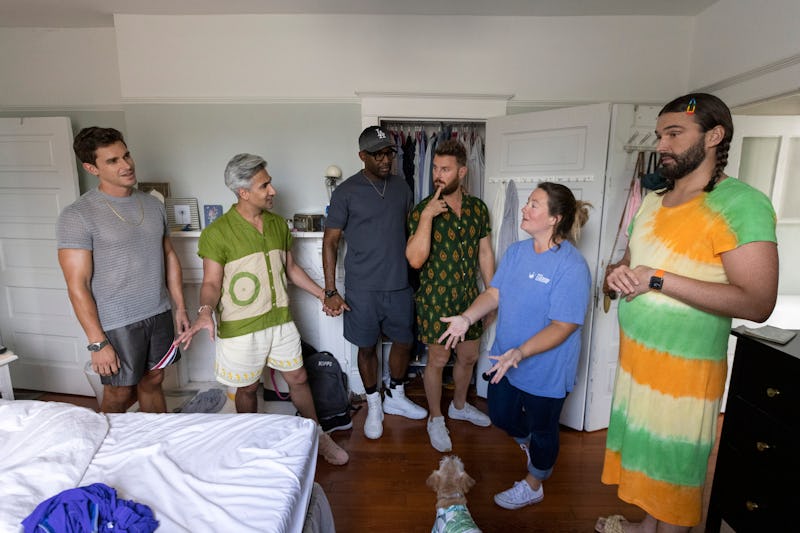 Iiana Panich-Linsman
Queer Eye Season 7 has finally arrived — and this time, the Fab Five are transforming lives in New Orleans. One of their heroes is Jenni Seckel, a local educator who needs a little help on her self-love journey. "I don't do anything but school. It was worth personal sacrifices at that time," she said of her career, which includes serving as school principal for six years. "But yeah, I did lose myself."
With Jenni transitioning into a new supervisory role, it was the right time for the Queer Eye team of Bobby Berk, Karamo Brown, Tan France, Jonathan Van Ness, and Antoni Porowski to do their thing. They helped Jenni prepare for an upcoming back-to-school party at her home, something she definitely didn't feel ready for. "I have not had people really come to my house," she told Antoni. "Because it's kind of been like, 'Well, your house is better,' or 'You're a better cook.'"
Fortunately, Bobby got to work transforming her home — which, as Jonathan put it, was previously giving "I didn't know you were coming over" vibes. Antoni and Jenni bonded over French cuisine, while Tan helped the week's hero realize that she deserved to feel pretty in her clothes. "It's a tale as old as time: when a person isn't feeling great about themselves, the last thing they should do is put things on that make you feel worse," he said. "You're punishing yourself by not allowing yourself to be beautiful."
Later, Jonathan helped Jenni transform her hair into a bouncy, dark auburn look: a big change from the hair she'd usually wear in a bun or straighten for stress relief. And Karamo helped Jenni work on quieting her inner, self-deprecating critic. "I think you saw in me things that, like, people who are closest to me have not seen so fast," Jenni told Karamo. "It was scary. But it was just so enlightening."
During their final check-in, Jenni revealed that she had two dates lined up and had been busy entertaining in her home. "I've never felt so seen in my whole life," she said of her time with the Fab Five.
So, what is Jenni from Queer Eye doing today? Though she only has a few new photos on her Instagram since filming (which happened in summer 2022), they seem to reveal that she's living her best life post-Fab Five — from holiday traditions to celebrating her sister's bachelorette party. Most recently, she posted photos from Mardi Gras.
She still seems to be loving the hairstyle Jonathan helped her discover, and that's not the only sign of Queer Eye's lasting transformation. In one photo on the Mardi Gras post, she's posing in her newly designed living room, hosting friends — something she wasn't super comfortable with before! There are also some very alive houseplants in the snap, which would make Bobby proud.