Every Piece Of Art Stolen From The Gardner Museum In This Is A Robbery
The drawings, paintings, and objects are collectively valued at $500 million.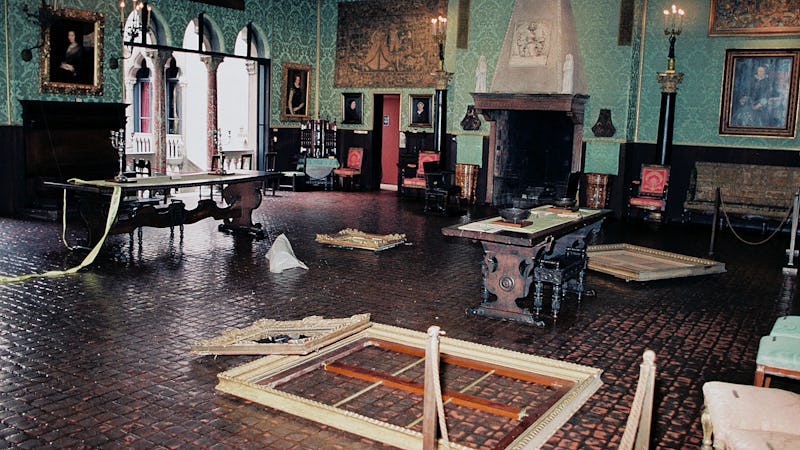 Netflix
In the early hours of March 18, 1990 — as Boston's St. Patrick's Day revelers made their way home — two men dressed as police officers deceived their way into the closed Isabella Gardner Museum. "This is a robbery," they told the guards before tying them up. They spent the next hour looting the walls of the art museum, leaving with 13 works that added up to a $500 million haul. Despite a standing $10 million reward offer, no one has come forward with any information that has led to the recovery of even a single missing work. Netflix's new four-part documentary, This Is A Robbery, details what's now known as the world's most expensive art heist. Ahead of the show, here's a guide to the drawings, paintings, and objects you'll no longer see on display at the Gardner.
The Concert by Vermeer (c. 1664)
Some experts believe this Dutch masterpiece, valued at over $200 million, is the most expensive missing painting in the world.
The Storm on the Sea of Galilee by Rembrandt (1633)
According to This Is A Robbery, this biblical painting is the only seascape that the Golden Age master is known to have ever made.
A Lady and Gentleman in Black by Rembrandt (1633)
This missing work is likely Rembrandt's first double portrait, painted when he was in his mid-20s.
Landscape with Obelisk by Govert Flinck (1638)
This work by a less well-known Dutch painter was believed to be a Rembrandt when Isabella Gardner, the Gardner museum's founder, acquired it.
Chez Tortoni by Édouard Manet (1875)
Chez Tortoni is one of Manet's snapshots of Paris' cafe society in the late 19th century.
Portrait Of The Artist As A Young Man by Rembrandt (1633)
This miniature drawing is smaller than 2-square inches. Gardner purchased it for $120 in 1886.
La Sortie De Pesage by Edgar Degas (19th century)
This is one of five works on paper by Degas stolen during the heist.
Cortège Sur Une Route Aux Environs De Florence by Degas (late 1850s)
This small pencil drawing of a procession features Florence in the background.
Three Mounted Jockeys by Degas (late 1880s)
This unfinished horse drawing was stored in a cabinet designed by Isabella Gardner herself.
Program For An Artistic Soirée by Degas (1884)
This charcoal drawing features the same discordant images as Degas' Study 2: dancers, smoke stacks, and music.
Program For An Artistic Soirée, Study 2 by Degas (1884)
This version is more finished, leaving space in the corner for information about the soiree to be added later.
Bronze Eagle Finial
This 10-inch French finial once adorned a flagpole flying a silk flag from Napoleon's First Regiment of Imperial Guard. The thieves attempted to steal the flag, too, but settled for the finial when the flag case refused to open.
Ancient Chinese Gu (1200–1100 B.C.)
The Shang Dynasty vessel was the oldest item stolen from the museum and one of the oldest pieces in Isabella Gardner's collection.