The Circle Season 2 Will Be A "Four-Week Event"
All 13 episodes won't be immediately available to stream.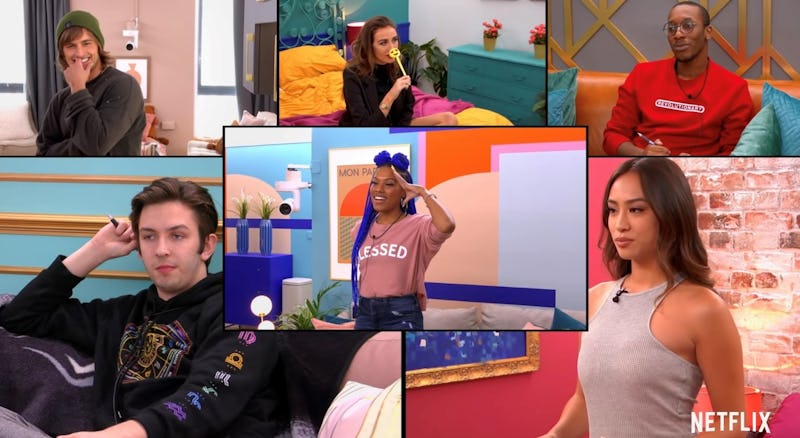 Netflix/screenshot
Anyone hoping to marathon the entirety of The Circle Season 2's 13 total episodes will have a bit of a wait. The reason? This time around new Circle Season 2 episodes will air in small batches over the course of month in what the streamer has dubbed a "four-week event." Netflix will drop the first four episodes on April 14, with an additional four installments premiering each of the following two Wednesdays (April 21 and April 28) at 3 a.m. ET. Then, the standalone Season 2 finale will be available to stream on May 5.
That's not the only change fans have to look forward to in Season 2, though. Netflix billed the newest installment of the popular social media-themed competition series as "bigger and better, with more twists, turns, and shade thrown in all 13 episodes." After entering The Circle, the new cast of eight contestants will "flirt, befriend, piss off, and compete in challenges against each other on a unique social media platform" to earn the top influencer title — and the $100k prize, of course.
Actress and comedian Michelle Buteau is returning as host, and the Season 2 contestants include: Too Hot to Handle's Chloe (22, from Essex, UK), Bryant (27, from Chico, CA), Courtney (28, from Los Angeles, CA), Deleesa (32, from The Bronx, NY), Jack (20, from New Haven, CT), Lee (58, from Dallas, TX), Savannah (25, from Los Angeles, CA), and Terilisha (34, from Dallas, TX).
As always, the contestants can choose to either compete as themselves or go the catfish route, taking on a whole different persona. Although The Circle Season 2's trailer makes clear that Chloe from Too Hot to Handle is very much a part of the game, the teased mid-series introduction of *NSYNC's Lance Bass as a new player isn't as clear-cut, as fans have yet to see anything other than his supposed profile. Other newcomers are likely to join as well, though viewers will have to wait to meet them. Meanwhile, Netflix also teased an as-yet-unknown Joker-themed twist, while Savannah announces something "could change the entire game."
After bartender and actor Joey Sasso took home Season 1's $100,000 grand prize, applicants were quick to throw their hats in the ring to compete in one of the two additional seasons Netflix announced in March 2020. "It's been incredible to see Netflix members everywhere respond to the raw, authentic stories of real people and real stakes," Netflix boss Brandon Riegg said in a statement at the time. "We pride ourselves on creating a favorite show for any taste, and we're thrilled fans embraced all of these series with such enthusiasm and shared passion. We look forward to sparking more joy for our members."
Similarly, Season 2 is sure to be filled with plenty of new twists and turns to keep fans tuning in over the course of the next several Wednesdays.