Joe & Serena's Relationship May Blow Up Later This Season On BiP
Joe's ex Kendall Long is slated to arrive on the beach, and there will be no shortage of drama.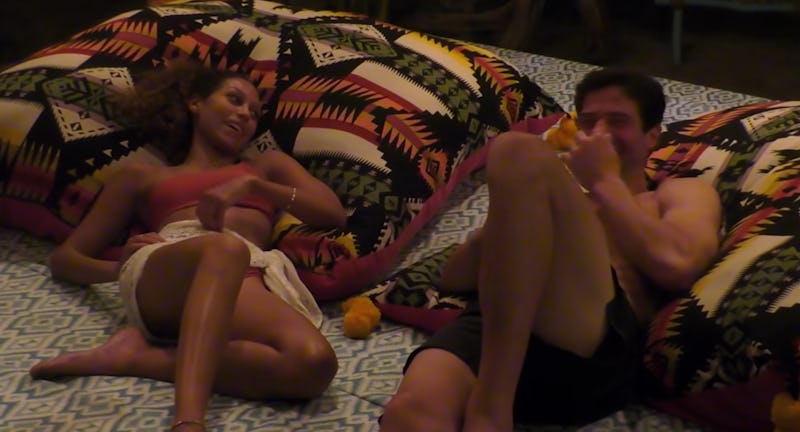 No one had a rougher time on night one of Bachelor in Paradise than Joe Amabile. The fan favorite contestant, who appeared on Season 5 of the reality series, spent the Season 7 premiere sulking around the beach after realizing he hadn't fully prepared himself for how hard it would be to return to the place he fell in love with his ex Kendall Long. He eventually hit it off with Serena Pitt and shared a sweet — if clumsy — kiss. But the burgeoning couple will have a storm to weather ahead: the Season 7 trailer confirmed Kendall is also set to appear on Paradise this season, which will undoubtedly spark some drama.
To add some context, Joe and Kendall dated for two years after meeting on Paradise, eventually moving in together in Los Angeles. However, they split in January 2020, over a year before Bachelor in Paradise was filmed. As Joe explained on BiP, the two simply envisioned different futures for themselves. "Ultimately, Joe foresaw his happiness and work in Chicago, and I can't resent him because of that. And for me, I just never foresaw a future there," Kendall explained to Entertainment Tonight. "I think that it became an ultimatum within itself, where either I move to Chicago or we break up, and I didn't really wanna have a relationship like that."
In the BiP trailer, Joe is clearly shocked to see Kendall on the beach, and the two have a quick exchange about their intentions. "Why did you come here?" Joe asks, to which Kendall responds, "Why did you come here?" Shortly after that sequence, Joe is seen embracing Kendall before the trailer cuts to a shot of Serena crying during a one-on-one interview. It's unclear if this is a case of tricky editing, or if Serena is on a fast track to heartbreak. Joe can also be heard via voiceover saying, "Kendall's definitely trying to stop this."
An additional preview at the end of Episode 1 included more footage of Kendall and Joe. In it, Joe tells Serena that she's the second women he's ever loved, before also telling Kendall "It's not like I'm 100% sure that [Serena is] the one." There's also a short sequence in which Serena appears distraught, watching Joe and Kendall have a conversation.
Given that there's no actual schedule for new arrivals, it's hard to say when exactly Kendall will join the cast. However, knowing producers, they'll wait until Joe and Serena are beginning to settle into a solid relationship before sending in Kendall to stir the pot — and perhaps blow up their relationship entirely.