Here's When You Can Find Out How The Final Succession Episode Ends
Jeremy Strong teased the series finale was "a double black diamond to go down."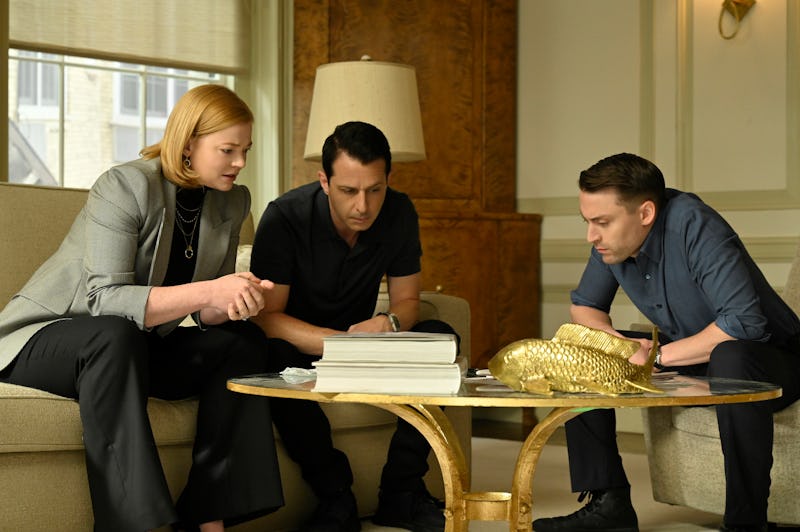 David Russell/HBO
In one of the first clips from Succession Season 4, Logan Roy (Brian Cox) proclaimed, "This is not the end!" Months later, his assertion turned out to be wrong in more ways than one. For starters, creator Jesse Armstrong revealed in a February New Yorker profile that he'd decided the Emmy-winning HBO drama's fourth season would be its last. "You know, there's a promise in the title of Succession. I've never thought this could go on forever," he explained. It remains to be seen, however, exactly who will win the Waystar Royco throne when the Succession series finale airs on Sunday, May 28, at 9 p.m. ET.
There will be plenty of time to find out, though: The final episode will be 90 minutes long, according to composer Nicholas Britell. "It's a huge episode — like a movie," the Emmy winner told Variety. Afterward, Entertainment Weekly also confirmed the finale's supersized runtime will clock in at about 90 minutes, making it the longest episode in the series by far.
The 10-episode final season had already been in the works for years. Armstrong told The New Yorker that the end "has always been kind of present" in his mind, beginning with Season 2. His ultimate decision to end Succession "solidified through the writing and even when we started filming. He recalled, "I said to the cast, 'I'm not a hundred percent sure, but I think this is it.' Because I didn't want to bullsh*t them."
Actor Jeremy Strong was on board. Before the show's Season 4 premiere, he described his "mixed feelings" about saying goodbye to Kendall Roy — along with the creative team and his co-stars, including Cox, Sarah Snook (Shiv Roy), Kieran Culkin (Roman Roy), Matthew Macfadyen (Tom Wambsgans), Nicholas Braun (Cousin Greg), and Alan Ruck (Connor Roy).
"It's been such a gift, a role like this, getting to play what I think, in terms of the writing, is one of the great modern anti-heroes," Strong said in a March interview with Entertainment Weekly. "I was also ready for it to be done. I've advocated before now that it should be done for Kendall. I've felt that his arc has been close to, if not at, the point of running its course. There's only so much catharsis and so much tragedy that a character can undergo before there's nowhere left. So I do feel a sense of completion in the best possible way and I also feel a concomitant sense of loss."
He also reflected on filming his final scene as eldest Roy sibling Kendall. "Certainly, there's an awareness on the periphery that this is it, but in a way there's no room for that," he added. "You can't both be saying goodbye to a television show and be doing what you need to do at the same time — or I can't. I will say that the final episode, the culmination of everything, where Jesse really brings everything to its crisis, was like a double black diamond to go down. That's what you want as an actor, and so that was incredibly fulfilling."
Snook, for her part, told the Los Angeles Times in March that none of the cast was emotionally ready to be done with the show "because we love each other so much." Even so, she added, "Everything has to come to an end, and it's smart not to let something become a parody of itself."
This article was originally published on