Emergency: NYC Covers Nearly 2 Years Of The COVID-19 Pandemic
Netflix's Lenox Hill followup documents "raw acts of humanity."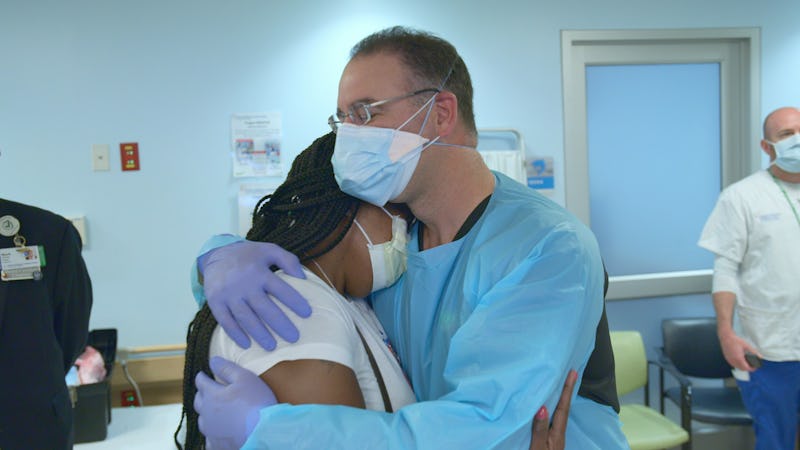 Netflix
A new eight-part Netflix docuseries, Emergency: NYC, kicks off with the statistic that approximately 2.7 million medical emergency calls are made in New York City per year — or nearly 300 calls every hour. Following the day-to-day lives of NYC emergency medical workers, the high-intensity series highlights the effects the COVID-19 pandemic has had on an increase in those 911 calls, as well as the city's healthcare system as a whole.
"COVID was a real wake-up call, but also a stressor that we still haven't fully recovered from," Lenox Hill Hospital's neurosurgery chairman, Dr. David Langer, who also appeared in Netflix's Lenox Hill, explained in the premiere.
The documentary captures a large swath of the pandemic, too, as a Netflix rep confirmed to Bustle that directors Ruthie Shatz and Adi Barash began filming Emergency: NYC in December 2020 before wrapping in August 2022. Dr. Langer elaborated that, in the beginning, many patients were afraid to come to hospitals until they were seriously ill, and those people "that had been hibernating under the cover of COVID" suddenly began reappearing in hospitals.
His Lenox Hill colleague, Dr. John Boockvar, echoed that statement in the show. "During the COVID pandemic, in general, people delayed their healthcare," he said. "That had significant consequences for everything from detection of cancer, to checking your blood pressure, and that led to an increase in just about everything we see, including emergencies and late diagnoses that should have been picked up earlier."
As the pandemic slowed, NYC residents were also leaving their homes and going out in public more, also resulting in an uptick in cases. "Assaults went up, shootings all of a sudden went up," Dr. Langer added. "There was frustration, there was fear, and all these things basically resulted in human beings acting out again."
Indeed, the first episode shows Cohen Children's Medical Center's pediatric surgery director, Dr. Jose Prince, treating a 17-year-old patient with multiple gunshot wounds. "It's important for the world to get an inside look at some of our toughest pediatric cases — especially the treatment of gun violence victims — that we as physicians see too often," Dr. Prince said in an interview with Netflix's Tudum. "This docuseries serves as an important window into this growing health care crisis in our country, but more importantly shows the amazing work health care workers are doing every day in New York City to save the lives of our children."
Emergency: NYC also features first responders as they transport, care for, and operate on patients across Manhattan, Queens, and Long Island, at Lenox Hill Downtown, Lenox Hill Hospital, North Shore University Hospital, Cohen Children's Medical Center, and SkyHealth helicopter service in Long Island. Additional featured medical professionals include: flight nurse Mackenzie Labonte, EMT Vicky Ulloa, trauma transport nurse Donald Darby, paramedic Kristina McKoy, hospital chaplain Mark Daniels, ER physician Dr. Mirtha Macri, transplant surgeon Dr. Elliot Grodstein, transplant surgeon Dr. Ahmed Fahmy, pediatric trauma surgeon Dr. Chethan Sathya, and transplant surgeon Dr. Lewis Teperman.
"We wanted to portray the vital importance of each individual while revealing the complexity of the health system and its many moving parts," Shatz and Barash, who also executive produced the series, told E! News. "Their raw acts of humanity are usually only witnessed during the most fragile moments of a person's life, but are necessary for all to see."