The Daughter From The Holiday Is A Punk Musician Now
Miffy Englefield is all grown up.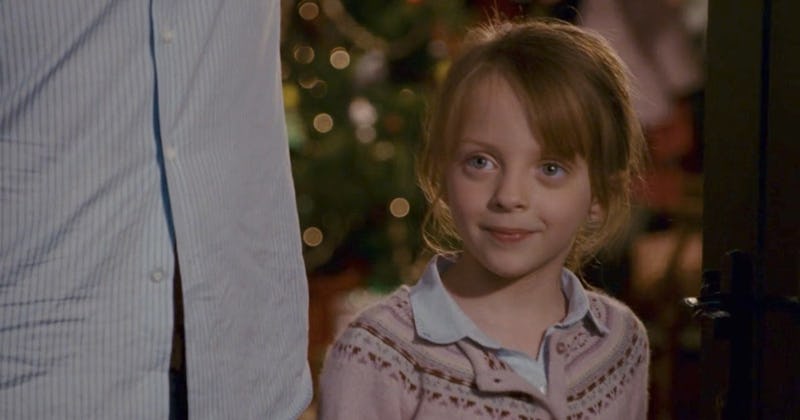 Netflix / The Holiday
This time 15 years ago the world was treated to The Holiday, a festive staple starring Jude Law, Cameron Diaz, Kate Winslet, and Jack Black. Now streaming on Netflix, now's the perfect excuse to get all nostalgic over Christmas — especially when it comes to the film's youngest stars, who played Jude Law's on-screen children. But where are the daughters from The Holiday now?
Miffy Englefield, who starred in the movie as Sophie when she was six-years-old, had a few telly roles after her film debut including The Whistleblowers and Casualty. Englefield stopped acting when she was in her early teens, however, as home life and looking after her siblings because her main responsibility. Explaining her on Instagram last year, she said, "It's not that I wouldn't love to act again. Trust me, that's all my heart wants in the world. Unfortunately my situation as a child from a working class, single parent family meant I couldn't continue."
She added, "As an adult, I've found that casting directors aren't overly seeking people who 'look like me' to play roles, even though body modification isn't rare these days and is the most common it has eve been."
Englefield, now 22, has had a drastic style change from the cute cardigans and bright red hair we saw in The Holiday. She now described herself as "Pint sized punk. Always overdressed. Mini skirt fanatic. Thrift queen." She occasionally performs gigs as a singer and guitarist and also runs an OnlyFans account under the name Barbie Punk.
In April 2020, Englefield welcomed her daughter Frankie into the world. "She has the largest and most loving family with the most ridiculous mix of beautiful people around her," she captioned on a now-deleted Instagram post announcing Frankie's arrival. "We cannot wait for you all to meet her once the world begins to return to a more normal state."
Englefield has very fond memories of her time on The Holiday set, despite not knowing who the big names were — apart from Black. Speaking to Fabulous magazine "My dad was really into alternative music and I liked [his band] Tenacious D," she told Fabulous magazine in 2020. "The first time I met him I bounded up to him and said, 'I love your music.' He was like, 'that is ridiculous, you are six years old!'"
Once her daughter is older, Englefield will definitely show The Holiday to her. "If she wanted to be an actress I would support her," she told Fabulous. "And I know what people will say 'the little girl from The Holiday is a mum' — god, I must be really old."
Although they haven't spoken since filming, Englefield became close with Law and Diaz while filming The Holiday. The actors even gave her and her co-star Emma Pritchard denim jackets with their names on after filming wrapped. "They made all this time for these two little kids running around," Englefield told the New York Times.
As for Pritchard, who played Olivia, it seems like The Holiday has been her only acting credit. As Tyla notes, she seems to be keeping a low profile and doesn't have any social media accounts.
You can stream The Holiday now on Netflix UK.
This article was originally published on