Here's Where John Paul Getty III's Mother Is Now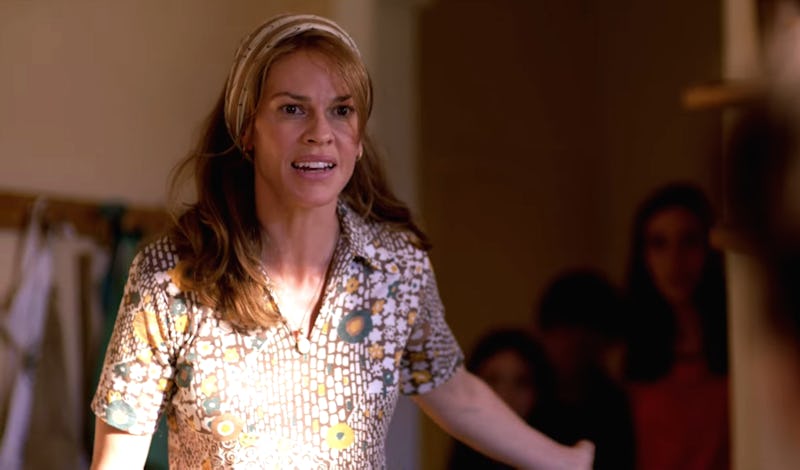 FX
While the story of the kidnapping of J. Paul Getty III has a lot of callous characters, one constant sympathetic figure is his mother, Abigail "Gail" Harris Getty. Portrayed by Hilary Swank, Gail Getty in Trust is desperate to find her teenage son after he disappears in Italy in 1973. This is the second acclaimed actor to play this real-life person within the year since Michelle Williams was Gail in All The Money In The World. The events of the Ridley Scott film and Season 1 of Trust take place more than 40 years ago, but Gail is one of the last people featured in this tale who is still alive. However, after the kidnapping of her son, Gail continued to have obstacles in her life, and where Abigail Harris Getty is now is a segment of history not as well explored in dramatized versions. Since Trust is based on history, spoilers follow.
Gail was once married to J. Paul Getty Jr. — the son of J. Paul Getty Sr., who is portrayed by Donald Sutherland in Trust. The New York Times outlined that Gail Harris and Paul Jr. married in 1956 near San Francisco and had four children, Paul III, Aileen, Mark, and Ariadne. They relocated to Rome so Paul Jr. could run the Italian branch of Getty Oil, and, in 1963, Gail and Paul Jr. divorced. The New York Times wrote that Gail divorced him, but the British publication Tatler Magazine reported that Paul Jr. had left Gail for Talitha Pol. But, as shown in Trust, Gail stayed in Italy with their children and was a stable presence in their lives despite the rather tumultuous Getty family.
Trust will also highlight Gail's attempts to save her son from the clutches of his kidnappers. She does succeed in eventually getting her ex-father-in-law to give her the money to pay Paul III's ransom, but it's not without a lot of struggle. And after the kidnapping, The New York Times reported that Paul III got married at 17 to Martine Zacher (who goes by the name Gisela now). Gisela had a daughter, Anna, from a previous relationship and the pair had a son together — actor and musician Balthazar Getty.
Unfortunately, Paul III's life was far from perfect. As People magazine reported, a drug overdose at the age of 25 in April 1981 left him blind and paralyzed. Like with the kidnapping, his mother had to advocate for her son again. William Newsom, a judge and family friend of the Gettys, claimed to People at the time that Gail was "very, very strong, but this thing has crushed her." Newsom continued, "She is terribly distraught, but she's never going to let her son know that. She's solid as a rock for him."
As The New York Times reported in his obituary, Paul III remained wheelchair-bound and unable to speak for the rest of his life. He died at the age of 54 in 2011. The writer of All The Money In The World, David Scarpa, claimed to Vanity Fair, "His mother basically cared for him until he died, so he was very close to his mother. He was the center of her life for over 40 years."
Besides caring for Paul III, Gail also played a part in the upbringing of his child Balthazar. In a 2016 interview with the U.K.'s Evening Standard, Balthazar said that his grandmother Gail was like a father figure to him since Paul III had his stroke when Balthazar was only five years old. "I can remember being frightened of her when I was a kid," Balthazar said. "Frightened that she would be upset. She was very vocal, very tough. She had to be because she went through so much personally."
The writer of Trust, Simon Beaufoy, told The Hollywood Reporter that he had wished to speak to Gail as she is the only living member of the Getty family who was involved in the events of Season 1 of the FX series. "I really wanted to talk to her, but it proved very difficult for legal reasons," Beaufoy said. "I have huge admiration for her. She's the one person in the story with no money, who kept the faith the whole time and wanted her son released. She worked tirelessly to get him released and yet she had no agency. She was divorced from the Gettys, she had no cash. She's an extraordinary woman and Hilary Swank plays her as the true heart of the whole series."
Yet, in an interview with CinemaBlend, All The Money In The World director Scott claimed that Gail had watched his movie. Scott claimed that the 82-year-old Gail allegedly more or less approved of his version of the events. As for where she is now, People reported that Gail "now lives a quiet life in London" — though it's bound to be far less quiet currently as Hollywood continues to relive this painful part of her past.