Wild Wild Country's Ma Anand Sheela Is Almost Unrecognizable In Searching For Sheela
The notorious former Rajneesh Movement spokesperson has left her commune days in the past.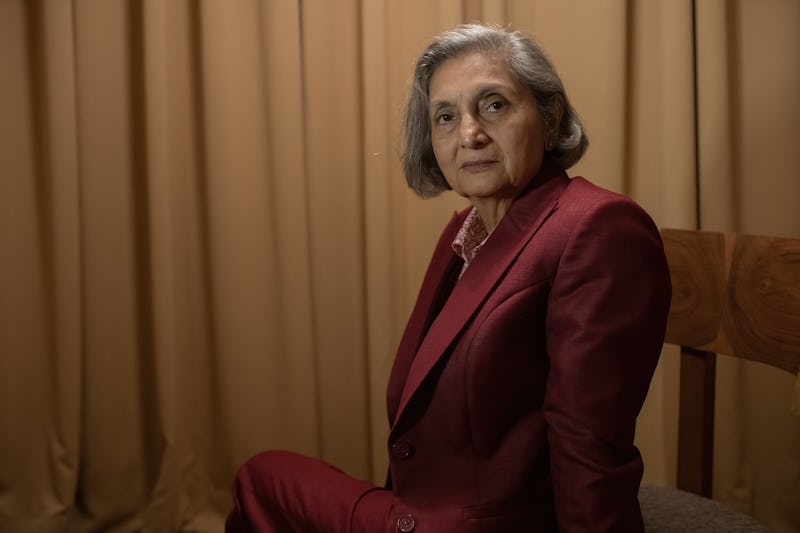 Netflix
There are more than a few stranger-than-fiction Netflix documentary series, but one of the wildest ever has to be the appropriately titled Wild Wild Country. Released in 2018, it tells the tale of Indian guru Osho (Bhagwan Shree Rajneesh) and how he built a commune of Rajneesh Movement followers in Oregon in the 1980s. That story ended with Osho's secretary and Rajneesh Movement spokesperson Ma Anand Sheela allegedly masterminding a bioterror attack, which left 751 people poisoned with Salmonella. Sheela was arguably the saga's most transfixing, controversial, and elusive character. Now, more of her story is being told in the new Netflix doc Searching For Sheela, which brings viewers up to speed on where Ma Anand Sheela is now.
In spite of her very serious crimes — poisoning an entire town is no joke, and Sheela served 39 months in prison for attempted murder and assault — she became somewhat of a breakout star following Wild Wild Country. Her quick wit, fiery persona, and acerbic tongue in interviews conducted during her time with Rajneesh created some demand from the public to learn more about her, leading to Searching For Sheela. The new doc follows the former Rajneesh member/convicted felon as she returns to India — the country where she was born, grew up, and discovered Rajneesh — for the first time in 35 years. Sheela essentially embarks on a tour of the nation in the film, encountering others' varied opinions about her wherever she goes.
These days, the now 71-year-old Sheela goes by Sheela Birnstiel, having taken the name of her late husband, Urs Birnstiel. She lives in Switzerland, where she has resided since the late 1980s. And though her life in Europe has been much quieter than it was in the States, it hasn't been completely free from drama. In 1999, Sheela was convicted by a Swiss court of committing "criminal acts preparatory to the commission of murder," according to the U.S. Justice Department, in relation to an unsuccessful 1985 murder plot against then-U.S. Attorney for Oregon Charles Turner. She was sentenced to time served. But aside from that hiccup, the last two decades in Switzerland, where she runs two nursing homes that cater to the elderly and people with disabilities, have been largely uncontroversial for Sheela.
One thing that hasn't changed? Her attitude towards her past actions. "I have no explaining to do," she recently told Variety. "People understand me from where they are — from what is their understanding about themselves and their lives, they project it on me. And I have no complaints about it, either. Good, bad, ugly, it makes no difference. I am me. Their opinions will not change me."
While she claims no longer holds any religious beliefs — and her onetime spiritual leader eventually denounced her, calling her a "perfect bitch," per the Guardian — Osho is still important to her. "In my bedroom, there are still a few pictures of Bhagwan. And opposite my working desk, too," she told Variety. "But other photos where I get my inspiration are from my parents. My parents and Bhagwan are prominent in my life. And I love them all today."
Ma Anand Sheela is a lot of things to different people. A bright and strong-willed woman who serves as an inspiration. A hardened criminal who thinks nothing of hurting or killing people to get what she wants. Or, these days, a soft-spoken septuagenarian who only is interested in helping those less fortunate. However you view Sheela, you'll see all sides of her in Searching For Sheela on Netflix.