The Circle Isn't Filmed Where You Might Think
The implied Chicago setting was a fake-out.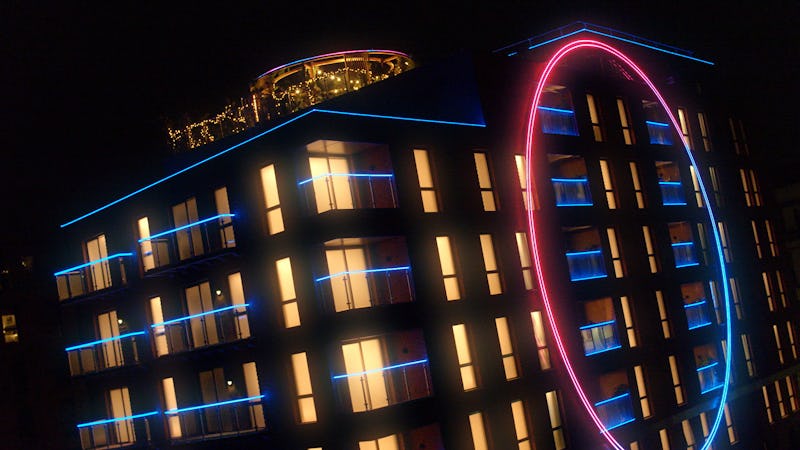 Netflix
Although the creative team behind Netflix's The Circle used exterior shots of Chicago landmarks in the American adaptation's first season, the supposed shooting location was as much a catfish as some of the show's contestants. As was also the case then, filming for The Circle Season 2 took place across the pond in the UK More specifically, the apartment building featured in several international versions of the series — including the United States' iteration — is located in Manchester's Salford district.
Before Netflix shot Season 2 of the reality competition last May, producer Stephen Lambert discussed how filming could continue in the age of Covid. "We're creating a huge fortress, a sort of sealed environment where we'll be able to control who comes in," Lambert told The Hollywood Reporter at the time. "Obviously the subjects are already isolated, so it suits what's going on, but we'll have contestants tested beforehand and we're discussing having them quarantined after they arrive in England."
Although the show's established quarantine element naturally lent itself to a socially distanced shoot, other variables, such as catering and days off for crew, posed a challenge. "You can create a closed environment, but you have to make sure you're plugging all of the holes," Lambert told THR, noting that his team coordinated with health and safety advisers both in the US and the UK in order to limit risk.
Luckily, it seems to have worked out, and producers already managed to film two additional seasons. (Netflix renewed The Circle for a second and third season in March 2020.) Inside Survivor's Martin Holmes confirmed the news in November, tweeting that The Circle "has now wrapped up filming two new US seasons."
Season 2 drops new episodes Wednesdays on Netflix for four weeks beginning April 14. The newest batch of contestants includes Too Hot to Handle's Chloe (22, from Essex, UK), Bryant (27, from Chico, CA), Courtney (28, from Los Angeles, CA), Deleesa (32, from The Bronx, NY), Jack (20, from New Haven, CT), Lee (58, from Dallas, TX), Savannah (25, from Los Angeles, CA), and Terilisha (34, from Dallas, TX).
After entering The Circle, those eight contestants (plus some late arrivals, which could even include *NSYNC's Lance Bass, according to a teaser) will "flirt, befriend, piss off, and compete in challenges against each other on a unique social media platform" to earn the top influencer title — and the $100k prize, of course. According to Netflix, The Circle's second installment will be "bigger and better, with more twists, turns, and shade thrown in all 13 episodes."
Other new Season 2 twists include the introduction of a "Joker" contestant — though it's unclear exactly what that means. As contestant Savannah announces in the trailer, however, it could be something that will "change the entire game." If you want to know more, however, you'll have to tune into the four-week event to see what else is new for yourself.