Yes, You Can Stay At The Too Hot To Handle S2 Villa
But it will cost you, big time.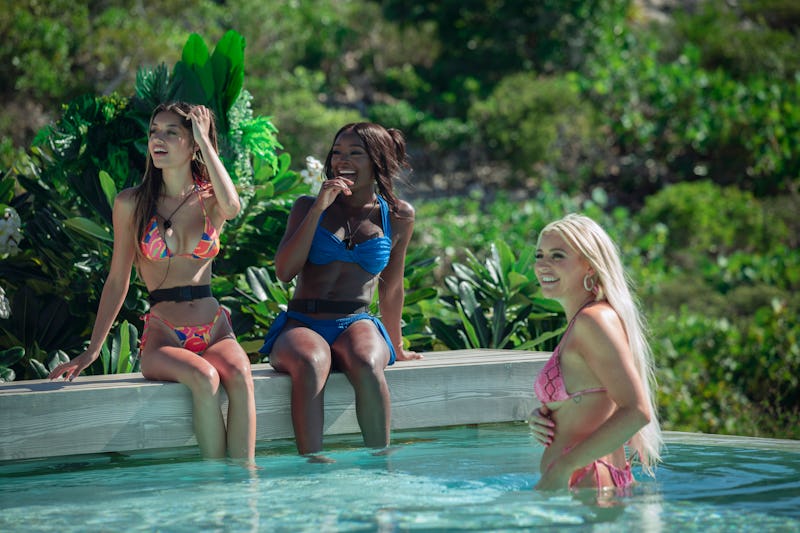 Tom Dymond/Netflix
Not only is Love Island returning to our screens this summer, but so is Netflix's Too Hot To Handle. Its second series will debut a week before ITV2's smash hit on June 23, with its final episodes available to stream on June 30. Much like its TV counterpart, the Netflix reality series will take place in a faraway (and tropical) destination. But where exactly is Too Hot To Handle season 2 filmed?
For a start, it isn't the same a the first season. When it first debuted in 2020, the singletons were whisked away to Punta Mita, Mexico, to fall in love without "kissing, canoodling, or self-gratification". This time they've across the Gulf of Mexico to the Turks and Caicos Islands in the Caribbean – specifically on the Providenciales island on the Turtle Tail Estate, according to BT.
Filmed through the COVID-19 pandemic, the contestants stayed in a five-bedroom villa that has its own movie theatre, tennis court, and in-house private chef, according to Radio Times. It has previously played host to some very famous faces, including P Diddy and Rihanna, according to Radio Times.
Selling Sunset's Christine Quinn has already given the villa a grand tour, describing the island as being "perfect for long periods of reflection, abstinence, and talking to an AI-programmed robot."
Quinn gives a quick sneak peek at what this season's contestants will experience in the villa, including the lounging area, the bedroom, the suite, and the glam room – her personal favourite. The villa also has a workshop and meditation area, as well as a massive T-shaped pool for the singletons to impress each other around.
This villa is relatively smaller than season one's destination in Mexico, but the isolation and beauty of Providenciales island more than makes up for it.
The other big question: can you stay at the Too Hot To Handle villa? Yes, but it will cost you. The daily rate is of $10,000 (around £8,500) and the waitlist is long; the villa is booked up until 2023, according to its official site.