Why The Mare of Easttown Crew Kept Filming Very Local
Kate Winslet's new HBO drama was filmed on location.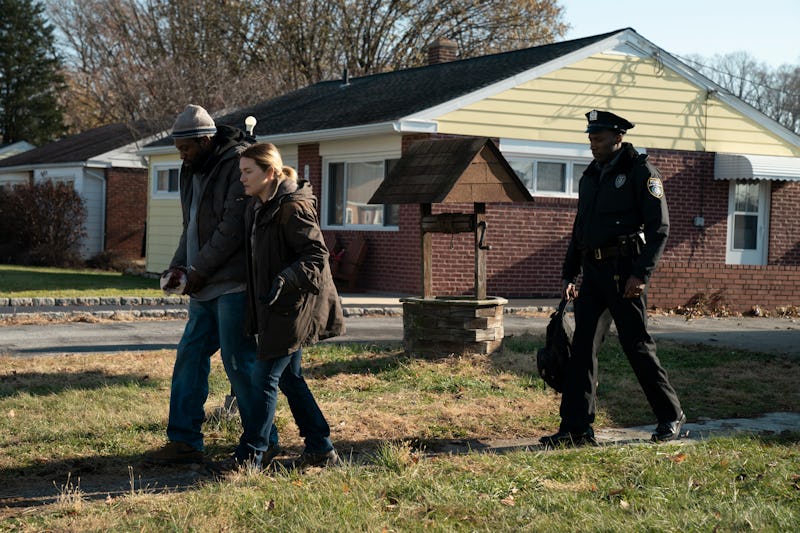 'Mare of Easttown' / HBO
Known for its Philly cheesesteaks and the Rocky franchise, Philadelphia has plenty to be proud of. And now it has a new claim to fame as, in 2020, the city's suburbs played host to filming for HBO's Mare Of Easttown, a seven-part drama series starring none other than Kate Winslet.
Set in (you guessed it) Easttown, a real-life township in Chester County, Pennsylvania, the new series follows a detective named Mare Sheehan (played by Winslet) as she investigates the murder of a young girl.
Although it's not clear whether the series was filmed on location in Easttown specifically, the Philadelphia Inquirer reports that the crew were spotted very nearby in locations across the Delaware and Chester Counties as well as Coatesville and Downingtown in Chester County.
It's no surprise that HBO kept things local for this series as Mare Of Easttown is all about small-town secrets and the dark underbelly of suburban American life.
As mentioned, Winslet will playing the titular character who watched her neighbourhood descend into chaos by the mysterious murder of a young girl.
Alongside Winslet, Evan Peters will play county detective Colin Zabel. The series also stars The Outsider's Julianne Nicholson, Watchmen's Jean Smart, Black Mirror's Angourie Rice, and Memento's Guy Pearce.
Mare of Easttown will air in the U.S. on April 18 and will transfer to Sky Atlantic (Sky channel 108) in the UK the following day. The series will follow a more traditional broadcast schedule, airing weekly instead of being made available all at once.
Two trailers for Mare of Easttown have been released so far, offering us hints of a storyline that sees Mare investigate the murder while also dealing with skeletons in her own closet.
Speaking to Deadline about her new role, Winslet said: "She's nothing like me — that's pretty scary in a great way if you're an actor that likes to feel terrified and exposed."
The Ammonite star added: "I just have never done anything like this and was excited to read something that gripped me right away. I really felt the sense of not only who she was but the world she lived in and comes from; that sense of community; being so entrenched in a society that you sort of forget who you are from time to time."
Contributions from Aisha Rimi.