Here's Where All The Too Hot To Handle Couples Are Now
There's only one pairing you need to keep an eye on...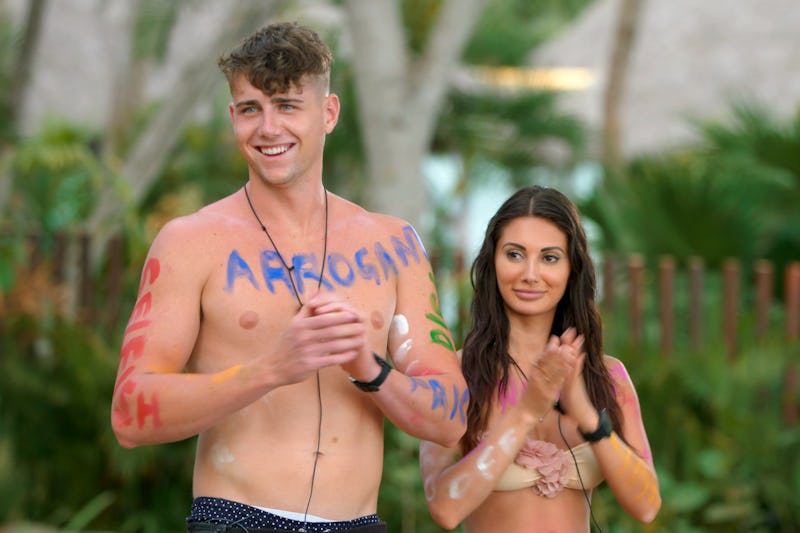 Netflix
It's official: Too Hot To Handle returns this week for season two, and I couldn't be more excited. The show is known to be entertaining and drama-filled of course, but when it comes to finding long-lasting love, is there much of a success rate? Well, given that none of the couples from series one are still together, the odds aren't looking good. Below you'll find a list of all the couples from season one and where they stand now.
Before we jump into the past, though, let's look to the future. Season two of Netflix's unusual dating show – which requires contestants to refrain from any kissing, cuddling, or sexual contact whatsoever in order to split a big cash prize at the end – will be returning tomorrow (June 23). The new cast includes a lawyer, two personal trainers, and four models (go figure), along with five other hopeful singles. Will they be able to keep their hands off one another? Well, judging by last year's record, the odds aren't looking great. The season one cohort saw their prize fund drop from $100,000 to $75,000 (largely thanks to one couple in particular: we're looking at your Harry and Francesca), with each of them walking away with $7,500. Not bad, but not 10k either.
Let's hope this year's contestant fair better in both the money and love departments...
Harry Jowsey & Francesca Farago
Harry and Fran were the ones to watch in Too Hot To Handle (THTH) season one. The pair appeared to find love on the show, but broke up shortly after filming ended. They then got back together for a while, which was revealed on the reunion show, when Harry actually proposed (with a Ring Pop) to Francesca via Zoom!
However, a few months after the engagement, they split for a second time, with Harry later saying he felt very "depressed" during moments in their relationship. Fran then began dating The Only Way Is Essex star Demi Sims and the two shared a whirlwind romance before splitting in April this year.
So, where are we now? Well, fans now think Harry and Fran are back together following the Demi split as they have posted photos together in Mexico. However, in a TikTok video from Fran, she does refer to Harry as her "ex." I guess all we can do is watch this space (and their Instagrams!).
Sharron Townsend & Rhonda Paul
Unfortunately, THTH viewers were heartbroken when fan favourites Sharron and Rhonda split up following the show's airing. During the show's reunion, the couple told host Desiree Burch that they hadn't been able to make it work, mainly due to the distance between then (Sharron lives in New Jersey, and Rhonda lives in Georgia).
Back in 2020, Rhonda revealed she had moved on and found somebody else, however. "Sharron and I are not together, but fortunately I have been able to rekindle a relationship with a special someone," she said. It's unclear if she's still with this same person, but one thing is clear from her Instagram: the most important man in her life is still her young son!
David Birtwistle & Lydia Clyma
With Lydia being a late arrival into the house, her and David didn't get much time to start something up, but there was clearly a connection between the two of them. Following the show, the pair stayed close, but only as friends.
David told Capital FM in May last year: "Lydia and I are really close, to be honest, her and I have got a really nice friendship like as far as a romantic thing it didn't kind of go in that direction.:
David was rumoured to be dating someone back in 2020, but there's no sign of romance on his Instagram. Back in April 2021, Lydia revealed that she was single.
Byrce Hirschberg & Nicole O'Brien
This partnership was a bit left-field for many viewers of the show, as nothing had really happened between Nicole and Bryce on screen. However, the two started something up after filming ended, much to the delight of fans.
Sadly, this one didn't last long either due to the fact the pair live an ocean apart. With Bryce in LA and Nicole in Ireland, they couldn't make things work and Zack Teperman, a rep for Byrce, told People magazine in May 2020, "I can confirm that Bryce and Nicole decided mutually to split early last week after months of trying to make a long-distance relationship work."
There are no signs of romance on Bryce's Instagram page, while Nicole looks like she's having too much fun with her girls to have room for a man in her life! Her friendship with fellow cast member Chloe Veitch is still going strong.