Who Gets Graceland After Lisa Marie Presley Died? Elvis' Home Will Go Her Daughters
The late musician's reps confirmed the news to Bustle.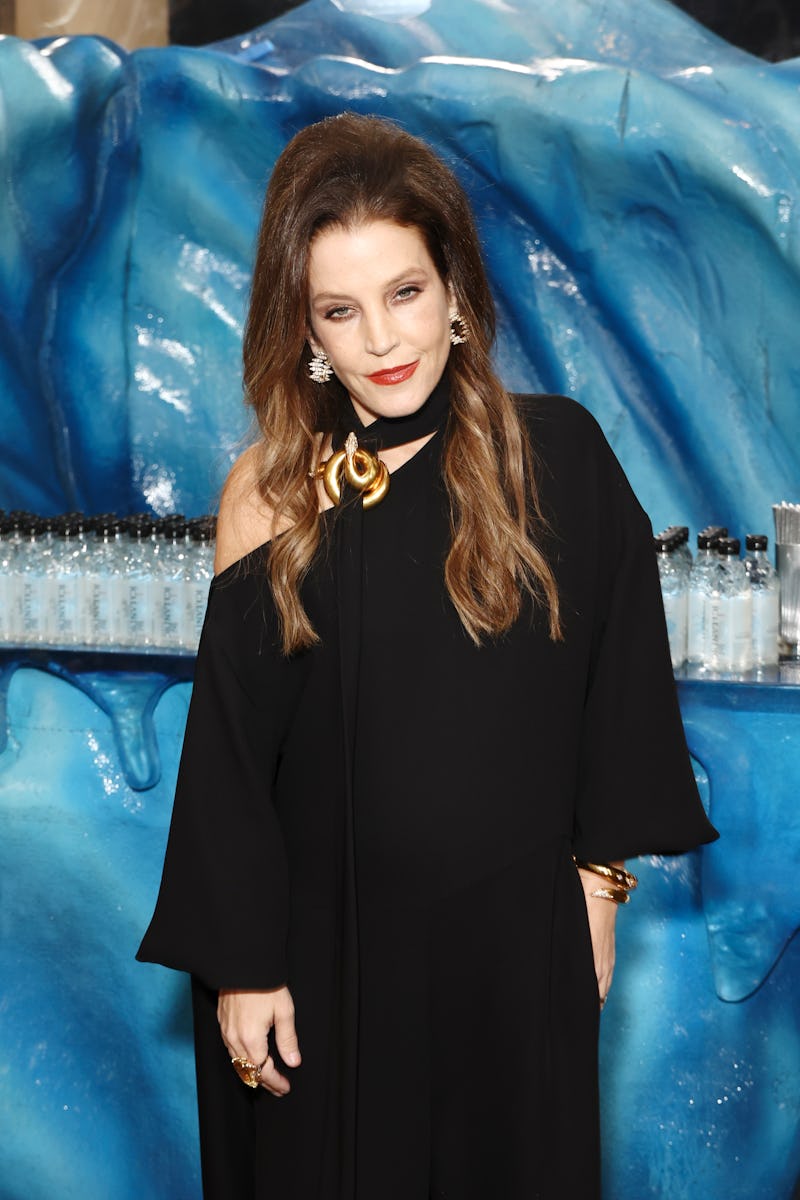 Joe Scarnici/Getty Images Entertainment/Getty Images
The world is still reeling from the sudden death of Lisa Marie Presley, Elvis Presley's only child, on Jan. 12 after going into cardiac arrest. On Sunday, Jan. 22, at 9 AM, the public will be able to say goodbye to the late musician during a scheduled public memorial service to be held on the front lawn of Graceland, Elvis' estate which was passed down to her.
The Memphis, Tennessee spot will also be her final resting place. Per a People report, Presley will be buried in Graceland's Meditation Garden next to her son Benjamin, who died in 2020. The estate also serves as the final resting place of the King of Rock 'n' Roll himself, his parents, Gladys and Vernon, and his grandmother Minnie Mae.
In a 2013 interview with Entertainment Tonight, Presley already shared what would happen to Graceland once she no longer owns it. "It is absolutely 100 percent mine and it has always been mine, Graceland," she began. "It will always be. And when it is no longer mine, it will be my children's. And that is that."
That's exactly what will happen. On Jan. 17, a rep of the family confirmed to Bustle that Graceland will go to Presley's daughters, Riley Keough, 33, and twins Harper and Finley Lockwood, 14. Riley is Presley's daughter with her first husband Danny Keough, while Harper and Finley are her daughters with Presley's fourth husband, Michael Lockwood. Though she filed for divorce in 2016, it was only legalized in 2021.
According to Graceland's official site, Presley became the sole heir to Elvis' estate after he died in 1977, and his father and grandmother died in 1978 and 1980 respectively. The property was held in a trust which was dissolved when she turned 25. Presley later formed a new trust, the Elvis Presley Trust, and tapped Priscilla Presley and the National Bank of Commerce as co-trustees.
In 1982, the family opened Graceland up to the public for tours and it's since become a National Historic Landmark. Per the site, Graceland welcomes over 500,000 visitors each year and has contributed extensively to tourism in Memphis.
Elvis passed away when Presley was just nine years old and in a 2013 appearance on The Talk, Presley recalled what it was like growing up with her father in their Graceland family home. "He and I spent a lot of time together upstairs. The upper part of Graceland is basically his room in my room, so we spent a lot of time together up there," she said, adding. "He'd set up a little chair in my room and a TV and be in my room a lot."
"That's when I got to really, you know, be with him."