Who Is Billie Eilish Dating? Boyfriend Jesse Rutherford Is A Singer Too
"It's really cool and I'm really excited and I'm really happy about it."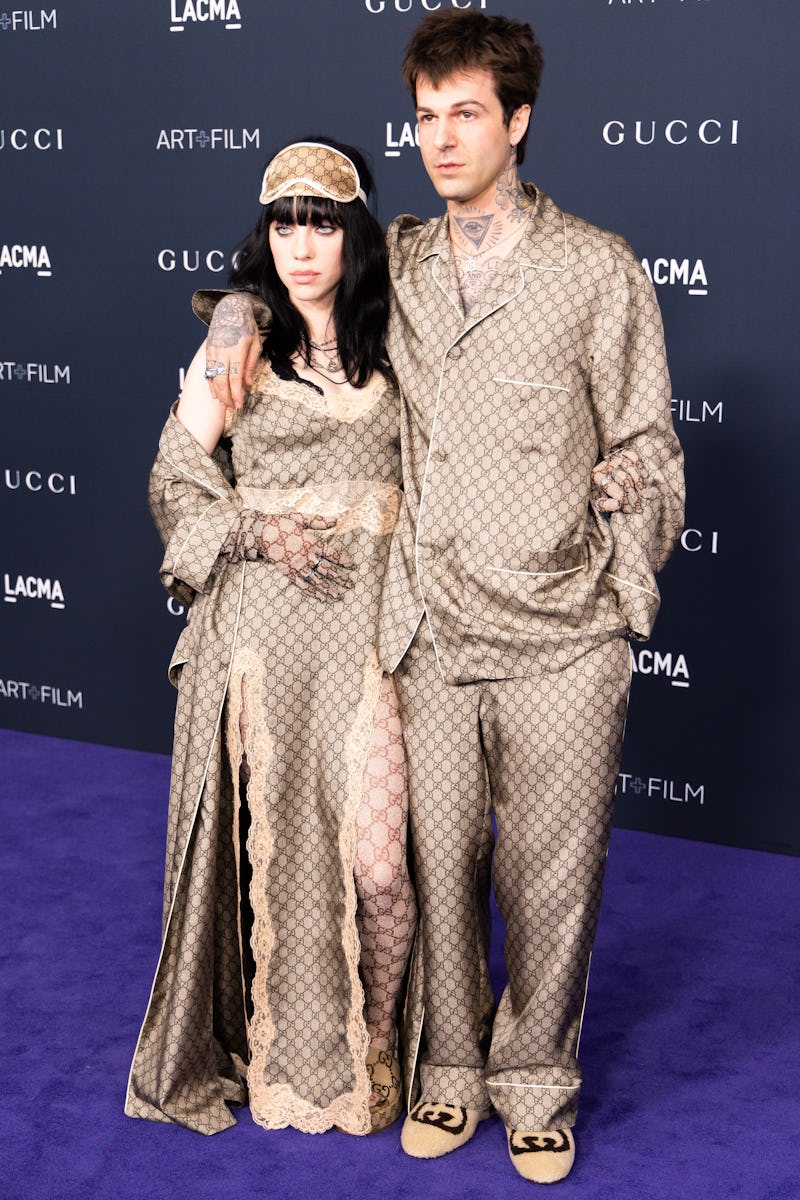 Robert Smith/Patrick McMullan/Getty Images
Billie Eilish has kept her dating life under wraps in the past, but in an interview with Vanity Fair, she got candid about her new boyfriend. Less than two months after she and The Neighbourhood frontman Jesse Rutherford were spotted kissing, she opened up about their relationship. "It's really cool and I'm really excited and I'm really happy about it," she told the publication, adding that they are inspired by each other.
Eilish also seemed to address any criticism there may be about their relationship. "Say what you need to say, but, like, I am in control right now," she said. "I did this. I managed to get my life to a point where I not only was known by a person that I thought was the hottest f***ing f***er alive, but pulled his a**! Are you kidding me? Can we just [get a] round of applause for me?" She then clarifies that her boyfriend is indeed Jesse Rutherford.
Three weeks previously, the couple made their red carpet debut at the LACMA Art + Film Gala. Eilish and Rutherford looked cozy in matching Gucci pajamas and a blanket draped over their shoulders. On Oct. 19, Eilish was first seen kissing Rutherford outside the Los Angeles restaurant Lal Mirch. She was previously spotted cozying up with the 31-year-old musician at Crossroads Kitchen, another LA hotspot, on Oct. 13. Bustle has reached out to Eilish's reps for comment but did not receive an immediate response.
Before Rutherford, the 20-year-old singer had been tied to Matthew Tyler Vorce, according to Page Six. The outlet identified him as a 29-year-old budding actor who recently apologized for "various homophobic and racist posts" on his social media. Photos that appeared to show Vorce and Eilish out and about were also published on the site in April 2021. Even though the reported couple didn't walk the Oscars red carpet together the following year, Vorce did post a solo photo from the 2022 event.
Vorce announced that the couple had broken up by May, according to People. "Nobody cheated on anyone," he said on his Instagram story, per the outlet. "Relationships end. Simple as that. Creating rumors and LYING on the internet is dangerous."
Previously, Eilish gave fans a glimpse at a past relationship with rapper 7:AMP, aka Brandon "Q" Adams, in her Apple TV+ doc, Billie Eilish: The World's a Little Blurry, which documented their split. "I just wasn't happy," she said in the documentary. "And I didn't want the same things he wanted, and I don't think that's fair for him." Eilish also appeared upset in footage shot on Valentine's Day, for which "Q" didn't give her anything to celebrate, in addition to acting "weird and distant."
According to the doc, their relationship spanned less than one year, beginning in late 2018 and ending the following summer. In their time together, Eilish appeared on the cover of 7:AMP's debut album, BLEAUPRO. He seems to be focused more on his music now and less on social media, with only a handful of posts sprinkling his IG feed over the last two years.
Following the short-lived relationship, Eilish's dedicated fan base took to social media to criticize 7:AMP, resulting in Eilish telling them to "be nice to people no matter what." Via her Instagram story, she thanked them "for protecting me." 7:AMP also responded to the criticism on his own story, writing, "There's always 2 sides to a situation."
In September 2020, she told Capital Breakfast that she wants to keep her relationships as private as possible and that she generally regrets sharing even the smallest pieces with the world. "I definitely want to keep [relationships] private," she said. "I've had relationships and kept them private, and even the ones that I've had; with the tiny amount that I've let the world see, I regret. I think about the people that have made their relationships public, and then they break up, and it's like 'What if it goes bad?'"
This article was originally published on