MTV VMAs Host Doja Cat Is Not Shy When Shooting Down Dating Rumors
"F*ckin relax," she once tweeted to fans when they speculated she was cozying up to French Montana.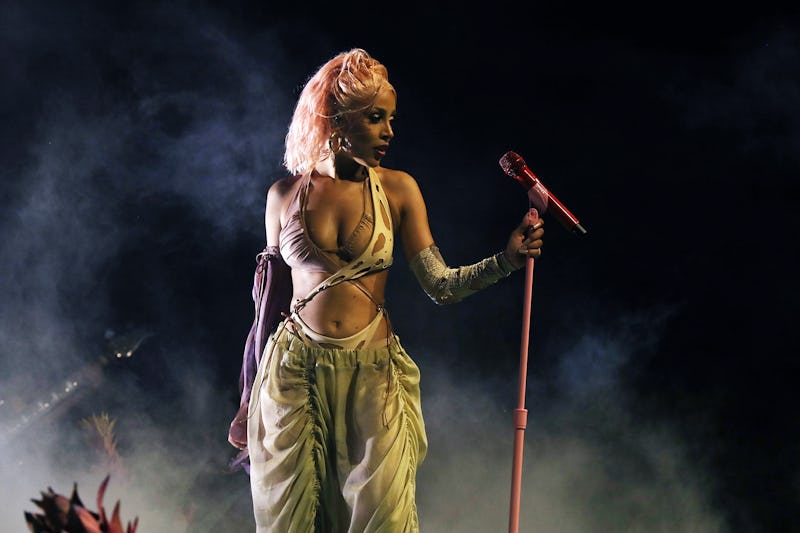 Shareif Ziyadat/WireImage/Getty Images
Doja Cat is one of the most open artists out there, frequently using Instagram live as her soundboard to share life stories, get candid with fans, and preview new music. Her natural wit and internet-savvy sense of humor seen in her social media presence make her the perfect host for the 2021 MTV Video Music Awards on Sept. 12. But when it comes to her dating life, she's a lot more quiet — mainly because not much has been happening in that department lately. She's single.
Since her rise to fame, Doja has only been in one public relationship. The rapper started dating YouTuber Johnny Utah in 2019, after Doja discovered his song "Honeypie" on the website, as they explained together in an Instagram live. "I didn't like the song," she told him. "But I liked the way you moved." She made the first move by commenting on his Instagram post, "I love you, baby," before he slid back into her DMs.
The pair split in February 2020, which she revealed during one of her famous Instagram live streams. "Everything is OK," she said. "I unfollowed my ex-boyfriend and everything is OK. We have been cool. ... No drama, or weird sh*t going on. Sh*t just didn't work out."
After "Say So" took her stardom to new heights in the summer of 2020, Doja has faced her fair share of dating rumors, none of which have turned out to be true. In October, fans speculated that she and fellow rapper French Montana were an item after they were seen hanging out on a yacht together. However, Doja quickly shut that down on Twitter, saying they were just collaborators. "Me and French got a song coming out," she wrote. "F*ckin relax."
In July 2021, Doja got the rumor mill churning again after sharing photos of her and British rapper Bree Runway on Twitter. "I have a girlfriend and I'm going public," she wrote, jokingly.
Runway also showed her love for Doja on Instagram, even using the diamond ring emoji. "you know I'm crazy about my WOMANNNN!" she wrote. "Love youuuuu @dojacat best night everrrr."
Of course, it was just a silly joke between two close friends in the music industry. However, that didn't stop some fans (and even one tabloid) from believing that they were actually in a relationship. While Doja Runway would be a cute couple name, it appears Doja Cat is single as she prepares to host the VMAs, where she is also nominated in five categories, including Video of the Year ("Kiss Me More" featuring SZA) and Artist of the Year.