Who Is Doja Cat Dating? She Wants Stranger Things' Joseph Quinn To Hit Her Up
Fans think the 2022 MTV VMAs nominee may have a secret boyfriend despite her celebrity crush.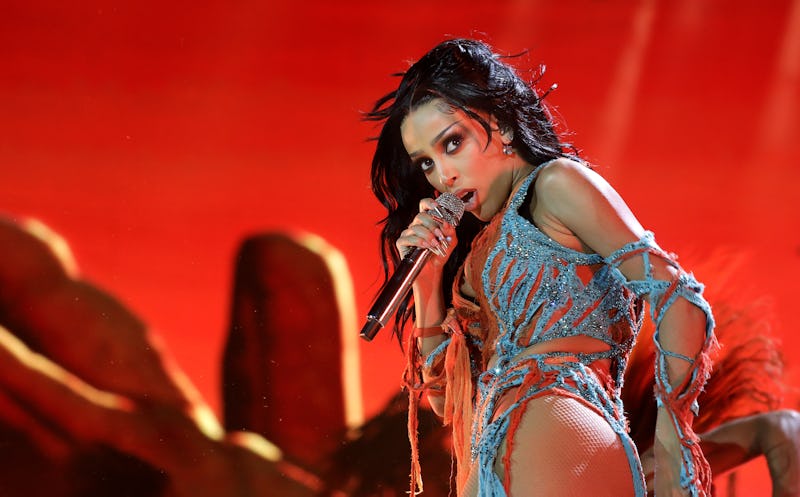 Christina House/Los Angeles Times/Getty Images
Eleven-time Grammy nominee Doja Cat is one of the most open and candid artists, frequently using Twitter and Instagram Live as her soundboard to preview new music, share life stories, and show off her internet-savvy sense of humor. But when it comes to her dating life, the 2022 MTV Video Music Awards nominee's social media savvy has come back to bite her. On July 6, Stranger Things star Noah Schnapp posted his Instagram DMs with Doja in a now-deleted TikTok, revealing that she asked him to set her up with his co-star Joseph Quinn. "Noah can u tell Joseph to HMU," she wrote, before Schnapp sent her a link to Quinn's unofficial Instagram page.
Prior to Schnapp's TikTok, Doja had made her thirst for Quinn public by tweeting "Joseph Quinn fine as sh*t" in May. However, she wasn't happy with Schnapp sharing their DMs, calling it "borderline snake sh*t" in an Instagram Live. "The fact that Noah went and posted a private conversation between me and him is so unbelievably socially unaware and whack," she said at the time. The pair have since patched things up, with Schnapp apologizing for his TikTok and Doja acknowledging that "when you're that young, you make mistakes," but no word on whether Quinn privately responded to her DMs.
Before the Quinn debacle, fans thought Doja Cat has a mystery boyfriend, which she may have accidentally revealed on an Instagram Live in early 2022. On Feb. 19, the singer was simply chilling in her pool and chatting with her Instagram followers when a mysterious male voice was heard in the background calling out "babe." Instantly, Doja turned the camera away with a resounding "Oh," before telling the mystery man, "I'm on live." She then came back on camera to tell fans, "OK, gotta go, bye," making it clear that she wanted to keep whoever he is to herself. The video of Doja's stream immediately went viral on Twitter as fans tried to decipher who that voice was.
Fans' No. 1 suspect on Twitter was fellow rapper French Montana, someone who Doja has already faced dating rumors with. In October 2020, fans speculated that she and French were an item after they were seen hanging out on a yacht together. However, Doja quickly shut that down on Twitter, saying they were just collaborators. "Me and French got a song coming out," she wrote. "F*ckin relax." Fans also suspected that Japanese singer and YouTuber Joji was the mystery man, after she tweeted "Joji wyd u doing" in January, but she shut that down on Feb. 25 in another Instagram Live. "No, I'm not dating Joji," she said, before adding, "Not that he's not cute."
Since her rise to fame, Doja has only been in one public relationship. The rapper started dating YouTuber Johnny Utah in 2019, after Doja discovered his song "Honeypie" on the website, as they explained together in an Instagram live. "I didn't like the song," she told him. "But I liked the way you moved." She made the first move by commenting on his Instagram post, "I love you, baby," before he slid back into her DMs. The pair split in February 2020, which she revealed during an Instagram live stream. "Everything is OK," she said. "I unfollowed my ex-boyfriend and everything is OK. We have been cool. ... No drama, or weird sh*t going on. Sh*t just didn't work out."
In July 2021, Doja got the rumor mill churning again after sharing photos of her and British rapper Bree Runway on Twitter. "I have a girlfriend and I'm going public," she wrote, jokingly. Runway also showed her love for Doja on Instagram, even using the diamond ring emoji. "you know I'm crazy about my WOMANNNN!" she wrote. "Love youuuuu @dojacat best night everrrr."
Of course, it was just a silly joke between two close friends in the music industry. However, that didn't stop some fans (and even one tabloid) from believing that they were actually in a relationship. While Doja Runway would be a cute couple name, it appears that Doja Cat is either single or simply just doesn't care to share her rumored relationship.
This article was originally published on