Erin's Murder Case Just Got Even More Complicated On Mare Of Easttown
Her best friend Jess made a dark claim about DJ.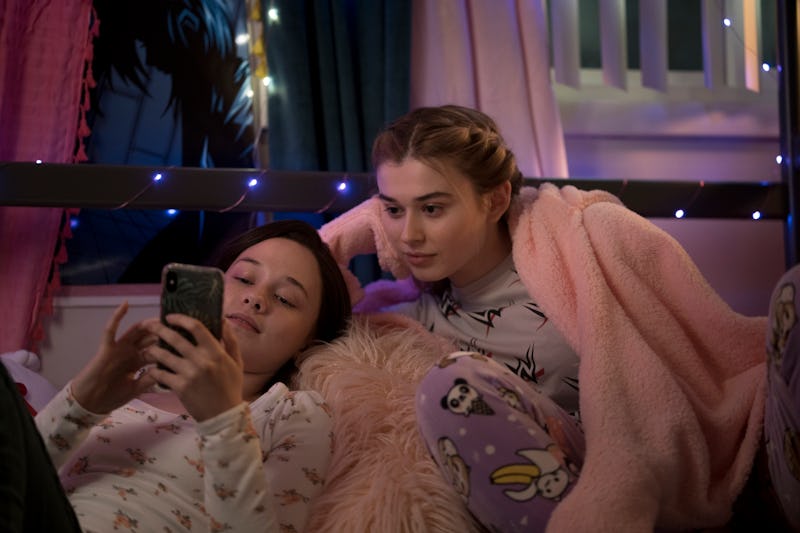 Michele K. Short/HBO
Spoilers ahead for Mare of Easttown Season 1, Episode 2. In the final moments of Mare of Easttown's April 23 episode, the mystery surrounding Erin's murder intensifies. It's not just the identity of her killer that remains unknown, but possibly the identity of her son's father, too. According to her best friend Jess, Erin told her that Dylan isn't really DJ's father. So who is? Jess can't be certain, but suspects the dad may be Mare's ex-husband, Frank Sheehan. It's hard to believe the happily engaged high school teacher could be involved, but Easttown — population 10,000 — is already dominated by unlikely relationships and complicated ties. Erin is the second young woman dead or missing in the past year and suspicion is pervasive. Even if Frank isn't DJ's father, the question of paternity is now in the air.
We know that Frank knows Erin, who was a student in his algebra class a few years before her death. But he also tells Mare that he barely spoke to the young mom, which in itself is hard to imagine in such a cloistered town. Erin's father is cousins with Frank's close friends. It's not a strong connection, but one that makes it difficult to buy that Frank never spent any time with Erin. There's also Frank's cryptic suggestion that Erin's home life was hard. How does he know? He tells Mare it's just an inkling so maybe it's gossip, or maybe he knew Erin better than he's letting on.
Dylan is still a possibility. This is a show about the secrets lurking under the facade of a simple life. Maybe Erin had reasons to lie to Jess about Dylan. Maybe the dream of a different father for DJ made it easier for Erin to cope with the disappointment of Dylan, who seemed to despise her.
This week also saw the addition of a creepy deacon, Mark, who counseled Erin when she was a part of his Catholic youth group. She quit after having DJ, and the deacon tells Father Dan that his relationship with Erin fizzled out. But he doesn't look Dan in the eye as he laments not trying hard enough to maintain the standard of pastoral care and, honestly, shows don't add a creepy deacon for no reason. Mark has a secret.
Then there's Kenny's mostly stoic cousins, Billy and John, who Mare recruits to accompany her to tell Erin's father the bad news. John is married to Mare's best friend. Billy doesn't say much at all, but when John asks him if he's OK and takes him into a hug, his eyes shift uncomfortably. Of course, there's also Kenny himself. He's brokenhearted over Erin's death and takes his vengeance out on Dylan by the episode's end, but we also know from the premiere that he treats Erin poorly. Is it a long walk from Kenny's aggressive parenting to incest and sexual assault? Absolutely. But we live in the age of the grisly crime drama, and it feels naive not to consider him.
The answer to DJ's paternity may still be none of the above. Erin's bike is missing from the woods where she was last seen alive and where her body was eventually found. The pink beach cruiser could be with the man who killed her or maybe even the man who fathered her son. If Kenny is right that Erin's murder was motivated by revenge, they might be the same person.