Kacey Musgraves' Instagram Might Hint At A New Relationship
*Furiously googles Dr. Gerald Onuhoa.*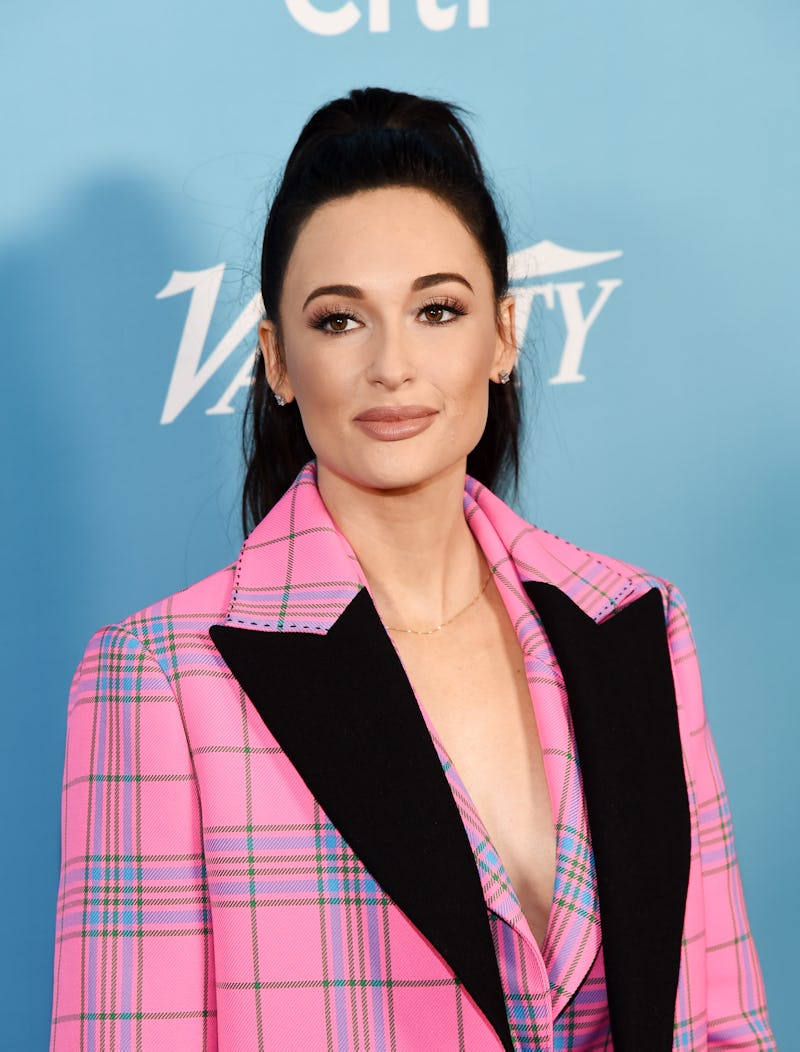 Amanda Edwards/FilmMagic/Getty Images
Audiences, critics, and the Grammys alike fell in love with the perfect love songs on Kacey Musgraves' Golden Hour album, so when news broke that the relationship ended between her and the man she crafted the tracks about, fans were crushed. But this week, the country singer sparked relationship rumors after posting a selfie with a new man, leading fans to believe he may be her boyfriend. However, she's yet to confirm anything, which is to be expected as Musgraves tends to keep the details of her dating life in her music.
On April 12, Musgraves posted a sunlit selfie to her Instagram Story in which she's cozying up with Nashville-based doctor Gerald Onuhoa, who's tagged in the photo. Posed outdoors in casual clothing, the two offer soft smiles to the camera in the selfie, which is just one of many pictures we've now seen of the rumored couple. The New York Post's Page Six published photos of Musgraves and Onuhoa hugging and conversing as they waited for an Uber in Los Angeles, as well as photos of the two on a bike ride with Kourtney Kardashian and Atiana De La Hoya from over the weekend.
As People pointed out, Onuhoa shared his thoughts on relationships through a tweet posted in February. "Date In Private. Love In Private. Be Happy In Private," he wrote. Per his LinkedIn profile, he attended Dartmouth College, Meharry Medical College, and Tennessee State University, and he currently works as an internal medicine hospitalist at HCA Healthcare in Nashville.
If the two are actually together, it'll mark Musgraves' first public official relationship since she settled her divorce with country singer-songwriter Ruston Kelly in September 2020. The two were married for three years, during which Musgraves released Golden Hour, her mainstream breakthrough record that earned her the coveted Album of the Year Grammy award in 2019. The album featured many love tracks, including "Oh, What A World," "Butterflies," and its title track, which she revealed were written about their relationship. In 2017, she told Entertainment Weekly, "I'm coming off getting married and being in this golden hour of my personal life... I found myself inspired to write about this person and all these things he brought out in me that weren't there before."
When the pair announced their split in July 2020, they released a joint statement. "We've made this painful decision together — a healthy decision that comes after a very long period of trying the best we can," wrote the former couple. "We hold no blame, anger, or contempt for each other and we ask for privacy and positive wishes for us both as we learn how to navigate through this."
In a recent interview with Rolling Stone, Musgraves said her marriage with Kelly "just simply didn't work out." She continued, "It's nothing more than that. It's two people who love each other so much, but for so many reasons, it just didn't work. I mean, seasons change. Our season changed."
The singer also told the magazine that her thoughts on relationships in general have changed. "Part of me questions marriage as a whole, in general. I mean, I was open to it when it came into my life. I embraced it. I just have to tell myself I was brave to follow through on those feelings," she said, adding, "I think I live best by myself. I think it's OK to realize that."