Who Is Megan Thee Stallion Dating In 2021? Her "Boo" Is A Fellow Artist
The Grammy nominee went public with her relationship in February.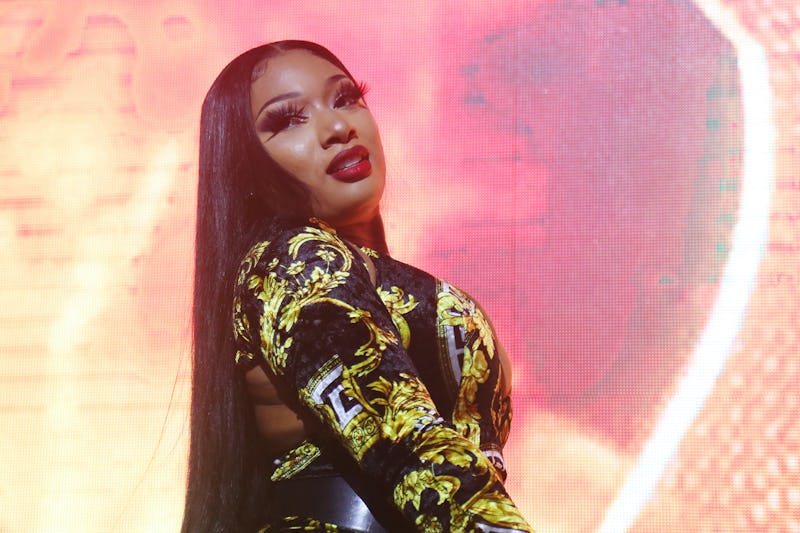 Cassidy Sparrow/Getty Images Entertainment/Getty Images
Megan Thee Stallion is having another hot girl year, with four 2021 Grammy nominations — including Best New Artist, Best Rap Song, Best Rap Performance, and Record of the Year. Ahead of the awards show on Sunday, March 14, fans may be wondering who Megan Thee Stallion is dating and if her love life is soaring, too. While the artist has kept that information mostly private in recent months, Megan confirmed her relationship with fellow rapper Pardison Fontaine in February during an Instagram Live.
The "WAP" rapper was defending Fontaine from hate online when she revealed the two were dating. "I don't be liking some of the stuff on the internet," she said during the livestream. "I didn't like what they was trying to say about Pardi 'cause he is so calm and so sweet. ... That's my boo, and I really like him."
Megan went on to further confirm the romance. "Y'all not about to play with my man," she told viewers. "He don't even be doing nothing to nobody. Yeah, he my boyfriend." The "Body" rapper's announcement came only a few weeks after she hinted at being in a relationship on Twitter. "I'm healthy, I can take care of myself, my friends & family love me , my boo love me," she tweeted on Feb. 15.
Fontaine, whose most recent album, Under8d, was released in 2019, also recently shared a glimpse at the couple's Valentine's Day celebrations on Instagram. The rapper posted photos of the flowers he bought, the dinner menu titled, "Pardi With a Hottie," and what appears to be a getaway in a private jet. He captioned the post, "SOME TIMES YOU JUST GOTTA DO THE MOST."
In the past, Megan has largely kept her love life out of interviews, preferring instead to focus on her career, her health, and empowering other women through her work and activism. Her reluctance to go public with any kind of romance makes sense; in a February 2020 interview with Rolling Stone, she shared that she doesn't like seeing all of the dating speculation in the press. "These are my immediate girlfriends, and we all have a lot of guy friends," she said, adding that whenever she hangs out with someone, people assume they're hooking up. "Why can't I just be turnt up with my friend tonight?" she asked.
The rapper hasn't kept all of her past relationships private, though. In July 2019, the "Savage" musician made her romance with "All Dat" collaborator MoneyBagg Yo Instagram official, sharing photos of them and jumping on Instagram Live together. However, the two appeared to part ways shortly thereafter. In January, Moneybagg Yo confirmed that the split was mutual during an appearance on the podcast Rap Life Radio With Ebro Darden, saying it just "didn't work," but that he wishes her well.
Meanwhile, her career has continued to grow, with Megan becoming a major breakout artist in 2020. She was featured on Cardi B's "WAP," which came out in August and debuted at No. 1 on the Billboard Hot 100 charts. "WAP" was the second No. 1 song for Megan after "Savage" topped the charts in May. On Nov. 20, she released her highly anticipated debut album, Good News, along with a star-studded music video for her single "Body." Megan has also won numerous awards, including a BET Award for Album of the Year, a Powerhouse Award at the Billboard Women in Music Awards, and two MTV VMAs — Best Hip Hop Video for "Savage" and the Power Anthem Award for "Hot Girl Summer."
Megan Thee Stallion will potentially take home even more trophies at the 2021 Grammy Awards, which will take place on Sunday, March 14 at 8 p.m. ET on CBS.
This article was originally published on