Starstruck's Leading Man Is No Stranger To TV Rom-Coms
Fans of Mindy Kaling's Four Weddings adaptation will definitely recognise the actor playing Tom Kapoor.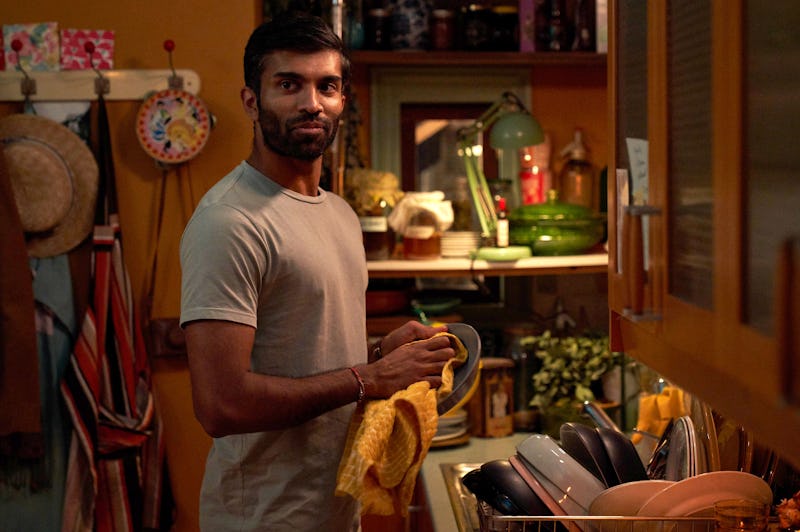 BBC/Avalon UK/Mark Johnson
If you've shed tears watching the latest Grey's Anatomy episode or you're feeling the suspense watching Line of Duty, don't worry, BBC Three's newest series brings all the necessary comedic relief. Starstruck will be hitting our screens this weekend (April 25, to be exact) and is the perfect remedy for lovers of Fleabag, Feel Good, and Hulu's Four Weddings and a Funeral. Alongside Rose Matafeo in her leading role as Jessie, Nikesh Patel will star as Tom, an international film star and Jessie's love interest. But just who is Nikesh Patel, and what else do we know about the star?
Well, just before Patel took on the role of Tom Kapoor in Starstruck, he starred as the lead in Mindy Kaling's miniseries Four Weddings and a Funeral on Hulu. A fan of the original 1994 film, Patel told 1883 Magazine he was "screaming with joy" when he heard a remake was in the works.
In the same interview, Patel labelled himself a self-confessed "rom-com lover," which makes sense, as Starstruck – much like Kaling's Four Weddings remake – very much has romance and humour at its heart. In fact, the story line is a millennial re-telling of the classic Notting Hill story line, with Patel playing the Julia Roberts' character and Matafeo playing Hugh Grant.
Outside of the rom-com genre, Patel has also featured in Disney +'s Artemis Fowl, but perhaps his best-known role is as Aafrin Dalal in the Channel 4 drama, Indian Summers. Alongside the likes of Julie Walters, Patel starred in both seasons of the show. Other recent works include Man Like Mobeen and a feature film called Halal Daddy.
But Patel's acting credits don't stop there, as he's also had experience in theatre, most recently performing in an exciting play-film hybrid called Good Grief alongside Fleabag star Sian Clifford. Good Grief – which tackled themes of love and loss – was performed live, from a theatre, for an online audience, and the reviews really speak for themselves.
Starstruck is available on BBC Three from April 25 and premieres on BBC One on April 26 at 10.45 p.m.