Who Is Line Of Duty's Marcus Thurwell? The New Criminal Copper To Know
James Nesbitt's character might prove a pivotal fella.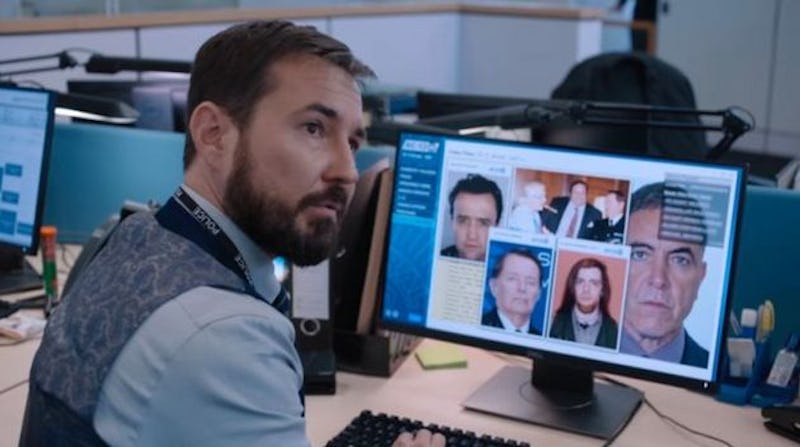 BBC
You never know quite what to expect from Line of Duty, and this week's episode is no different. Prior to episode five it was teased that a major actor would be making an appearance in a forthcoming instalment of Line Of Duty. Many – us included – assumed it was Anna Maxwell Martin's return as AC-3 boss Superintendent Patricia Carmichael that Mercurio was teasing. Wrong! It was, in fact, James Nesbitt. But who is he playing and what role will he have in the BBC drama? Here's everything we know about Marcus Thurwell so far.
Who is Marcus Thurwell?
James Nesbitt – of Bloodlands and Cold Feet fame – plays Marcus Thurwell, a previously-unseen senior investigating officer in Line of Duty. The former bent copper now resides in Spain and was first mentioned during series three of Line Of Duty, per Huffington Post.
When we were teased with "an appearance," Mercurio wasn't kidding. He literally meant a glimpse – Nesbit made his debut in a still image, on a screen. A fleeting appearance. Still, it was enough to send fans into a frenzy. While we're yet to see Nesbitt in action, the clues suggest we'll see more of him in future episodes.
Per the Telegraph, Thurwell was previously on a team with DI Buckells and Chief Constable Philip Osbourne, who has declared war on AC-12. All three corrupt coppers worked on a case back in 2003 where a black man, architect Lawrence Christopher, was attacked by white youths, a fictional storyline that paid tribute to the real-life murders of Stephen Laurence and Christopher Alder.
The fictional Christopher was then taken into police custody and died of his injuries, while racist officers stood by laughing. "The force failed to gather evidence from suspects' homes and waited so long to hold an ID parade that the suspects had all shaved their heads; none were convicted," reports the Telegraph.
Turns out Thurwell – who was the SIO, or senior investigating officer – and his conspirators were protecting Darren Hunter, one of the attackers, who also happens to be the son of Scottish crime lord Tommy Hunter from season one. (Tommy Hunter was also revealed to be Davidson's close relative.)
According to Arnott's computer screen, Thurwell is also connected to other past AC-12 cases, including the abuse at Sand View Boys Home and two of its perpetrators: politician Dale Roach and Chief Supt Patrick Fairbank. Social worker Oliver Stephens-Lloyd tried to report the abuse in 1998 and was murdered by the OCG (ruled, of course, as suicide by the police) – did Thurwell have a hand in that? Could he be 'H', even?
How was Nesbitt's role revealed?
Nesbitt's role as Marcus Thurwell was revealed by mistake, really. Per the Telegraph, BBC Maestro, a service that offers online screenwriting courses, apparently revealed the star's role in a picture. The image in question depicted Detective Inspector Steve Arnott (Martin Compston) looking over a database of suspects and "persons of interest" to his investigation. Among the faces on his screen was Nesbitt's unmistakable visage. Jed Mercurio fans will have just finished watching Bloodlands, which of course stars Nesbitt. It was an unmissable spot.
Was Mercurio not livid?
Apparently not. He even told The Sun that the perspicacious fans had call-up papers for AC-12 in the post: "The outstanding detective work of eagle-eyed Line of Duty fans has been awarded a glowing commendation from the gaffer himself, Supt Ted Hastings," he said.
Also speaking to The Sun, Nesbitt revealed he had told more than his fair share of lies to keep his role in the BBC favourite a secret. "I had a lot of fun saying how Jed has snubbed me for Line Of Duty," he said, "all the while knowing our little secret."
Mercurio agreed, drawing parallels with another Line Of Duty fave who did something similar. "It worked brilliantly, because everyone thought he was genuinely annoyed," said the show writer. "We laughed lots about all the coverage he got for being 'snubbed'. It was the same when Keeley Hawes came back to shoot series three — she told people she wasn't in it and, brilliant actress that she is, everyone fell for it."
So when will we see Nesbitt as Thurwell?
Given that there are seven episodes in season six and we're already on the cusp of episode six, odds are, it will be soon. Can you wait? No, neither can we.
Line Of Duty continues on Sunday at 9 p.m. on BBC One.