Reese Witherspoon's Husband Encouraged Her To Become A Hollywood Mogul
The pair married a year after their first public outing.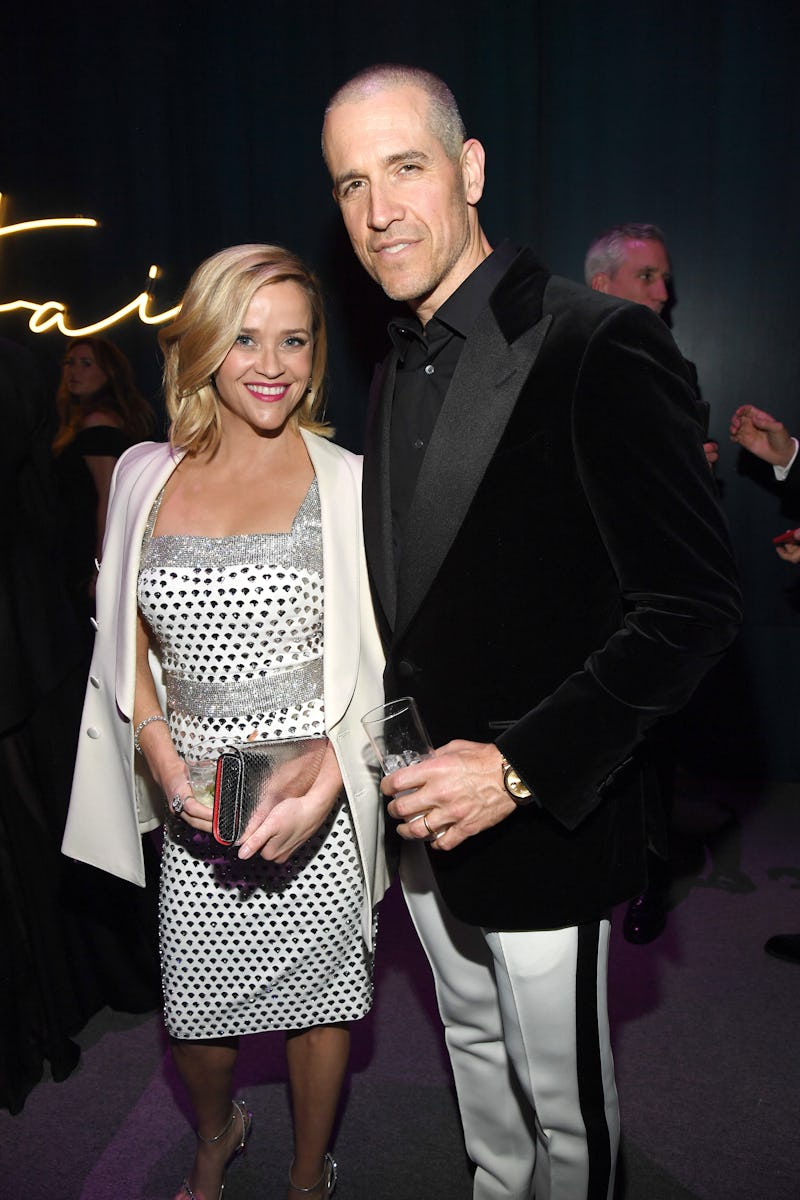 Kevin Mazur/VF20/WireImage/Getty Images
One can only imagine what's scrawled within the pages of Reese Witherspoon's planner. The busy actress, producer, and mom of three has a lot on her plate, from overseeing her charming Draper James clothing line to portraying complex female characters on critically acclaimed TV shows. At least the Legally Blonde star has husband Jim Toth by her side to help her navigate her inspiring life and relax during the down moments. But, just who is Jim Toth, aside from being Witherspoon's beau? Here's a look at Toth's back story and accomplishments.
Toth's career goes back to when he moved from the small city of Aliquippa, Pennsylvania, to the bright lights of Los Angeles to study political science at Loyola Marymount University. After graduation, he began working in the Creative Artists Agency mailroom and eventually worked his way up to becoming an agent for the reputable talent agency, according to US Weekly.
Toth isn't a Hollywood A-list actor like his Academy Award-winning wife, but there was a time when he represented some of the hottest stars in Tinseltown as a talent agent for CAA. His high-profile roster of former clients once included Jamie Foxx, Scarlett Johansson, Matthew McConaughey, and Salma Hayek. As a testament to his hard work, Toth even received a "very special thanks" in the credits of Dallas Buyers Club. In 2010, he became CAA's co-head of its motion pictures talent department but left the agency in 2019 to work for the now-defunct streaming platform Quibi as the head of content acquisition and talent.
When it comes to Toth and Witherspoon's relationship, their courtship was fairly short. They were first spotted sharing Italian cuisine at Locanda Portofino in Santa Monica in February 2010. Rumors of their relationship took hold in headlines, but a source told People that the actor and prominent talent agent's dinner date was "just business." Still, by the end of the year, the pair were engaged.
Their wedding in 2011 was attended by some of Hollywood's most elite, including Renée Zellweger and Tobey Maguire. Witherspoon's children Ava and Deacon, who she shares with ex-husband Ryan Phillippe, were in the ceremony. A year later, the newlyweds welcomed their son, Tennesee.
In a 2016 interview with Harper's Bazaar, Witherspoon opened up about her relationship and disclosed that Toth encouraged her to become the Hello Sunshine mogul she is today. "He said, 'You should produce movies. You read more books than anybody I know. You should just buy some of them and turn them into films,'" she recalled. And in 2018, she detailed his relationship with all three of her children and said he's "very patient and funny" with them. She told People, "He really encourages them to see the humor in life." It's clear Witherspoon and Toth have a good thing going, so cheers to that!
Additional reporting by Ana Colón.