Desiree Burch Was Tailor-Made To Narrate Too Hot To Handle
Who better than a former dominatrix to narrate a show focused on sex?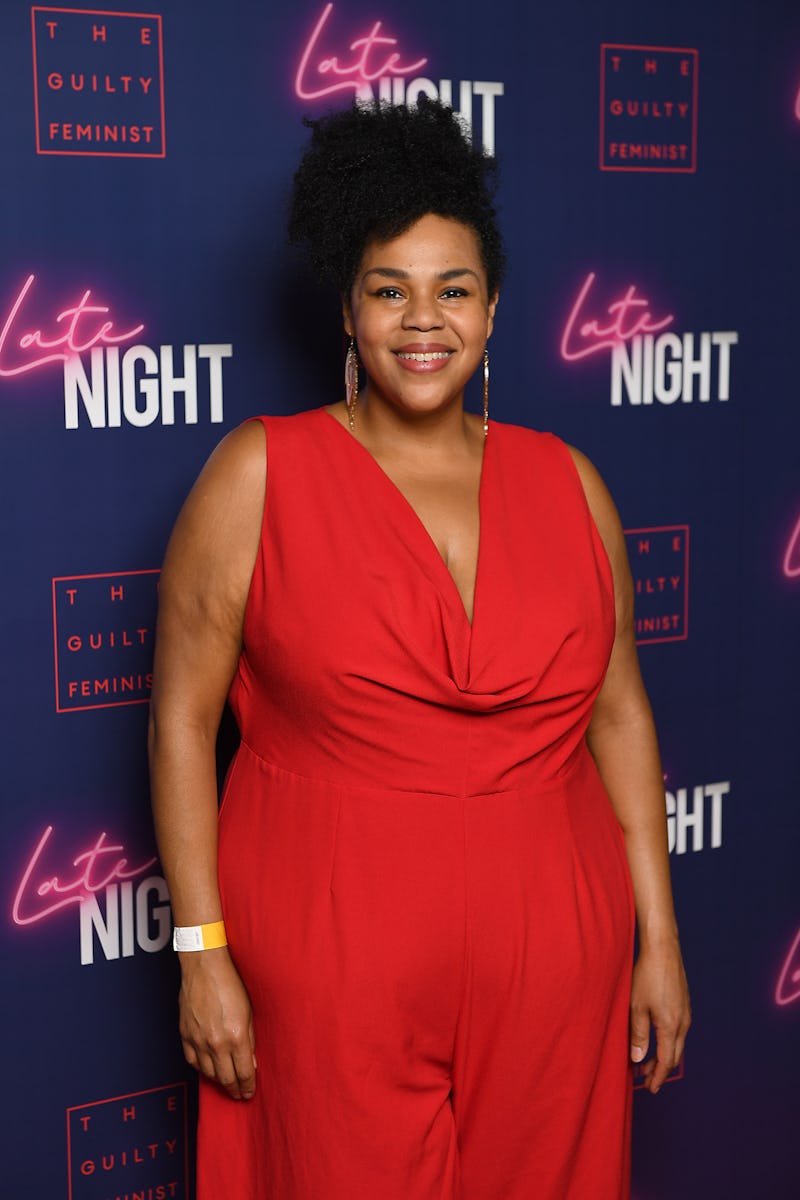 Dave J Hogan/Getty Images Entertainment/Getty Images
Netflix's reality dating series Too Hot to Handle is back to torture more horny singles in Season 2, which will once again trap a group of daters in a beachy villa and forbid them from engaging in any sexual contact — that is, unless they want to lose money from their $100,000 prize pot. Returning to guide viewers through the hilarious premise is narrator Desiree Burch, a sex-positive comedian who's no stranger to the ins and outs of getting busy.
Burch graduated from Yale with a degree in theatre studies, but worked as a dominatrix in her 20s before moving into comedy full-time, according to the Evening Standard. She now often uses her experience in sex work as fodder for her jokes, and it formed the basis of her 2017 show Unf*ckable, which is being turned into a filmed special. Burch told The Evening Standard that her time as a dominatrix was not "just about sex dungeons and leather whips" but about "Black women's stories, sexuality, money, [and] power." For Burch, the interesting part of being a dominatrix was "the fluctuating dynamics, the relationship between the women that do it, the kind of women that do it."
She also wants to use her comedy help lessen the stigma around sex work. But first, "We'd have to start with lessening the stigma and the shame around sex itself," she told Mancunian Matters.
Knowing her history and her openness about sex, it may seem a bit strange that Burch now narrates a show about not having sex, but the way she approaches her jokes is never from a place of shame. Sure, she pokes fun at the contestants when they break the no-touching rules, but she's great at walking the line between laughing with the cast and laughing at them. That's probably because she can appreciate something as silly as this kind of reality show. As Burch told the Evening Standard, "My style is both highbrow and lowbrow. I'm both intellectual and filthy and those things co-exist."
That's exactly why Burch appealed to the THTH producers. "We wanted to make sure [we had] some tongue-in-cheek wink going on all the way throughout [the series]," producer Louise Peet told Oprah Mag about why they chose Burch to narrate. "Her voice was just so perfect for that because she's warm and non-judgmental, which is key. We are not judging these people. It was key to just be on their side … The voice of the narrator really is the person on the sofa. It's the kind of thing that you'd be screaming at the TV."
When Burch isn't saying exactly what THTH viewers are thinking, she's busy with her acting work. This year, she appeared as Wendy in Master of None Season 3 and as the principal on Arnold Schwarzenegger's show Superhero Kindergarten. She's also a panelist on the British comedy game show Taskmaster. And as the world continues to reopen post-pandemic, she'll likely be back on more stand-up stages soon.
Additional reporting by Martha Sorren.
This article was originally published on