Ed Speleers From You Also Portrayed A Major Outlander Villain
Is Rhys Joe's new ally or enemy?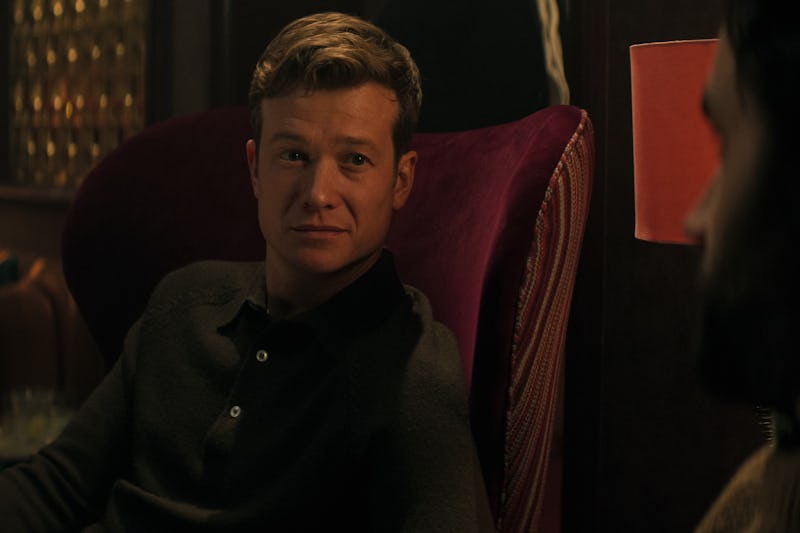 Netflix
Serial killer Joe Goldberg is not done just yet. Based on Caroline Kepnes' book series, You returns for a fourth season that sees Joe living in London after killing Love, staging a murder-suicide, and leaving his son Henry behind. Now, Joe is living under the alias "Jonathan Moore" and teaching American literature at a college in London. He's desperate to reconnect with Marienne (Tati Gabrielle), but instead finds himself falling in with "the most insane, damaged people on earth ... a circle of privileged douchebags."
It's at one of their lavish parties that he meets Rhys Montrose, played by Ed Speleers. While Joe finds all the people he meets shallow, he's impressed by Rhys, who he admits "wrote one of the best memoirs I've ever read." An Oxford grad, Rhys was born into poverty and raised by a single mom — "uncomfortably relatable," Joe says — before finding out he was the son of a duke. They immediately bond over having bad childhoods, with Rhys cheering him as his "brother in arms." Their first introduction is brief, but you learn that Rhys has the same disdain for the wealthy as Joe does, and he's looking to run for mayor.
He seems like the only noble person at the party, but fans familiar with Speleers know that he often portrays characters who are much more complex. Here's everything to know about the English actor.
His first role was in high school
Speleers was only 17 when he landed the lead role of Eragon in the 2006 movie adaptation of the Eragon book series. "I could never have expected that," Speleers told FilmTalk.org. A high school teacher encouraged him to audition for the role. "I was still at school minding my own business—passionate about acting and drama—but I had no experience in front of the camera. And then, within two weeks after a couple of auditions, I was suddenly off to Eastern Europe, thrusted in this world of a hundred dollar movie, horseriding every day, working with Jeremy Irons."
The film did poorly at the box office, and Speleers admitted he "dicked about" after that and didn't seriously focus on his acting career again until 2011.
He's a self-taught actor
Unlike many English actors, Speleers did not go to a formal acting school. "I've got a massive chip on my shoulder about that… Coming from England, it's a tradition," Speleers told Interview Magazine in 2016. "It's less and less so now; there are a lot of great young actors coming out of England who have maybe not gone to drama school, but I wish I had." But he added that he's always working with coaches, because "I think it's important to work on yourself. If you aren't going to work for a bit, if you're going to choose not to take a job for a few months, you need to work on your own—and I don't want to use this term—craft."
He was in Downton Abbey
Speleers may play a wealthy socialite in You, but he initially became well-known for his role as a footman on Downton Abbey starting in Season 3. He played the flirty Jimmy, who got wrapped up in a love triangle between Ivy and Alfred, and desired to ascend the stairs and be among the wealthy people he served.
"That was a moment where I got the confidence to go, 'Ok, I'm capable of booking work on a certain level, so the hard work is paying off,'" Speleers told TheLast-Magazine.com about landing the Downton Abbey role. "That was a turning point in starting to get work that I felt was of a certain caliber that I wanted to be at. As an actor, you want to be out doing the work."
He was also in Outlander
But fans may be more familiar with his more recent appearance on Outlander, where he played the villainous Stephen Bonnet.
Though we'll have to wait and see if You's Rhys is just as kind as he appears to be, Speleers said he's fine with playing villains like Joe Goldberg, too. "I'm up for being disliked and hated if it's in the right context," Speleers told TheLast-Magazine.com after his Outlander character debuted in 2018. "I think if [fans] vehemently detest the screen version of Stephen Bonnet, then I've done my job. So I'm aiming to be disliked by the fans, but hopefully for the right reasons."