Everything We Know About YOU Season 3
Prepare to meet several new characters.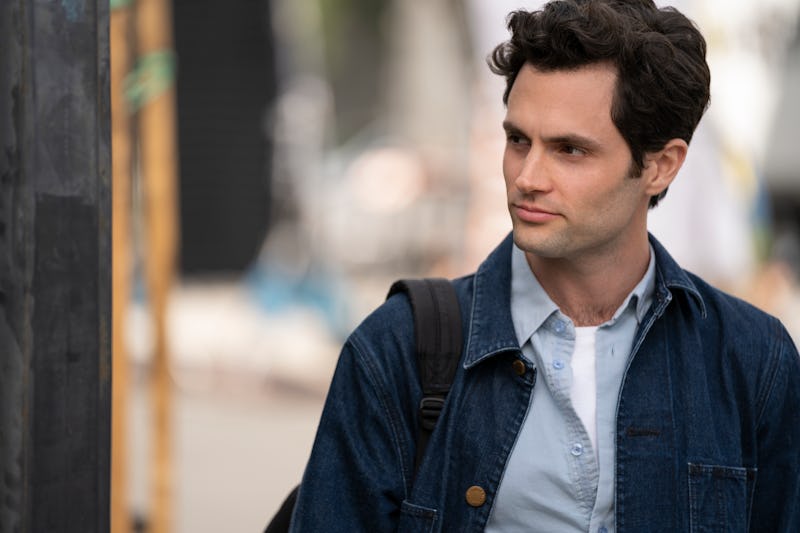 Tyler Golden/Netflix
Get ready to meet daddy Joe: YOU is returning for Season 3 on Oct. 15.
The last we saw of Joe (Penn Badgley), he'd moved to the suburbs with a pregnant Love (Victoria Pedretti), who not only knows who Joe really is but is a serial killer herself. In the final moments of Season 2, however, Joe found a new woman to fixate on: his neighbor Natalie (set to be played by Michaela McManus). She's described as a professionally and socially successful woman married to a powerful man — but one who leads a secret life that piques Joe's interest.
Knowing what Love is capable of, she won't take kindly to his wandering eye. "Joe is still Joe" in Season 3, YOU showrunner Sera Gamble told The Hollywood Reporter in December 2019. "It seems clear that he's falling into some version of [his] same pattern ... [and] I can say things won't go well for [him]."
The first two seasons of the show were based on the YOU book series by Caroline Kepnes, the third installment of which hit shelves earlier this year. But though Kepnes shared an early draft of the book with the show's team, the third season will take some liberties. "The minute that Love in the show became a killer, I think that also changes things a lot," Kepnes told The Hollywood Reporter of the differences between the TV and book series. However, she added that there will still be some overlap: "You're going to see Joe living in a place similar to where he lived in the book."
In Season 3, a married Joe and Love are raising their baby in the California town of Madre Linda, where they're surrounded by tech entrepreneurs and mommy bloggers. Joe is committed being a husband and dad, but worries about Love's impulsiveness. And he'll have some temptations of his own to deal with.
Here's everything else we know about Season 3.
The YOU Season 3 Cast
Aside from Natalie — whose face we didn't see in Season 2 — there are a number of other new characters joining the cast.
Shalita Grant (NCIS: New Orleans) and Travis Van Winkle Will Play Sherry and Cary
A couple who keeps a close eye on Joe and Love, Sherry is a mean girl "mom-fluencer" who pretends to accept Love into her circle of friends while Cary is a wealthy guy who tries to buddy up with Joe.
Scott Speedman (Animal Kingdom) Will Play Matthew
Per Deadline, Matthew is "a successful CEO, husband, and uncommunicative father" who (shocker!) has a reserved, mysterious side. Maybe he's Natalie's husband?
Dylan Arnold (Nashville) Will Play Theo
Dylan is described as a wise but troubled college student who has a complicated relationship with his stepfather. He's also prone to substance misuse and risky behavior.
Tati Gabrielle (Chilling Adventures of Sabrina) Will Play Marienne
Marienne is described as a "smart, no-nonsense librarian who doesn't let much get by her." She's the proverbial neighborhood watchdog, but is hiding something that's keeping her and her young child from living life to the fullest.
Ben Mehl (The Good Wife) Will Play Dante
Dante is a relaxed librarian and family man who lost his eyesight while serving in the military.
Shannon Chan-Kent (Another Life) and Christopher Sean (Hawaii 5-0) Will Play Kiki and Brandon
Kiki is a loyal member of Sherry's mean mom group and a life coach who's very into fitness classes, while her husband Brandon is a stay-at-home dad who made billions in the tech industry in his early 20s.
Chris O'Shea (Madam Secretary) and Bryan Safi (Desperados) Will Play Andrew and Jackson
A gossip-loving stay-at-home dad, Andrew is a crucial part of Sherry's inner circle. His husband, Jackson, has a fancy job as a tech attorney.
Mackenzie Astin (Homeland) Will Play Gil
Mackenzie is a subdued geology professor whose "genuinely good-hearted" demeanor is sometimes perceived by others as disconnected or naive.
Ayelet Zurer (Daredevil) Will Play Dr. Chandra
Dr. Chandra is an experienced couple's therapist who always gets to the bottom of her clients' deepest issues.
Jack Fisher (Agents of S.H.I.E.L.D) Will Play a Young Joe
Which means we'll see more dark flashbacks to Joe's childhood.
The YOU Season 3 Trailer
Released on Sept. 17, the YOU Season 3 trailer plunges Joe right into fatherhood. He's surprised to learn his child is a boy, and not a girl like they thought, but he nonetheless embraces his new role with solemnity. "I've always believed in the One, but being your dad is changing me," he says. "For you, I'd move to some soulless suburb. For you, I'd marry the monster."
As much as Joe insists things will be "different this time," it seems like not much has changed. He's shown stalking his neighbor and disposing of a dead body after Love strikes someone in the head with a baking pin. The two also appear to be struggling in their marriage: at one point Love screams, "Why don't you love me anymore?" and announces they need to go to couples therapy. Elsewhere, Love wields an ax, Joe has a bow and arrow for some reason, and there's plenty of blood, fire, and sex. "We're a team. 'Til death do us part," Love says. From the sound of it, only one of them will make it out of the season alive.
Is You Ending After Season 3?
Two days ahead of the Season 3 premiere, Netflix announced that You will return for a fourth season. "Reading Caroline's novel, Greg and I were instantly obsessed with Joe Goldberg and his twisted world view," Gamble said per Variety, adding that it's been "thrilling to watch Penn bring Joe to creepy yet compelling life." "We're deeply grateful that Netflix has shown You such monumental support, and that people around the world have enjoyed watching Joe really get it all very wrong over the past 3 seasons," she continued. "The whole You team is excited to explore new, dark facets of love in Season 4."
Additonal reporting by Rebecca Patton and Zosha Millman.
This article was originally published on