Here's When Kathy Hilton Is Returning To RHOBH Season 12
There's been lots of off-screen drama.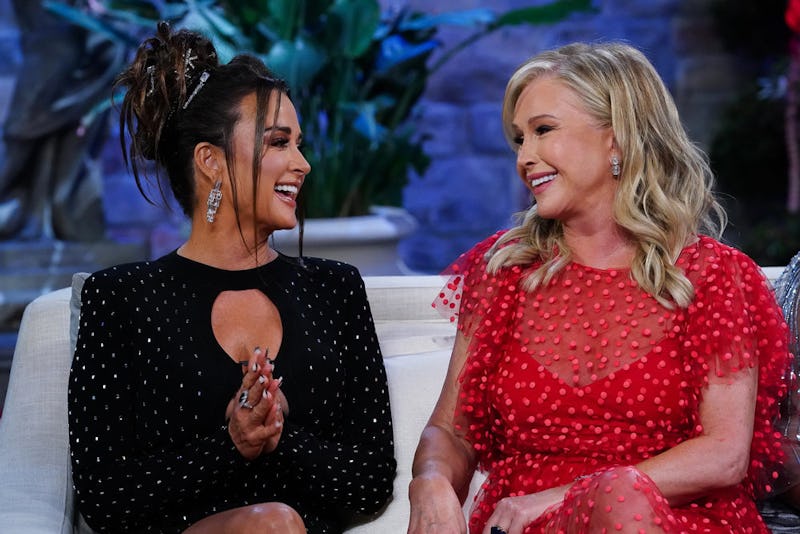 Nicole Weingart/Bravo
Four episodes into The Real Housewives of Beverly Hills Season 12, there was still no sign of returning friend Kathy Hilton. As the RHOBH trailer already revealed, however, it's not a matter of if, but rather when Hilton will appear to stir up drama. Bravo's sneak peek showed Erika Jayne wanting "Kathy to be called out" for something, before previewing an intense conversation in which Lisa Rinna accuses her of saying "some things" about sister and co-star Kyle Richards that she's "not going to get away with." Later, Richards tearfully tells Hilton she feels like she hates her, with the final clip showing Jayne and Dorit Kemsley instructing a store employee to not unlock the door for Hilton, who is seen standing outside.
Apparently, fans still have a bit of a wait to find out what led them to that point, though. Speaking to Extra's Rachel Lindsay outside the MTV Movie & TV Awards: Unscripted ceremony on June 5, Hilton revealed that she'll show up on RHOBH sometime around Episode 8 or 9. "You'll have to wait and watch," she teased. What's more, Hilton also confirmed that she will be at the upcoming RHOBH Season 12 reunion taping, despite rumors to the contrary. Previously, castmate Garcelle Beauvais also said during an April Watch What Happens Live with Andy Cohen appearance that Hilton would have the most to answer for at the traditional postseason cast sit-down.
Indeed, there had already been plenty of off-camera drama. Following reports of stalled early contract negotiations with Bravo, Hilton joined a cast trip to Aspen, during which she made headlines for asking husband Rick Hilton to call her in an Instagram comment, insisting that she needed to "get out of here now!!!!!" A month later, she explained to E! News that she had simply lost her phone and wanted to get his attention, as she was alone and scared at 3 a.m. following a "few little squabbles where some people moved out of Kyle's" rental property. "I just read something that I was screaming and throwing things," Hilton added. "That is not me."
In March, other reports about the RHOBH Aspen trip claimed that Hilton had used a homophobic slur toward Sutton Stracke's assistant, Joshua Roberts. However, Stracke later denied those claims, writing in a March 30 Instagram caption that Hilton "has been nothing but kind and respectful to" Roberts. In a May interview with Page Six, Stracke elaborated that Roberts "was not even in Aspen," calling the speculation "ridiculous."
Though it's currently unclear if their falling out happened on the show, Richards and Hilton also weren't speaking for a period of time. During a May WWHL appearance, Richards shared that she and her sisters, also including Kim Richards, "were having a little bit of a rough patch" prior to the recent death of their mutual childhood friend Lorene Shea. "Life works in funny ways," she told Cohen of their recent reconciliation.
One person Hilton is still feuding with, however, is Rinna. In early June, the Rinna Beauty founder shared since-deleted screenshots on Instagram, in which a marketing manager claimed that Hilton paid him more than $27,000 to incite a feud and plant negative false stories about her. When asked by Extra on June 5 if she'd spoken to Rinna since she shared those accusations, Hilton replied in the negative, adding that she wouldn't know until she was in the moment if she'd even say hello to Rinna, who was also attending the MTV Awards that night. Later, both women were on stage to present a Golden Popcorn trophy to Paris Hilton — though they were separated by several of their co-stars.
Surely, that, and plenty more, will be addressed at the RHOBH reunion later this year.