Link & Jo Could Become A Couple On Grey's Anatomy Next Season
The Season 17 finale already planted some seeds.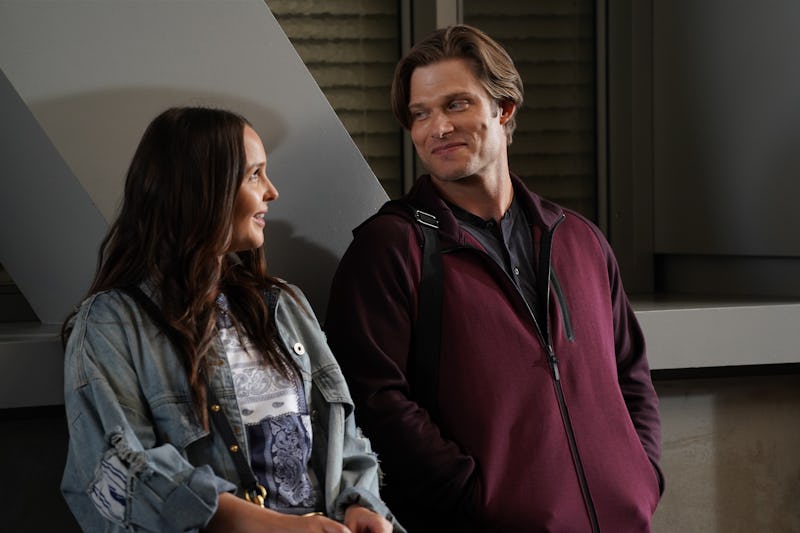 Richard Cartwright/ABC
Spoilers ahead for the Season 17 finale of Grey's Anatomy. Link and Amelia's relationship seems to have run its course on Grey's Anatomy. When Link proposed at Maggie's wedding during the Season 17 finale, Amelia said nothing — and her silence was all Link needed to hear. It's not surprising that Amelia didn't want to marry him (also who proposes at someone else's wedding?), considering that she was so unsure about having a second child with him. They were on completely different pages. But you know who's always been on the same page with Link and is now totally single? Jo.
Ever since her husband Alex abruptly left her, Jo has been throwing herself into work and her journey to become a mother. Sure, she had a brief fling with Jackson, but that was never going to last. Now that she's adopted Luna, settled into a new fancy apartment, and taken on a new career specialty, maybe it's time for her to get a new love interest too. Enter Link.
After Amelia broke his heart by rejecting his proposal, Link showed up at Jo's door and asked if he could crash with her. The two have been friends for a long time, and they seemed flirtier than ever in the finale. Link even agreed to apply to be a foster parent to take Luna in while Jo got a lawyer to fight for custody. That's a big commitment. Perhaps deep down, Link has loved Jo all this time, and his breakup with Amelia may be what wakes him up to who was right in front of him all along.
So far, Grey's stars Chris Carmack (Link) and Camilla Luddington (Jo) have stayed quiet about any potential romance between their characters, but Luddington has not been shy about praising the two's friendship on Twitter. "Can I just say... I reallllllyyyyy love link and Jo's friendship and how much they can lean on each other," she tweeted during the Season 17 finale. The week prior, she also tweeted, "Link helping jooooo" with a bunch of heart emojis.
Though Luddington referred to Link and Jo as just friends, it isn't hard to see them becoming something more. Amelia wasn't ready to take the next step with Link, but perhaps it's for the best. He deserves to be with someone who shares his vision for the future.
In the past, Grey's Anatomy fans have been resistant to the idea of Link and Jo becoming a couple. But after watching his relationship with Amelia deteriorate and seeing how Alex left Jo, many viewers just want the characters to be happy. "It's looking like Jo and Link are about to be next seasons couple and I'm here for it," one fan tweeted after the finale.
We don't yet know what Season 18 will bring for the pair, but Luddington teased on Twitter that she's "SO excited to continue to tell sooooo much more Jo Wilson story next season." Time will tell if Link is a part of that story.