There's Still A Chance Your Superstore Favorites Will Return To Primetime TV
The series finale is over, but the cast isn't done yet.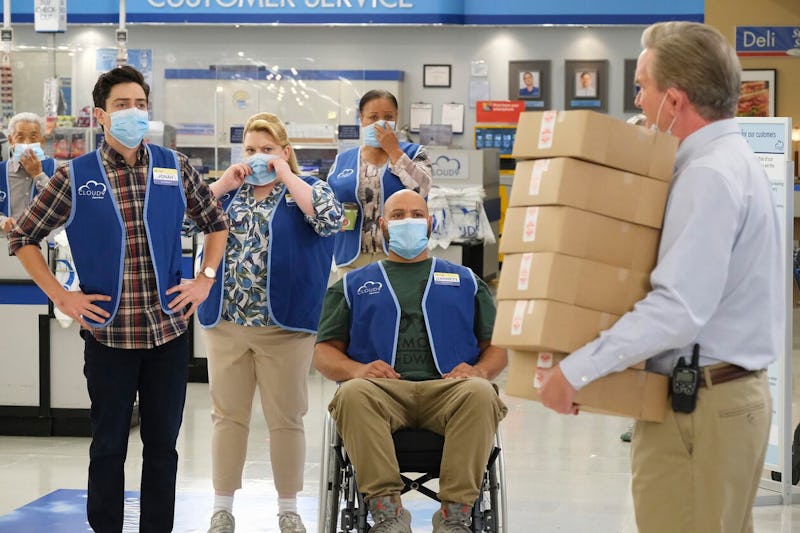 NBC
Spoilers ahead for the Superstore series finale. No returns or exchanges — Superstore officially ended on March 25. Fans knew the NBC sitcom would end on its sixth season when the network delivered the announcement via a very on-brand "blowout sale" Instagram post, but that doesn't make this primetime loss any easier to process. Sadly, there are no signs NBC will change its mind and greenlight a Superstore Season 7. But on the bright side, the finale was a special one-hour slot, so fans had double the time to see the associates off. America Ferrera's Amy departed the store and the series at the start of Season 6, but she returned for the finale in a surprise twist. Ultimately, she got her happy ending with Jonah (a nod to their earlier break-up, where he told her, "You'll know where to find me," should she ever change her mind about committing).
In a pre-finale interview with Bustle, Colton Dunn, who plays the sardonic Garrett, discussed the show wrapping up. "To me, perfect world, this show would've just kept on going," he said. "But I also think that we really went for a great, long time. And at the end of the day, when somebody sits down and streams the entire series of Superstore, it's gonna be an awesome time."
Lauren Ash, who plays Dina, also opened up filming the final episodes, which saw her character's earliest days at Cloud 9. "It would've been very bizarre not to have her. It was great to have her as long as we did in these last couple. We were really in the trenches in these last couple; we shot for 12 days straight with no breaks. It was long days, and it felt very right having the full band back together."
For Mateo's Nico Santos, there's plenty of story left to imagine. "I think the world that Justin Spitzer and all the writers have created really lends itself to opening it up with a lot of different characters," he said. "We could've just, you know, Grey's Anatomy-d this. Introduce like a whole batch of new workers every season. And it really would have worked. There's so much material to draw from."
While the sitcom will be missed, this may not be the last time you see some of your favorite Cloud 9 associates. A spinoff series about Cheyenne and her husband, Bo, is underway at NBC. Though the network has yet to announce a release date or specific details, Deadline reported that Bo & Cheyenne would see the couple "balance their big dreams with the harsh realities of being a blue-collar family in America." Superstore's series finale saw Cheyenne working at Glenn's new hardware store, Sturgis & Sons, so it is not clear if the new show will include this job (and accompanying bestie/co-worker Mateo) or a new role.
This article was originally published on