Michelle Young's Bachelorette Season Could Be The Franchise's Last
"Bold statement here, hot take: I think there won't be another Bachelor season."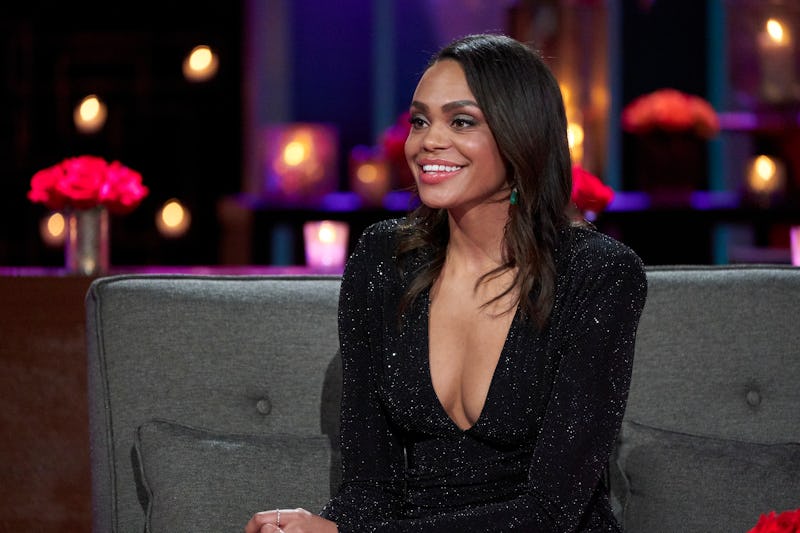 ABC
The fallout from Matt James' Bachelor season has left the franchise on rocky ground, with longtime host Chris Harrison stepping back after defending Rachael Kirkconnell. Since then, the brand has taken steps to recalibrate with new temporary hosts, Tayshia Adams and Kaitlyn Bristowe, and two recently-announced Bachelorette seasons. However, one Bachelor Nation star thinks the changes might not be enough to keep the shows going far into the future, and Michelle Young's season could be the last of the franchise.
In an Instagram Q&A on April 20, former Bachelorette and Bachelor in Paradise contestant Blake Horstmann offered a grim prediction. "Bold statement here, hot take," he began. "I think there won't be another Bachelor season. I think it's going to end after Michelle." (Young's season is slated to air this year after Katie Thurston's and Bachelor in Paradise.) In the post on his Instagram story, transcribed by People, Horstmann went on to explain his outlook. "Whether you think it's right, wrong, whatever your stance on the Chris Harrison thing," he said, "I think it drove away a lot of loyal fans and viewers, and they're really not going to watch the show. And I think ratings are gonna plummet, and that's my prediction."
According to The Hollywood Reporter, the March 15 finale of James' season was "down about 25 percent in total viewers from a year ago," which could hint at if ABC believes the franchise is worth continuing.
Horstmann's bleak Bachelor prediction is not the only suggestion of potential problems regarding the franchise's future. According to E! News, this summer's Bachelor in Paradise has had trouble recruiting former Bachelor and Bachelorette contestants. As one source told the outlet, "Casting has begun, and some members of Bachelor Nation are apprehensive to sign up. Some are wondering what direction the season will take and are curious if it will strictly focus on contestants falling in love."
Another source told E! that "they have put out several asks to Bachelor veterans," but "many people are declining due to the current state of Bachelor Nation. A lot of people are removing themselves from the franchise." In addition to former contestants distancing themselves, it appears ABC is trying to avoid bringing up James' season. According to the same source, "producers are not considering most of the women" from this past season, instead aiming for contestants including Tia Booth, Becca Kufrin, and Horstmann himself, though none have announced their involvement.
The success of this year's Bachelor in Paradise can be gauged when it premieres on Aug. 16. Due to the show's hiatus during COVID, there are more potential contestants than usual to choose from — so even if many are, indeed, apprehensive, there should still be a robust cast to deliver all the drama.
A premiere date for Young's season has not yet been announced, but it is still slated for fall after Bachelor in Paradise. Thurston's comes first, though, on June 7. If it is indeed the last year for the franchise, as Horstmann suggests it might be, at least it'll be a packed one.