Eurovision 2021 Will Go Ahead With A Live Audience
The Dutch government has announced that 3,500 people will be allowed to watch at the Rotterdam Ahoy Arena.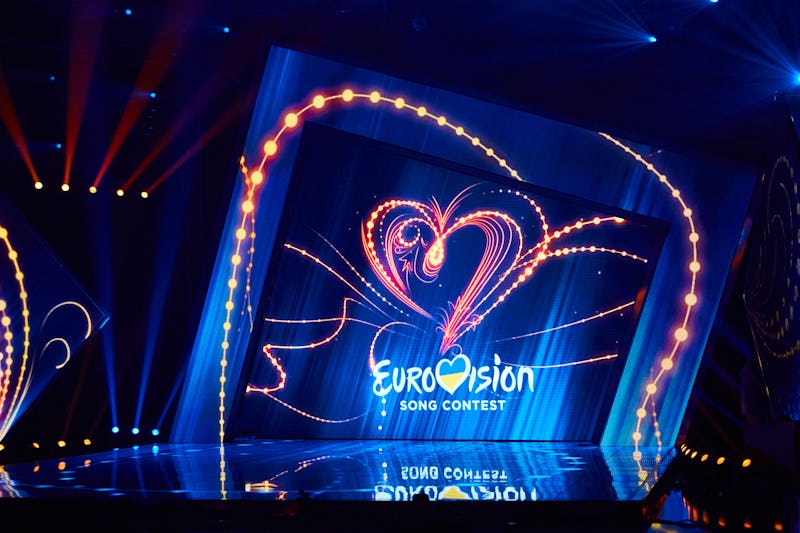 SARYMSAKOV ANDREY / Shutterstock
Although Will Ferrell and Rachel McAdams' Netflix film Eurovision Song Contest: The Story of Fire Saga may have given us our fix of elaborate outfits and bizarre songs in 2020, it was no replacement for the real thing. Fans of the competition will be ecstatic to hear that the Eurovision Song Contest 2021 is going ahead with only a few adjustments in light of COVID-19. Keep reading to find out all the details we know so far.
When Is Eurovision 2021 & How Can UK Viewers Watch It?
Since September 2020, the team behind Eurovision have been weighing up their options for this year's contest. However, in January 2021, they announced that the all-singing, all-dancing talent show would be going ahead. For UK viewers, it will air on the evening of May 22 on BBC One.
Graham Norton will return as host this year and Scott Mills, Chelcee Grimes, and Sara Cox will be doing additional coverage on BBC Four. Rylan Clarke were originally set to appear alongside Mills and Grimes but had to pull out due to illness.
What Changes Have Been Made To Eurovision In Light Of COVID-19?
Performers
For a period of time, it was debated whether acts would be able to send in recorded performances for judging if they couldn't travel to Rotterdam. However, Eurovision's executive supervisor Martin Österdahl told the BBC on March 3 that it's "necessary" for contestants to perform live.
"This isn't a holiday trip, this is actually a job that needs to be done," he said, comparing the contest to major sporting events that have been allowed to go ahead. "We have been in close contact with organisations like Formula 1, the tennis tour, the golf associations, and learned from best experiences," he said. "We've compared our plans to the likes of the IOC [International Olympic Committee]."
However, Österdahl explained that delegations will be smaller than usual. There will be a maximum of 20 people compared to the usual 38. He also said that the competition's health and safety measures will be "very thorough."
Audience
On May 7, the Dutch government confirmed that Eurovision could proceed with a limited, seated audience. A maximum of 3,500 people will be allowed to enter the Rotterdam Ahoy Arena (20% of its regular capacity), but strict rules apply, including:
Currently, entry is only possible from EU/EEA countries and visitors from high-risk countries may be subject to quarantine obligations from 15 May.
All audience members must be able to present a valid negative test certificate that is no older than 24 hours upon entry.
All audience members must take a test five days after the event.
All audience members must arrive and leave according to time slots.
How Can You Get Tickets For Eurovision 2021 & Are 2020 Tickets Still Valid?
This year, tickets will only be available to those who bought one for the 2020 show; there will be none on sale to the wider public. Ticket sales will start on Saturday May 8 at 12 p.m. CEST. Everyone who had tickets for the 2020 show will receive an email with a link to the sales site. For more info, visit the official Eurovision tickets website.
Who Is The UK Entrant For Eurovision 2021?
This year, the UK will be represented by James Newman with his song Embers. The song got its exclusive first play on Radio 2 on March 11, and now is available to bop along to via Youtube.
Newman has described the dance track as a "banger" and says he wanted to create something "full of positivity."
Speaking to Radio 1 Newsbeat, he said: "Embers is about those sparks that don't die out. When we were writing this, it felt like I wanted to show everyone that we were coming back together.
"It's about having that connection and something reigniting. It's about us emerging from this rubbish time we've been having. It fits with the idea that Eurovision is coming back."
This article was originally published on