Will There Be A Daisy Jones & The Six Season 2? It's A Possibility
Here's everything to know about a potential second installment.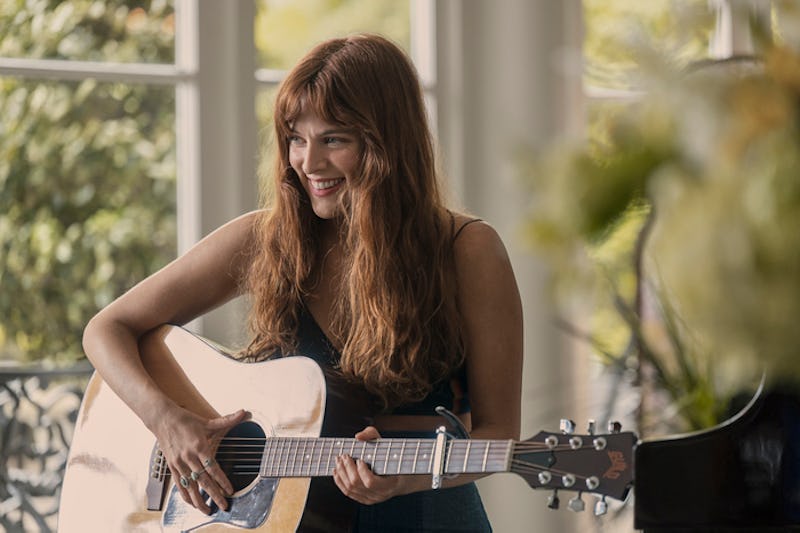 Lacey Terrell/Prime Video
Spoilers ahead for the Daisy Jones & The Six finale. As much as fans may wish Daisy Jones & The Six were a real band, the group is indeed a work of fiction — and like every great story must, this one is coming to an end. Prime Video's adaptation of Taylor Jenkins Reid's 2019 novel dropped its finale on March 24, providing an emotional conclusion to Daisy, Billy, Camila, and company's story. But is it really the conclusion, or might there be a Daisy Jones & The Six Season 2?
If you've read the Daisy Jones & The Six book, you know it ends in (roughly) the same way the show does: the band breaks up in 1979, and Billy commits to his family. Years later, as one of her final wishes, a sick Camila tells her daughters to bring Billy and Daisy back together. "Tell your father I said at the very least, the two of them owe me a song," she writes in a letter. That's actually the last page of the book (except for the song lyric Reid published at the very end), so it's not made explicit that Billy and Daisy follow that directive.
In the show, of course, it's a lot clearer: Billy walks right up to Daisy's doorstep, and he's warmly received by his former bandmate. "The book could get away with not answering some questions that I think we had to answer," Scott Neustadter, who co-developed the show, told The Hollywood Reporter.
So from a TV perspective, there's no more source material for a potential second season to pull from. And Prime Video has described the show as a limited series. However, there is one interesting change that happened when translating Daisy Jones from book to screen — and it might give hope to those who crave another installment.
On page, Camila's last request for Billy and Daisy happens in 2012, more than 30 years after the band broke up. On screen, however, the request happens only 20 years after the climactic Chicago concert. "The one obvious change is that Taylor's writing about 70-year-olds looking back on their lives in their 20s," Neustadter told Entertainment Weekly. "We wanted to accelerate the story a little bit."
It's not a huge change, but the shift in framing does speed up the timeline of Billy and Daisy's reconnection — potentially making more room for the second half of their relationship, should Prime Video want to explore it. "There could be more story to tell if that was something people wanted," Neustadter told Town & Country. "But time will tell if there's any interest in such a thing."