This New Netflix Anime Is Based On A Real Life Black Samurai
Yasuke served under a feudal lord in 1500s Japan.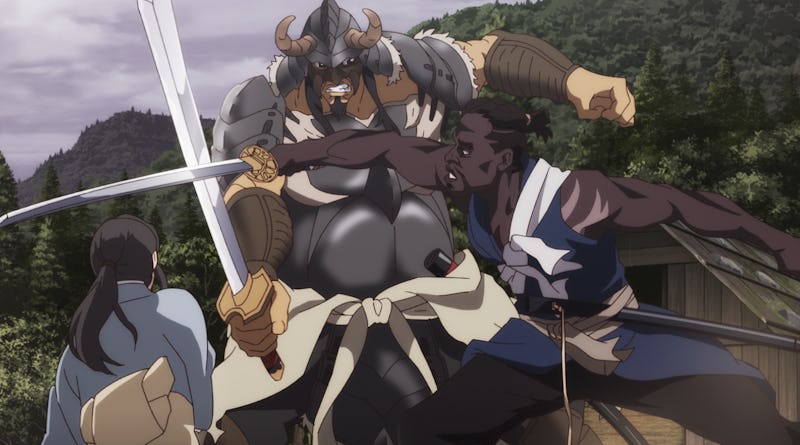 Netflix
Netflix's new historical anime Yasuke is based on the remarkable true story of a legendary Black warrior who fought in feudal era Japan. Produced by LaKeith Stanfield, composer Flying Lotus, and creator LeSean Thomas, the show includes real historical details about Yasuke, an African man who served under the powerful warlord Oda Nobunaga until Nobunaga's death in 1582. (Nobunaga was a major figure during "The Warring States" period, and is considered the first great unifier of Japan.)
"Japanese anime has become very popular among Americans and in particular the African American community," Thomas explained to Wired. "And there's a lot of back and forth among fans about, you know, individualism and xenophobia in Japan. I felt like, who can refute this guy who actually served one of the most important figures in Japanese history?"
While the show honors its eponymous hero, it also embellishes the tale with sci-fi and fantastical elements. The opening scenes involve giant samurai robots, magical attacks, and supernaturally possessed soldiers, and it only gets weirder from there.
The story jumps back and forth between Yasuke's time with Nobunaga to 20 years after Nobunaga's defeat. Haunted by Nobunaga's death, present day Yasuke is an anonymous ronin (a samurai without a master) who wants to live a peaceful life drinking and fishing by the river. "A true warrior above all else prays for peace," he says when a local boy begs him for sword training. But the region is still fractured by warring factions, and Yasuke is eventually forced to fight again when a mysterious neighborhood girl is targeted by a crew of otherworldly warriors.
The series has opened to largely positive reviews, so here's everything to know about the exciting new show.
Yasuke Was A Real Historical Figure
In the show, Oda Nobunaga first meets Yasuke at the docks, where he's working as a servant and bodyguard to a white trader. After fending off a man trying to kill a young boy, Nobunaga is impressed enough to invite Yasuke to fight alongside him.
This is mostly true to real life. Per CNN, Yasuke was an African slave-turned-retainer who Nobunaga met in 1581. At the time, Nobunaga had never met a Black person before, and he believed the tall and broad Yasuke was a "daikokuten," a god of prosperity usually represented by black statues in temples. He initially thought that Yasuke had inked his skin black, and once he realized Yasuke was real he threw him a feast in his honor.
"When Yasuke got to Kyoto [with Jesuit missionary Alessandro Valignano, who was looking to proselytize], there was a massive riot. People wanted to see him and be in his presence," Thomas Lockley, who wrote African Samurai: The True Story of Yasuke, explained to CNN. While Yasuke was initially viewed as a novelty, he quickly won Nobunaga over with his knowledge of the wider world, and he became "a valued samurai and member of Nobunaga's entourage," Lockley said.
Historical records vary on where Yasuke was originally from. Some researchers believe he was from Mozambique, while others suggest he was abducted from Sudan as a child. Lockley surmised that he was trafficked through Arab countries and was trained as a child soldier before becoming a bodyguard for the Jesuit missionaries.
Yasuke ultimately only served in two battles under Nobunaga, one in 1581 and one in June 1582, when Nobunaga was betrayed by his samurai general, Mitsuhide Akechi. Records are scarce about what happened to Yasuke after Nobunaga died (by his own hand, to avoid losing honor). Per Tufts University professor Gary Leupp, Yasuke was likely taken prisoner by Nobunaga's enemies, but was later released, as he was not Japanese. He became a ronin, and from there he could've done anything from resume life as a bodyguard to become a sailor or pirate.
The animated series, however, takes some liberties with history, especially given that what we know about the real Yasuke is hardly fact. Adding to the fun is the fact that the Yasuke voice cast features some major star power — as does the soundtrack.
Yasuke's Voice Cast
LaKeith Stanfield as Yasuke
Aside from being a producer, Stanfield also voices Yasuke. Stanfield became famous for his role as Darius in Atlanta, starred in Sorry To Bother You and Knives Out, and was recently nominated for an Oscar for his role in Judas and the Black Messiah.
Takehiro Hira as Oda Nobunaga
While a well-known actor in Japan, English-speaking audiences will likely most recognize Takehiro Hira from the acclaimed British show Giri/Haji, in which he played protagonist Kenzo Mori.
Ming-Na Wen as Natsumaru
In flashbacks, Yasuke becomes friends with fellow samurai warrior Natsumaru, who is voiced by Ming-Na Wen. She's most known for her roles in Mulan and Agents of S.H.I.E.L.D., and recently played Fennec Shand in The Mandalorian.
Maya Tanida as Saki
Maya Tanida plays Saki, a mysterious young girl with powers. Tanida is a relative newcomer who voiced Willow in the Nickelodeon kids show Nella the Princess Knight before Yasuke.
Ian Chen as Ichiro
Saki's brother Ichiro is voiced by Ian Chen, who fans will recognize from his roles as Evan Huang in Fresh Off the Boat and Eugene in Shazam!.
Gwendoline Yeo as Ichika
When the bad guys are alerted to Saki's powers in the area, Saki's mother Ichika begs Yasuke to help ferry Saki to safety. Ichika is voiced by Gwendoline Yeo, a Singaporean actor who began as a series regular on Desperate Housewives (as the maid Xiao-Mei) and has since voice acted in countless animated series like Star Wars: The Clone Wars, Young Justice, and Teenage Mutant Ninja Turtles.
Yasuke also includes the voice talents of Don Donahue, Julie Marcus, William Christopher Stephens, Darren Criss, and Dia Frampton as villains trying to hunt down Saki for their own shady agendas.
Yasuke's Music
Yasuke mixes jazz and modern lo-fi beats with historical sounds, under the direction of composer Flying Lotus, aka Steven Ellison. While he acknowledged that there would inevitably be comparisons between Yasuke's sound and that of other samurai fusion shows like Afro Samurai and Samurai Champloo, he told Wired that he wanted Yasuke to have its own musical identity of "ethereal synthesizers, reverb, noodly horns, improvisation, Japanese drums."
While he initially found it difficult to navigate making an anime soundtrack — there has to be an "action theme, then fight theme, fight one, fight two, love theme, kiss song," and so on — he said they ultimately settled on a sound that melded perfectly with Yasuke's visuals, both intense yet fragile.