Yellowjackets Hinted At The Devastating Season 2 Finale Death In The Pilot
The same scene teased the new Antler Queen's identity.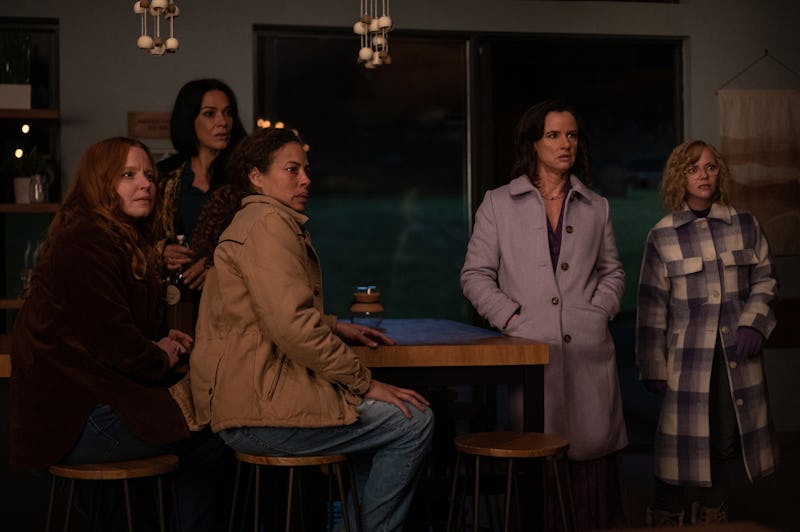 Kailey Schwerman/Showtime
Spoilers ahead from the Yellowjackets Season 2 finale. It turns out Natalie's drug-fueled vision in the Yellowjackets series premiere was actually an omen of her tragic Season 2 fate. In a post-finale interview with The Hollywood Reporter on May 26, director Karyn Kusama revealed that the "mysterious moment when Natalie hallucinates Misty at the kegger in the woods" from the November 2021 pilot is something the creative team "had always thought about." When present-day Misty (Christina Ricci) accidentally killed Natalie (Juliette Lewis) in the Showtime drama's Season 2 finale, the reason became clear.
"That was always this time-defying flash-forward to the notion that Misty was always going to be kind of an angel of death for Natalie. And so that's why it comes full circle in the finale of Season 2, where we go back to that moment. Their relationship was so troubled and sticky and strange, and this is partly why," Kusama, who helmed both episodes, explained. "That's something that we always knew had a mystery to it that was almost meant to be like a key to looking forward to that relationship."
That wasn't the only foreshadowing in the scene, which followed the moment with a glimpse of the then-unknown Antler Queen, a role teen Natalie (Sophie Thatcher) ascended to in the finale's '90s timeline. "All this time, it was Natalie who was crowned the successor to Lottie (Courtney Eaton). And she's been carrying this terrible shame of taking on that role. What has she done?" Kusama added, referring to the finale's "surprising inevitability" for Lewis' version of the character. "The fact that was part of her guilt was such a surprise to me. Of course, she's so much a part of it that she hates herself for it. And that was something that I felt bound the two seasons together, from pilot to this finale."‌
Prior to the Season 2 finale dropping on May 26, Thatcher told Bustle that filming the episode was particularly emotional. "I called my mom right after and was freaking out. I think we all were," the teen Natalie actor says. "You can't really prepare because it's a lot."
Natalie's death scene — which symbolically played out on a crashing airplane — allowed Thatcher and Lewis to share screen time, despite playing the same character. Even before then, the two actors had already been collaborating from the beginning on syncing their portrayals of Natalie and even shared a mood board. "We're very specific with how she dresses, how she looks, how she presents herself," Thatcher adds of Natalie. "[Lewis] is so specific and so talented and has such a crazy onscreen charisma and such a specific charisma, that I immediately was like, 'I'm gonna want to mirror this.'"
Though the actor now marches on to Season 3 without her mentor, both Lewis and present Natalie will continue to leave an indelible mark on Yellowjackets.