Everything To Know About Yellowstone Season 5
The popular family drama is coming back this November.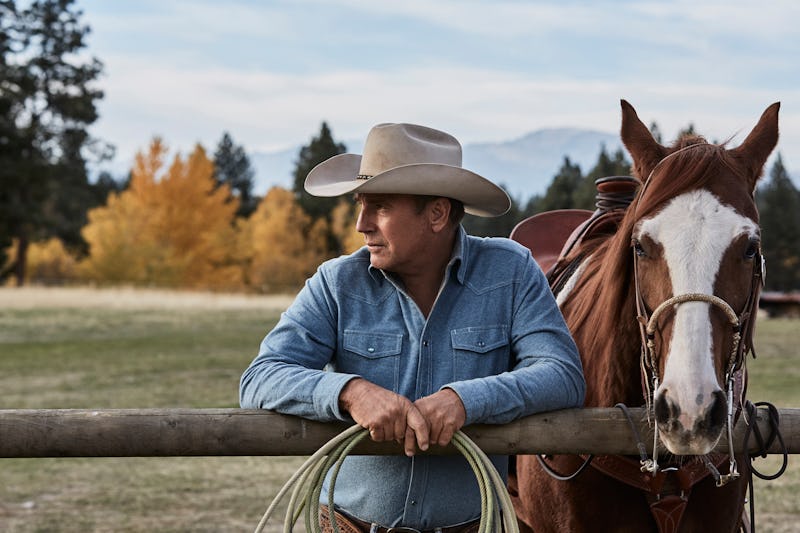 Paramount
Yellowstone fans, rejoice! The Dutton family will be returning for more family drama. On Feb. 3, 2022, Paramount announced that the show has been renewed for a fifth season. This follows a record-breaking Season 4 finale, which drew in 9.3 million viewers — 81% more than Season 3's finale.
"Yellowstone's record-breaking performance proves we've tapped a cultural nerve and unleashed a passionate audience from the center of the country to each of the coasts," Chris McCarthy, president of ViacomCBS Media Networks, said in a statement. "Kevin Costner leads our incredible cast who make the Duttons America's favorite family and this new season is sure to be another one fans won't want to miss."
You can currently watch the new Dutton family prequel spinoff, 1883, on Paramount+, and look forward to two other spinoffs in the works at the streamer — one tentatively titled 6666 and another announced, titled 1932 starring Harrison Ford and Helen Mirren. But if you're eager to catch up with the Dutton family proper, here's what we know about Yellowstone Season 5 so far.
The Yellowstone Season 5 Cast
Violence is part of life on Yellowstone, so your favorite characters aren't always guaranteed to stick around, but it looks like most of the Duttons and Dutton-adjacents from Season 4 will be back. Of course, Jimmy and Emily (Jefferson White and Kathryn Kelly, respectively) are Four Sixes-bound, so they may not be part of Yellowstone Season 5. There's that 6666 spinoff to look forward to, though!
After three years away from the drama, Deadline announced that Josh Lucas is confirmed to return to the show as Young John Dutton. Additionally, recurring cast members Kylie Rogers (who plays Young Beth Dutton) and Kyle Red Silverstein (Young Rip Wheeler) will also return for the first time since 2020. Deadline also announced that Kai Caster, Lainey Wilson, Lilli Kay, and Dawn Olivieri will be joining Season 5 in a recurring capacity. Mo Brings Plenty and Wendy Moniz, who play Mo and Governor Lynelle Perry respectively, were also upped to series regulars meaning their characters will likely see more robust storylines in the new season.
One character who won't be back on Yellowstone or any of its spinoffs — at least, not alive — is Garrett Randall (Will Patton). He was killed by his son, Jamie (Wes Bentley), in the finale after Beth blackmailed Jamie into the murder and then set him up for even more blackmail. Speaking of which...
The Yellowstone Season 5 Plot
Though specifics about Yellowstone Season 5's plot may be some time away, one thing's for sure — the tense relationship between Jamie and Beth (and the rest of the Duttons, for that matter) will be a ready source of dramatic conflict.
The Yellowstone Season 5 Release Date
If you've been watching Yellowstone from the start, you know that the Western drama usually airs every June — a formula that was only upended with Season 4 and its November premiere. As Deadline reported in 2020, production moved to exclusively shoot in Montana that year. That, coupled with industry-wide lockdown precautions, could have caused the later debut.
Season 5 is following suit with a November 13, 2022 release date announced. It will premiere on Paramount Network followed by a simulcast of Sheridan's forthcoming Paramount+ original series Tulsa King, starring Sylvester Stallone.
This post will be updated as additional information about Season 5 of Yellowstone is released.
This article was originally published on