The Yeti On Masked Singer Is Definitely This R&B Star
The voice is a dead giveaway.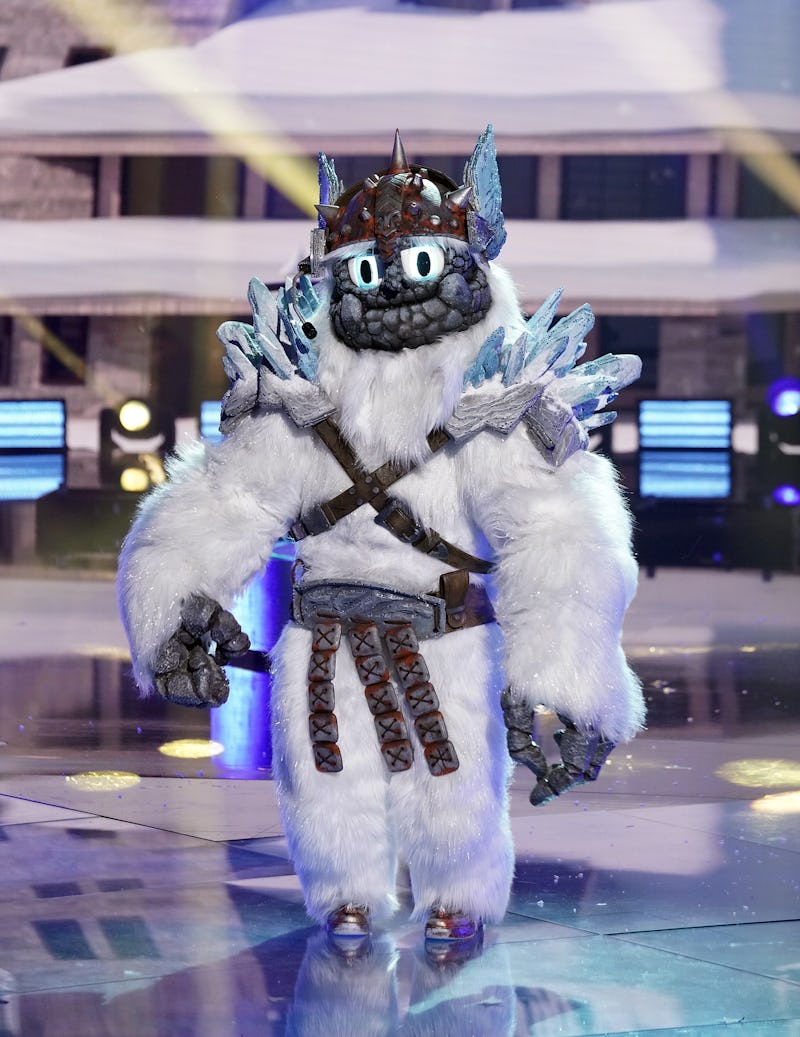 Michael Becker/FOX
The Masked Singer Season 5 is now down to eight singers, and there's one competitor who may just win it all: Yeti. The furry mountaineer was introduced as a new wildcard competitor on the April 14 episode, where he impressed the judges with his rendition of New Edition's "If It Isn't Love." He then soulfully sang Justin Bieber and Benny Blanco's "Lonely" on the April 21 episode. The judges guessed Ray J, Mario, and Todrick Hall, but the leading fan theory is that Yeti is Omarion, the lead singer of the early '00s hip-hop and R&B boy band B2K. "Definitely Omarion, if you are a die hard B2K fan you know this," wrote one viewer on YouTube.
Though fans think the voice alone is a dead giveaway, the clues line up with Omarion as well. In the first clue package, Yeti hints that he grew up in a difficult area, but had "a village of warrior women who were always there to show me the way." Yeti says the women who raised him gave him the confidence to reach the mountaintop. Visual clues included a bundle of wood, berries on toast, and a big red heart and a bunny. Yeti's "Nick 'Cannon' Clue" was a shirt that said "Aphrodite," and Yeti told the judges that he's all about "love, love, love."
As he explained on Vlad TV, Omarion grew up in Inglewood, California, which could be what Yeti's bundle of wood references. Omarion also said that gang culture was prevalent in the area, which lines up with Yeti's difficult upbringing. And just like Yeti's village of women, Omarion was raised primarily by his mom and grandma, who he calls "queens and goddesses." The berries are likely a reference to his real name, Omari Ishmael Grandberry, while the heart and bunny could point to Omarion starring in Love & Hip Hop: Hollywood.
Yeti also first emerged from an ice cage on stage, and Omarion had a 2006 hit single titled "Ice Box." As for the Aphrodite clue, Omarion has a song called "Goddess."
In the second clue package, the Yeti said that he hasn't always handled success well, and he's had to grow a lot from that. "Many moons ago I had a once in a lifetime role that created an avalanche of success, but my ego caused tons of chaos and it all blew up," he explained. For a while he "couldn't escape hearing about the wreckage," but he eventually understood he "was to blame for the mess." So he left his ego behind and "got the twice in a lifetime chance to do it again." Visual clues included a ring toss game and cards labeled "ABCD." He also line-danced and partied with men in "Happy New Years" hats. Yeti revealed to the judges that his favorite food is donuts, and the judges likely rightly guessed that could mean the letter "O," just like Omarion's name. The ring toss could also mean the letter "O."
These clues could be a reference to Omarion's past with B2K. Alongside band members J-Boog, Raz-B and Lil' Fizz, Omarion became hugely famous as a teen performer. But B2K was suddenly disbanded in 2004 amid a flurry of controversies, with B2K stating they were mainly unhappy with Chris Stokes' financial mismanagement. Afterward, Raz-B accused Stokes of sexually molesting him and others in the group, per VIBE. (Stokes has denied the accusations.) Omarion, Fizz, and Boog failed to back up Raz-B's statements, while pop culture at large made insensitive jokes at Raz-B's expense.
The group reunited in 2019 for the hugely successful Millennium Tour, which could be what Yeti's "twice in a lifetime" chance is referring to. However, Omarion then found himself in controversy again when it was revealed that Fizz was dating his ex-girlfriend and the mother of his two kids, Apryl Jones. When Omarion announced the 2020 Millennium Tour, it was without B2K.
But just as Yeti seems to reflect on his past failures, Omarion told Billboard in 2020 that he's not letting the drama get to him going forward. "Over the years with me maturing as an artist and as a person, I really learned to keep things in perspective," he said when asked about Fizz and Apryl. "Also, it's not about me anymore. One thing that was cool and stood out for me as far as keeping my composure and maintaining my cool was my kids. I got the opportunity to perform for them [the last tour]."
We'll have to wait and see who Yeti is for sure, but it's hard to deny how much his story lines up with Omarion's.