Young Eleven In Stranger Things 4 Is Played By An Actor Who Isn't Millie Bobby Brown
But Brown directed child actor Martie Blair "every step of the way."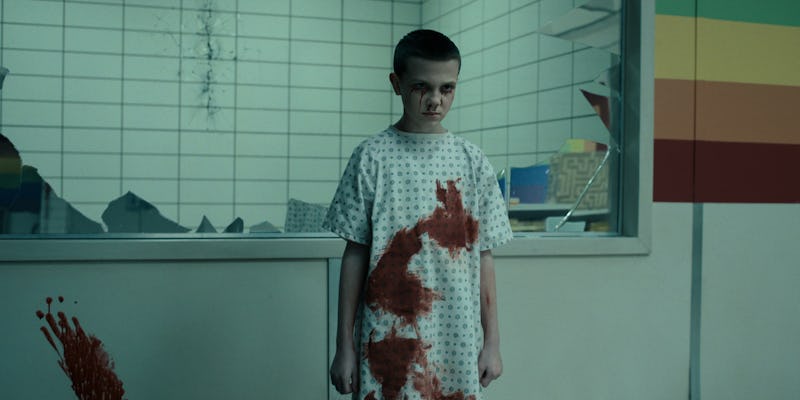 Courtesy of Netflix
Spoilers ahead for Stranger Things Season 4. Following the Battle of Starcourt, Eleven's powers were dormant at the beginning of Stranger Things Season 4. With Hawkins facing imminent doom once again, this time at the hands of a new monster named Vecna, Eleven reluctantly put her trust in Dr. Owens and Dr. Brenner to restore her telekinetic abilities. To do so, she had to re-experience memories from 1979, and given the seven-year time regression, and it appeared to many viewers that the Duffer brothers had used CGI to digitally de-age Millie Bobby Brown, who's now 18 years old, in order to create Young Eleven.
"CGI young-Eleven can't hurt you," one viewer reminded everyone on May 27, while another predicted the production team must have "used the whole $30M per ep budget for that CGI on young Eleven's face." Then there were others who criticized the supposed digital de-aging work, with multiple fans comparing Young Eleven to Euphoria's Ashtray and Renesmee from the Twilight films.
In reality, young Eleven wasn't entirely conjured from CGI. A May 31 Stranger Things writers room tweet revealed that Young Eleven was actually played by actor Martie Blair. The two photos showed Brown directing Blair, something the writers noted she'd done "every step of the way" during filming. The same day, Blair thanked Brown on Instagram for "being such an inspiration" to her. "[W]hen I showed up on set, you came right up to me," her May 31 caption read. "You made me feel so comfortable and welcomed. Thanks for spending time with me and helping me make my scenes AWESOME!!!"
Brown was hardly the only Stranger Things vet who mentored Blair. On June 1, the young actor, who has also portrayed Bella Fisher in several episodes of CBS' daytime soap opera The Young and the Restless, also shouted out Matthew Modine, aka Dr. Brenner (or "Papa"), for "being so nice" to her. Calling the experience of sharing scenes with him "an incredible experience and surreal at the same time," Blair added, "You made it so easy for me to perform my scenes as Young Eleven. I will be forever grateful to you."
Following the reveal, Twitter users reacted with shock. "You're telling me that wasn't actually Millie just shrunken down in those scenes," one fan said in a retweet. Another added that they "thought she was playing herself as a kid" the whole time, while others speculated that the footage had been shot back in Season 1.
It appears that while Blair acted in the scenes (and is credited as Young Eleven), there still may have been some CGI used to make Blair's face an even more uncanny replica of a young Millie Bobby Brown. "We used an amazing actress who played my body, I guess. And then I went to LA, and I worked in this amazing thing called The Egg, The Lola Egg, and we basically worked in there for three days and we did facial expressions," Brown told co-star Noah Schnapp in an MTV News interview. "We did every single scene from start to finish, just using my face, no action. So it was just me turning my face, doing the whole scene as her, and then they deepfaked it onto her little body, Martie's body." (Netflix did not respond to Bustle's request for comment regarding the use of special effects on Young Eleven.)
CGI assistance or not, joining the Stranger Things franchise has already been a life-changing experience for Blair, who shared several more behind-the-scenes photos from the set on Instagram. "I can't even express in words the excitement I was feeling at that very moment," she captioned a shot from her first day of filming, posted on May 31. Days earlier, she also revealed that the smallest hospital gown costume on set was still too big for her and needed to be altered. And yes, she really shaved her head, too. "I will never forget how I felt after shaving my hair," Blair captioned a May 29 post, adding that the haircut changed her forever.
On May 28, she also called the opportunity to play Young Eleven "a dream come true," sharing that she'd been a Stranger Things fan since she was 4 years old. "It's been so hard keeping this a secret for so long but I'm happy I get to share it with everyone now," Blair added, before also thanking the Duffer brothers for the opportunity, as well as their "amazing vision."
Editor's Note: This post has been updated to clarify the extent of the use of CGI on Young Eleven.