What We Know About The Younger Spinoff
Kelsey might be heading to LA.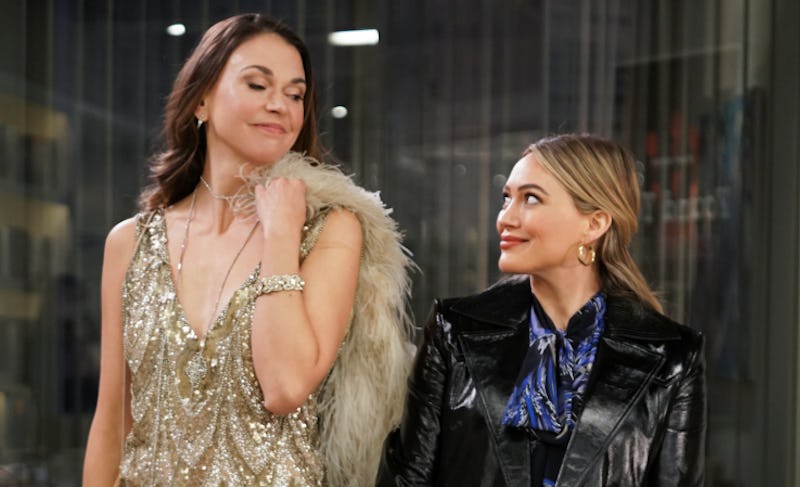 Nicole Rivelli/2021 ViacomCBS, Inc.
When Younger's seventh season wraps up on June 10, fans will have to say goodbye to Liza Miller (Sutton Foster) and whichever man she picks to be with. (Odds are on Charles at the moment, but don't count out Josh just yet). However, they may not have to say goodbye to Hilary Duff's Kelsey Peters: series creator Darren Star is currently contemplating making a spinoff about the character.
Reports of the spinoff first surfaced in May 2020, and Star was still considering the idea as of April 2021. "We're talking about it. It's a big question mark whether it's going to happen," Star told Variety. "It could be great, but we never know if these things are going to happen until they're going to happen."
Star previously told the Associated Press that he's eager to work with Duff again after finishing Younger. "I love Hilary Duff, and I think it's gonna be something that [will] possibly be a whole different show than Younger but sort of it would be her character."
He clarified to Variety that the show will likely follow Kelsey to Los Angeles as she starts "following another dream." Moving the story from New York to California would make it easy to start fresh without having to worry about scheduling cameo appearances from other Younger cast members. "The best way to describe it is that it would be a bit of a female Entourage with Kelsey as the lead," Star said. "Still, the caveat is if it's going to happen."
If the series does make it to screen, it could wind up on Paramount+. Season 7 of Younger moved to the streaming site but also aired on Hulu. As Variety noted, Star has a multi-year deal at ViacomCBS — the owner of Paramount+ — which makes the company the most likely home for any Younger spinoff.
If the show doesn't happen, fans will still be able to watch the Younger stars in other projects soon. Duff was recently cast as the lead of the How I Met Your Mother spinoff How I Met Your Father, while it's possible we'll see Foster in The Music Man when Broadway opens again. Miriam Shore (Diana) is also set to star in the 2021 film Magic Hour, and Debi Mazar (Liza's roommate Maggie) was recently cast in the upcoming Netflix comedy series Pentaverate.
As beloved as Younger was, it had to end eventually. It was already TV Land's longest-running scripted series, and ratings have dipped recently. Besides, most of the key people already knew Liza's secret, and there's only so much ping-ponging Liza could do between Charles and Josh before it got old. It was the right time to move on.