Everything To Know About Tayshia's Rumored Bachelorette Frontrunner Zac C.
The Philly native has a poignant backstory.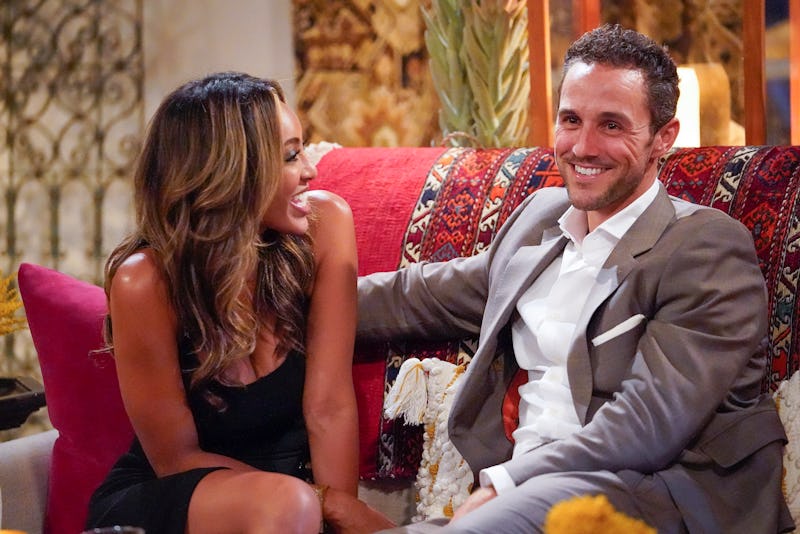 Craig Sjodin/ABC
Tayshia Adams has already formed a number of connections with the men on her Bachelorette season, but there's one man rumored to be a frontrunner: Zac C. He's established himself as one of the more grounded and mature contestants, wisely keeping out of the Ed and Chasen drama. His connection with Tayshia deepened in Week 7, and he won the date rose after a hot tub heart-to-heart (and make out session). "He has a really good view on life," Tayshia said. "There's a lot to Zac, and I think that's cool."
He also has Chris Harrison's stamp of approval. "He really is a tremendous guy," Harrison said in a Sept. 29 Facebook broadcast. "This guy has a heart of gold. Starts out slow out of the gate. Just his demeanor, his personality, he's a quiet guy," he continued. "He's a sweetheart."
Here's everything to know about the 36-year-old contestant, as it looks like he'll be sticking around for a while.
Zac's Hometown
Zac is a Philadelphia native, and per his ABC bio, his dream is to share a Philly cheesesteak with his future wife while watching the Eagles win the Super Bowl.
Zac's Job
Zac runs a program alongside social worker Justin Gurland called Release Recovery, which focuses on long-term sobriety and reintegration into society after rehab. In 2017, they opened their first nine-bedroom home in West Chester, New York, where patients participate in volunteer work, recovery meetings, and group activities. In 2020, the pair also opened a separate centers for men and women in New York.
Zac's passion for this work grew out of his own struggle. According to Reading Eagle, he spoke about his substance misuse at a 2014 forum, where he described starting with alcohol as a kid before moving on to prescription meds like Adderall, Dilaudid and morphine. Months after getting married in his 20s, Zac was arrested for possession of crack and driving under the influence. He spent four and a half months at the Caron Treatment Center in Wernersville, Pennsylvania. He credits that time for turning his whole life around.
Zac's Instagram
Zac's Instagram reflects his renewed lease on life. He's now an avid marathon runner and donates the money he raises to the treatment center he recovered at. Though Zac posts infrequently, you can clearly tell he's passionate about what he does, and when he's not working he's spending time with his family and support system.
What's Zac Doing After The Bachelorette?
Per Deadline, The Bachelorette wrapped filming on Sept. 1. Based on Zac's Instagram, he's been laying pretty low since then, leaving plenty of room for viewers to speculate if he's spending any time with Tayshia. His only Instagram posts have been to wish his sisters a happy birthday, and on Nov. 24 he posted a cute photo of Release Recovery's dog. He also has a newly created Twitter account; he mostly tweets about the Philly Eagles and Pearl Jam, but on Oct. 31 he shared that he helped the Caron Treatment Center raise $450,000.
We still don't know yet if Zac ends up with Tayshia, but in the meantime we know he's still out there doing what he loves.
This article was originally published on