How To Cover Tan Lines With Makeup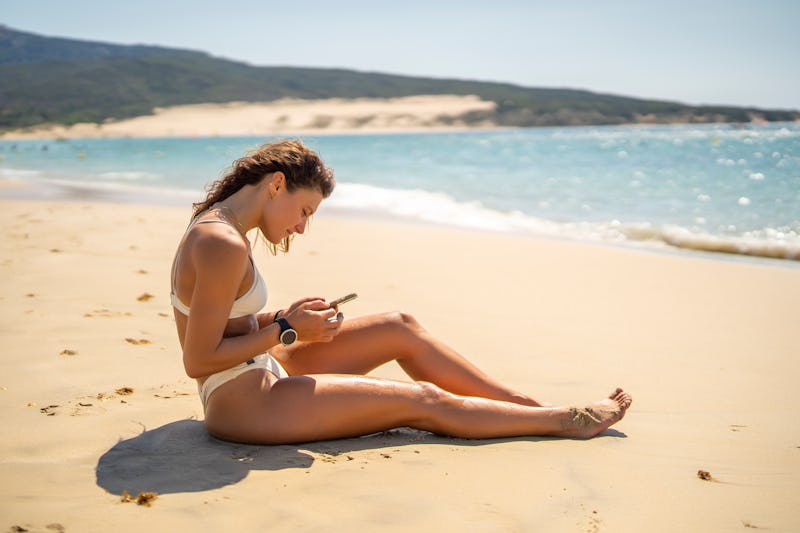 Carrastock/Moment/Getty Images
Uh oh. You have a big event coming up and want to look your best, but your tan lines are obnoxiously obvious. Here's how to cover tan lines with makeup, so you can wear whatever you want and feel great.
First, let's talk about covering up tan lines versus covering up burns. Burns can be really tricky, but the best move is to slather on healing moisturizer and aloe vera and just let the damaged tissue heal. If you have an absolute nasty burn that must be covered up, pick out a water-resistant face and body foundation with a yellow tint. The yellow will offset the red in the burn. Even with this step, a burn is never going to look cute. It's best to just ride this one out.
If you only have tan lines and not burns, you're in luck. Start building one seamless color by gently exfoliating the top layer of skin. You want to remove some of that darkness by exfoliating, so you can start with your natural skin and build up color from there. Be soft, because a harsh exfoliant could make your skin look blotchy.
When it comes to choosing the right product to cover up the tan lines, you want to find something that is waterproof and transfer resistant. MAC PRO Performance HD Airbrush Foundation is a great option, but if you don't have a MAC Pro account then this alternative does the trick.
MAC Studio Face & Body Foundation, $28, Nordstrom
Remember that all tans have a red base, so you want to pick a foundation or bronzer cover-up that matches your skin (not your face). You want to choose a shade that's darker than your natural skin. I like cream products over powder products for this, because your skin is likely thirsty after all that time in the sun. You can buff in the liquid foundation with a large buffer brush like the one below, or choose a spray foundation for less mess.
Morphe Deluxe Buffer, $16, Amazon
A thick, synthetic dome brush will spread the foundation evenly without soaking up too much product.
Diorskin Airflash Spray Foundation, $62, Sephora
Apply your foundation evenly across the tan lines, using a brush to focus more product on the lines themselves. Once the product is applied, set it with bronzing powder or translucent powder (depending on how dramatic your tan lines still are). If you're wearing clothes over the makeup, spraying a setting spray over the makeup will help keep it from transferring.
Image: Carrastock/Moment/Getty Images; Courtesy of brands