Read This Before Your Next Waxing Session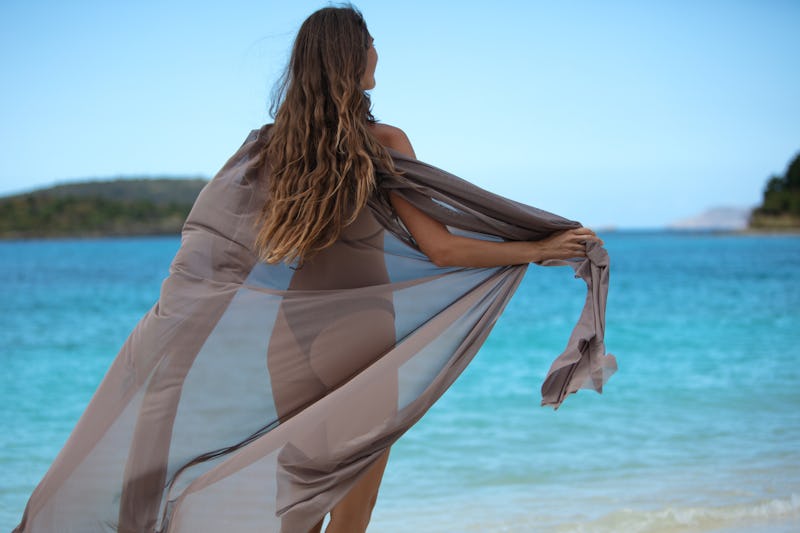 cdwheatley/E+/Getty Images
As summer grows gradually closer, you may already have short shorts and bikinis on your mind. And for some people, that also means thinking about the best ways to wax, shave, or otherwise get rid of the hair all over your newly exposed skin.
Now listen: A good razor and shaving cream can definitely get the job done right, but sometimes, waxing proves to be a much better hair removal method. Not only does waxing remove larger amounts of hair with more speed than shaving, but it also guarantees noticeably longer periods of smoothness.
And sure, waxing at home is totally convenient, but it won't get you same results you normally see at the salon. So, if you're looking for a completely hygienic and safe means of hair removal, seeking out professional assistance is probably the best way to go.
"Go to a professional technician that only waxes," Melanie Gilliland, European Wax Center's Chief Wax Expert and Educator, explains to me over email. "You want someone who specializes in the waxing trade, and knows the techniques that are easiest on the skin."
Whether you're about to start waxing for the first time or are a seasoned pro, here are some expert-approved tips to help you achieve the best results possible.
1. Do A Test Before Your Appointment
Before you book any waxing appointment, it's crucial to do some prep work first. Since wax can contain some artificial ingredients and fragrances, you'll definitely want to check with your doctor or dermatologist to see if they think your skin can handle waxing.
"If you're not sure how your skin will react to the wax, always do an allergy patch test beforehand," says RealSelf contributor, and board certified dermatologist Dr. Joel Schlessinger via email. "You should always wait at least 24 hours [after the test] to make sure there's no irritation."
2. Tell Your Waxer Everything
Once waxing is determined to be a safe method of hair removal, it's important to inform your wax-performing esthetician about your allergies and skin sensitivities prior to your service. This can help your esthetician choose the appropriate kind of wax for your skin type, and make the process a lot easier on your skin.
In addition, scheduling your appointment around certain times of the month can be helpful, especially since sensitivity caused from your menstrual cycle, can make the removal process more painful than it really should be.
"Be sure to discuss any topical creams you are using, as well as any allergies," says DePasquale Salon and Spa wellness expert Michele Blanco in an email. "I also recommend planning your wax before or after your menstrual cycle due to hypersensitivity you may be experiencing that time."
3. Prep Before Skin Hand
Preparing your skin is just as important as mapping out your allergies. You should always start with exfoliated skin to ensure your wax goes without any setbacks.
"Exfoliating before waxing keeps the dead skin cells at bay, and it allows hairs to break through the surface," explains Nandi Wagner, Lead Esthetician at bliss Soho in New York City, through email.
Similarly, Dr. Schlessinger advises to not to shave before your wax, as it makes the process more difficult than it should be. "The hair needs to be about a quarter of an inch long in order for waxing to be effective," explains Dr. Schlessinger. "It's OK to tweeze or shave any stray hairs a day or two after your wax appointment, but you do need to let it grow out before your next visit."
4. Get Ready For The Pain
Probably the most unavoidable part of waxing is the dreaded pain factor, which can really tempt anyone into cancelling their appointment. But while pain is an unfortunate part of the waxing process, experts like Wagner note that there are ways to help keep your pain to a minimum. Avoiding triggers like alcohol and caffeine a few days before your wax can help reduce pain, making the process a little more bearable.
"The most important tip is to avoid alcohol, caffeine, and exercise beforehand," Wagner says, "This induces the circulation of the blood, which will make it more painful."
And once the day of your wax finally arrives, pain can also be managed through the help of an over-the-counter pain reliever. "Take a pain reliever like Advil and Aleve, but avoid aspirin, as it will induce blood flow," adds Wagner. "This should be taken about 45 minutes before your appointment."
5. Choose Your Wax
Waxing may seem like one-formula-fits-all kind of situation, but there are actually a few different types of waxes that each tackle different kinds of jobs. The biggest difference comes between hard and soft waxes.
"The type of wax really depends on what area you are waxing," says Holly Green, owner of Norabloom Botanicals & Beauty Lounge in Ithaca, New York via email. "Hard wax is usually recommended for the face, bikini and underarm areas. Soft wax on the other hand, is recommend for much larger areas of body such as the legs and arms."
6. Try To Go To A Salon
While there are tons of at-home waxing kits found at your local drugstore, waxing tends to be a service best left to the experts. Estheticians go through an extensive amount of training to become certified in waxing, so if you want a quick and easy wax, it's always best to seek the help a professional.
"Estheticians go through a very specific training to become certified in waxing," explains Dr. Schlessinger. "When you go to a reputable spa, you know the process will be done correctly, and you'll get the best results."
In addition, waxing in salon allows experts to work on hard-to-reach areas you may not want to wax at home. These areas tend to be overly sensitive, and can bruise if not waxed correctly.
"Sensitive and hard-to-reach areas (underarms and bikini line) are also best left to the professionals," adds Schlessinger. "Because these areas are more delicate and harder to reach, it's a good idea to see a professional for your waxing needs. Pulling the wax off the wrong way can lead to bruising and ingrown hairs."
7. But If You Wax At Home, Do It Cautiously
But if you decide to wax at home, please do so with caution. You should always test the temperature of your wax first, as wax that's too hot can cause both burns and discoloration to the skin.
"Always test the temperature of the wax on the inside of your wrist. If it's too hot, wait for it to cool," says dermatologist Schlessinger. "Additionally, if you're waxing sensitive areas like your underarms or bikini line, you might want to wait a little longer." If something feels a little uncomfortable on your wrist, it's going to really burn on those sensitive spots.
Once the temperature of your wax is safe to use on your skin, Schlessinger recommends passing on that at-home bikini wax, and sticking with simpler areas like the face, arms, and legs. These areas are much easier to reach, and can be done correctly on your own, if done carefully.
"Areas like the upper lip, face, arms and legs are some of the easiest to reach, and make excellent areas to try at-home waxing," Dr. Schlessinger adds. "When doing waxing yourself, always read and follow the directions on your product package. Also, make sure you never wax skin that is sunburned, irritated, inflamed or cut."
8. Follow Proper Aftercare
Caring for your skin post-waxing is as important as all that prep. Typically you should wait at least four to six weeks until scheduling your next wax, making it extra important for you to care for your skin until your next visit.
"You should always care for your skin between waxes," says European Wax Center's Melanie Gilliland. "Try to use a daily serum for ingrown hairs, and always exfoliate to keep your skin soft and smooth."
In addition, keeping your skin moisturized between waxes is key. Dry and flaking skin can cause major discomfort to the skin while waxing, so it's important to keep your skin hydrated at all times.
"Keeping your skin moisturized and supple before and after your wax is super important," says Deborah George, Operations Executive at Strip: Ministry of Waxing via email. "Moisturizing after waxing will help to keep your skin hydrated, which will eliminate the potential for tearing and discomfort during your next wax appointment."
With these tips, I bid you to go forth and get smooth.
Images: Getty Images (7)